**The following post was written by OKFN France edited by Pierre Chrzanowski and translated by Peter Schiøler.**
It was with great excitement that we greeted 60+ participants for the first OKFN meetup in Paris on the evening of 12/12/12.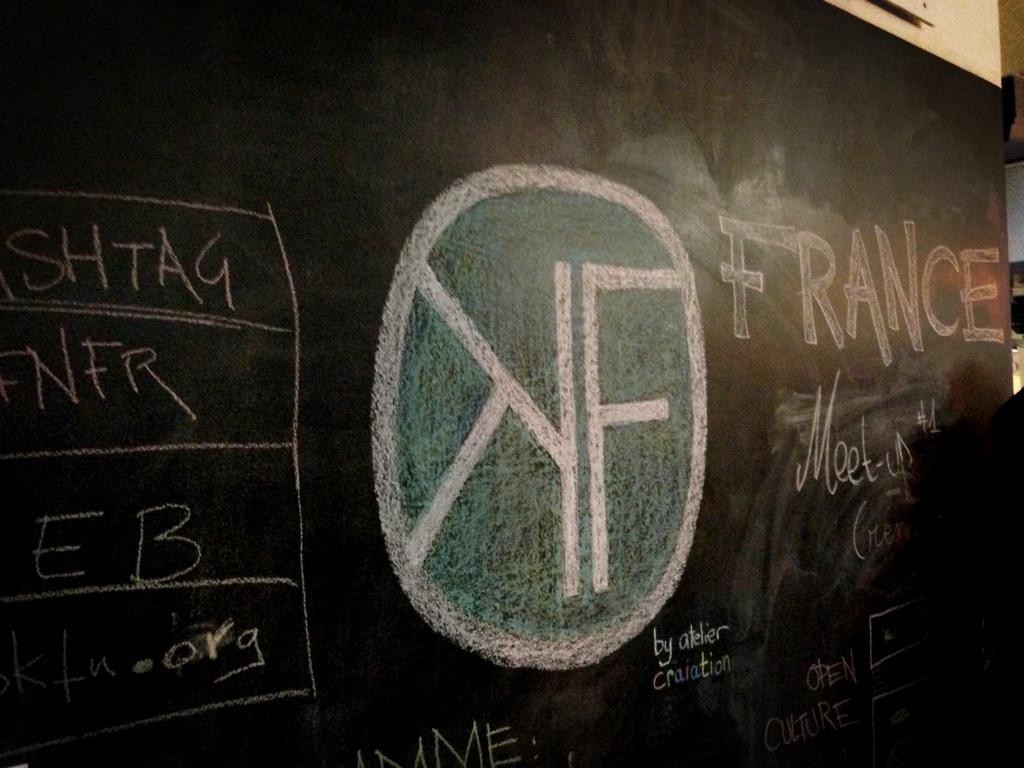 The meetup had a double objective; first to introduce the Open Knowledge Foundation in France and second to gather Open Knowledge enthusiasts in France to reflect on concrete project ideas which could promote access to, and reutilisation of, open content.
The success of such an event  will eventually be measured by the actual projects developed, however it was good to see that the group dynamic was already there!
Let's return to this first meeting of OKFN France.
The evening kicked off with an introduction to the Open Knowledge Foundation by the coordinators of the new group. It continued with a series of open talks from the participants:
* Adrienne Alix from [Wikimédia France](http://www.wikimedia.fr/) highlighted the natural link between the Open Knowledge Foundation and Wikimédia especially the common [OpenGLAM](http://openglam.org) project.
* Simon Chignard outlined the [4 areas of cooperation on open data for common good](http://donneesouvertes.info/2012/12/12/4-pistes-pour-un-open-data-des-biens-communs/). Notably; choice of open data licensing, access to public data, and covering the costs of open data.
* Cyril Lage and Armel Le Coz from [Démocratie Ouverte](http://democratieouverte.org/) stressed common issues and introduced the participative platform project Parlement et Citoyens.
* [Regards Citoyens](http://www.regardscitoyens.org/), represented by Benjamin Ooghe-Tabanou, explained the work of the organisation in promoting Open Data in France, notably the Open Database License. He also cited the work of Benjamin Jean, who has translated the license into French and Claire Gallon, who with [LiberTic](http://libertic.wordpress.com/libertic/) is undertaking important field work supporting Open Data initiatives.
* Margaux Pelen from [Home'n'go](http://homengo.com/) finally took the floor to announce a [Datackathon](http://launch.datackathon.com/) in early February.
In the third part of the evening the participants were divided into thematic groups: Open Data; Open Culture; Open Education, Access & Science. In addition a special meeting of the OKFN working group on Open Transport was convened.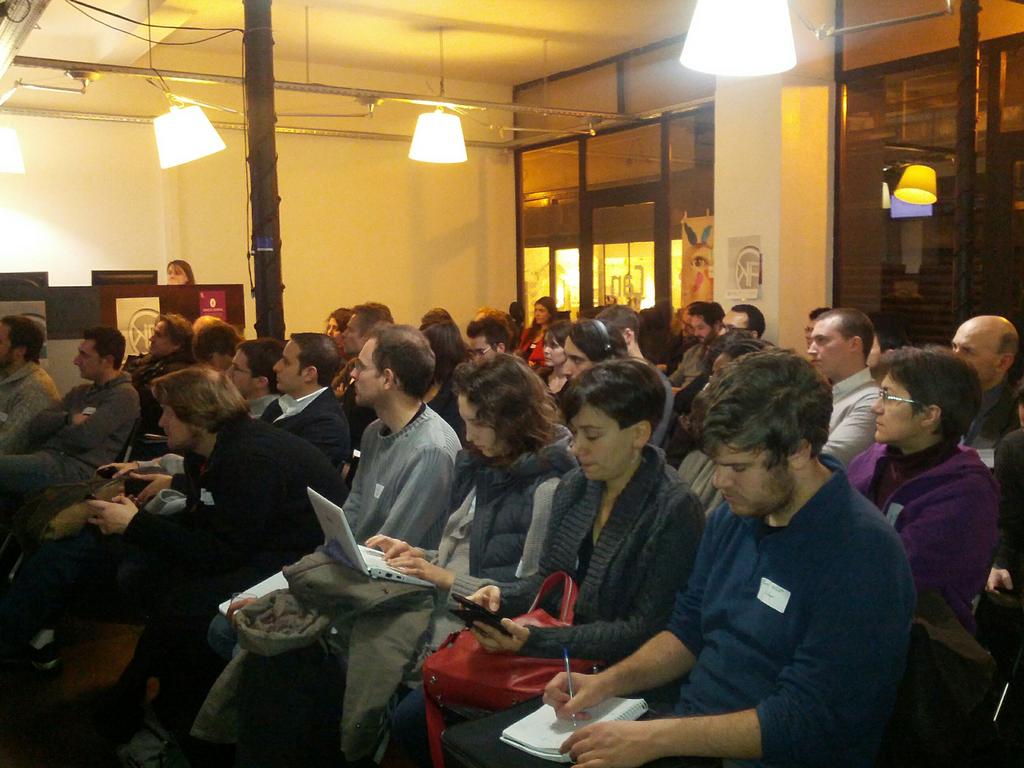 ## Open Data
The roundtable consisted of about 15 participants interested in this topic. The roundtable first highlighted the main issues with Open Data in France, notably the difficulty in identifying Open Data producers, the lack of communication between producers and re-users, and a multi-layered administration which increased the complexity of the initiative. The general observation was that the opportunities for an Open Data approach were still poorly understood by senior managers and public service operators, and that a general concern about financial sustainability existed.
Within this context the participants proposed the following ideas and concrete projects:
* Develop tools to improve understanding and facilitate the identification of public data in France
* Implement support programmes for practitioners in this field as well as support existing initiatives
* Support for projects on the reutilisation of public data (the example of OWNI pioneering data-journalism was mentioned)
* Develop an application of the type What do they Know or Alaveteli in France to facilitate requests from the French FOI (CADA) and have a public monitoring of these requests
* promote Open Data through concrete examples rather than theoretical arguments. (Identify success stories and promote storytelling)
* Reflect on new mechanisms for consulting data.gouv.fr and other local Open Data sites
* Further develop nosdonnées.fr (the CKAN platform in France set up by Regards Citoyens)
Charles Ruelle also summarised Etalab's work (data.gouv.fr) over the last year and reaffirmed the organisation's willingness to collaborate with all stakeholders in this field. Finally Karim Sy, founder of [Jokkolabs](http://www.jokkolabs.net/) drew attention to the power of projects such as Open Street Map in countries that do not have a precise mapping of the territory and called for support of African countries on Open Data issues.
What's next? Another meeting will be proposed early next year to identify priority projects on Open Data to be developed within OKFN France context. This event will be announced on our blog and our mailing list.
## Open Culture
At the Open Culture roundtable, the discussions first focussed on the project [OpenGLAM](http://openglam.org/) and [Public Domain Calculators](http://publicdomain.okfn.org/calculators/) being developed by the OKFN [Working Group on the Public Domain](http://publicdomain.okfn.org/).
Each of the participants then proposed ideas for promoting cultural heritage and encourage the free flow of information and cultural content. Here are the proposals:
* organise events around the theme of free culture
* produce multimedia presentations of public domain works
* encourage crowd-sourcing initiatives allowing visitors at museums, galleries, etc. to contribute by * * * providing additional information about the artworks visited
* apply Open Data tools to facilitate public interaction with artworks
* identify mechanisms for valuation which go beyond financial terms (visibility, data enrichment, engagement with the public, etc.).
The discussions were completed on the issues of financing (convincing donors, identify and respond to tenders) and the organisation of the Public Domain Day to be held in late January. The participants in the culture group will meet again in January to discuss the launch of the projects mentioned above.
## Open Education, Access and Science
This roundtable brought together primarily young researchers wishing to discuss issues of Open Access and Open Science in France. One of the main findings was a need for clarity on the existing practices and legislation. Also, Open Access is insufficiently encouraged by the research institutions.
The following topics were discussed:
* importance of open formats in publishing articles & data and a need for training in the application of these formats
* Open Access must be accompanied by a reform of the evaluation of the work of researchers
* issue of maintenance and quality of open data and scientific publications: Who will be responsible? (need for new collaborative models e.g. where the peer review is a continuous process)
* it was also noted that although France had 70 Open Access registers, the practice was not encouraged and it was sometimes easier to find French publications on German platforms.
The participants were finally encouraged to visit the OKFN working groups on [Open Science](http://science.okfn.org/) and [Open Access](http://access.okfn.org/).
## Open Transport
Open Knowledge Foundation working group on [Open Transport](http://transport.okfn.org/) gathered "around the table" as well as online. The roundtable consisted of producers and re-users of open transport data including representatives from Google, SNCF, LA FING. It was an opportunity to present the project Open Transport Handbook, a methodological guide on the opening of transport data, as well as to discuss issues specific to the transport sector. You can follow the Open Transport group discussions and participate in their projects is at [http://lists.okfn.org/mailman/listinfo/open-transport](http://lists.okfn.org/mailman/listinfo/open-transport).
## Follow-up and How to participate
Finally, many of the participants have asked how to participate in the Open Knowledge Foundation. It is simple, just do as we do, join the [OKFN mailing lists](http://lists.okfn.org/mailman/listinfo) that interest you, introduce yourself on the [general French okfn-fr](http://lists.okfn.org/mailman/listinfo/okfn-fr) or at our events, explain your idea, your project and see if it interests others. If you want to get involved in the coordination and implementation of the French group, then we will be more than happy to welcome you. For more information on Open Knowledge Foundation and the French group please visit also our new [FAQ](http://fr.okfn.org/faq/) webpage.
**In conclusion**, we would like to thank the coworking space La Cantine for hosting the first OKFN Meetup and for its support for the future. We would also like to thank SNCF Transilien, a new partner in Open Transport Data, which provided drinks and finger foods.