This report is part of the event report series on International Open Data Day 2019. On Saturday 2nd March, groups from around the world organised over 300 events to celebrate, promote and spread the use of open data. OpenStreetMap Taiwan, Wikimedia Taiwan and the Bindura University of Science Education (BUSE) received funding through the mini-grant scheme by Mapbox and the Frictionless Data for Reproducible Research project, to organise events under the Open Mapping and Open Science themes respectively. This is a joint report produced by Dennis Raylin Chen and Josiline Chigwada: their biographies are included at the bottom of this post.
Taiwan: Holiday with More than Thirty Participants
The initiative of hosting an event starts simply with a few people wondering about the lack of proper self-learning material and content of traditional Chinese on Wikidata. And also the same on the OpenStreetMap project. Therefore, we, Wikimedia Taiwan and OpenStreetMap community organizers, decided to host an event, dedicated to tackle the topic mentioned above. It turned out to be quite a success, with more than 30 people joining us at the event. And we want to give our special thanks to the minigrant program of Open Knowledge International for kindly funding our event, the Mozilla Community Space of Taipei for providing the venue and at last our hard-working group.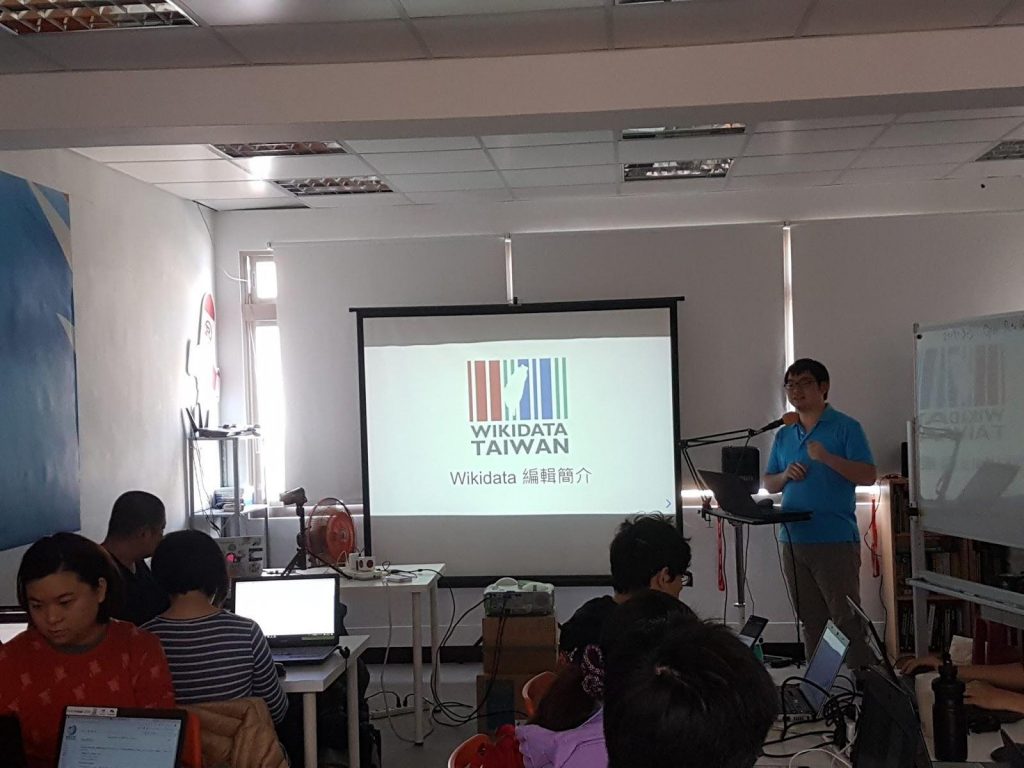 The First Major Event in Taiwan
This is the first major event of Wikidata in Taiwan. Besides OpenStreetMap and Wikimedia communities, we also work with people with people who are interested in cultural data. Allen gives a talk about Wikidata and Dennis Raylin Chen gives a talk on OpenStreetMap.
Prior to this event, our last Wikidata event dates back to 2013. Lydia Pintscher, Project Manager for Wikidata, was invited to give a lecture of Wikidata on one of the biggest Open Source Conference COSCUP in Taiwan. In 2018, Butch Bustria, a Wikipedian from the Philippines, shared his knowledge about Wikidata during a session of COSCUP. However, before the Open Data Day Events, we did not have any organized promotion in Taiwan.
At the event, we used a dashboard tools developed by the Wikimedia Foundation to keep an eye on the edits on Wikidata. We ranked the contributions by bytes created and the prizes are presented before the end of the event to the top three editors.
Language Barrier on Wikidata
We ran into a translation problem due to the fundamental difference between languages. We found out that the Chinese translation of P31 is ambiguous and causing confusions. Despite some potential solutions that were proposed by experienced participants, we were still not able to find a proper Chinese translation, as its language structure is different from European languages like English or German Language. We might find out a way to work around this issue in a more direct approach as we writing the learning materials to explain the definition of P31.
Working on Geodata on both Wikidata and OpenStreetMap
Another topic on the same event is OpenStreetMap, Dennis gave a demo how to draw a building around a museum. He encouraged participants to fill the gap of the date query by Overpass API of Taiwan museums, adding address information, Wikipedia and Wikidata links.

Suggestion and Experience
After the events, organizers received feedback suggesting that we should explain more clearly the logic of Wikidata Database design, something like Q P Q triple store format. Other participants say we should edit a good item, so that others could follow our steps.
From this event we gain lots of precious experience. By seeking outside-aid, we are able to host a bigger event, which we could have a full-day time to cover several issues, and the participants could have a much more deeper discussion with others.
Bindura University of Science Education (BUSE) Library, Zimbabwe
Using a mini-grant that was offered by Open Knowledge International with support from other organisations, BUSE held two activities to commemorate International Open Data Day. The commemorations were held on 15 and 20 March respectively at Bindura University of Science Education Library in Zimbabwe. The first presentation was done to 16 library staff members to introduce them to open data, so that they are able to assist those who enquire about the subject in the library. The second presentation was for lecturers from the five faculties at BUSE and 26 people graced the occasion. It was attended by the Pro Vice Chancellor, Academic Deans, Chairpersons of departments and lecturers.
The presentation was titled 'Introduction to open data at BUSE" with the aim of creating awareness on the importance of open data at a research institution. The comments from the evaluation forms indicated that researchers want to learn the skills to break barriers to open data, how to carry out awareness in institutions with important data which they do not want researchers to freely access, and how policies can be enacted to promote open data. Some researchers indicated that they are willing to open their research data and would encourage others to do so.
Way forward
The presentation would be done in faculty board meetings where most researchers would be available. The library would continue to create awareness among the members of staff as a way of building capacity towards open data, since there are a lot of misconceptions when dealing with open data. There is also the need to influence policy makers so that there are policies to protect both the researchers and the end users.
Biographies
Dennis Raylin Chen is a member of Wikimedia Taiwan and a core community organizer of OpenStreetMap meetup in Taiwan. His day job is tech reporter and in his spare time, recently, he likes to review the edit of OpenStreetMap around Taiwan. Promoting Wikidata of Taiwan is one of his main focuses, making sure the Taiwan related-items are all well-organized.
Josiline Chigwada is the Sub Librarian for Information services at Bindura University of Science Education Library in Zimbabwe. She holds a Doctor of Literature and Philosophy in Information Science from the University of South Africa (UNISA). Her research interests are value addition, open science, research data management, information literacy, indigenous knowledge, advocacy, marketing library products and services, and the changing role of librarians. She has a keen interest in promoting open science among researchers in Zimbabwe.