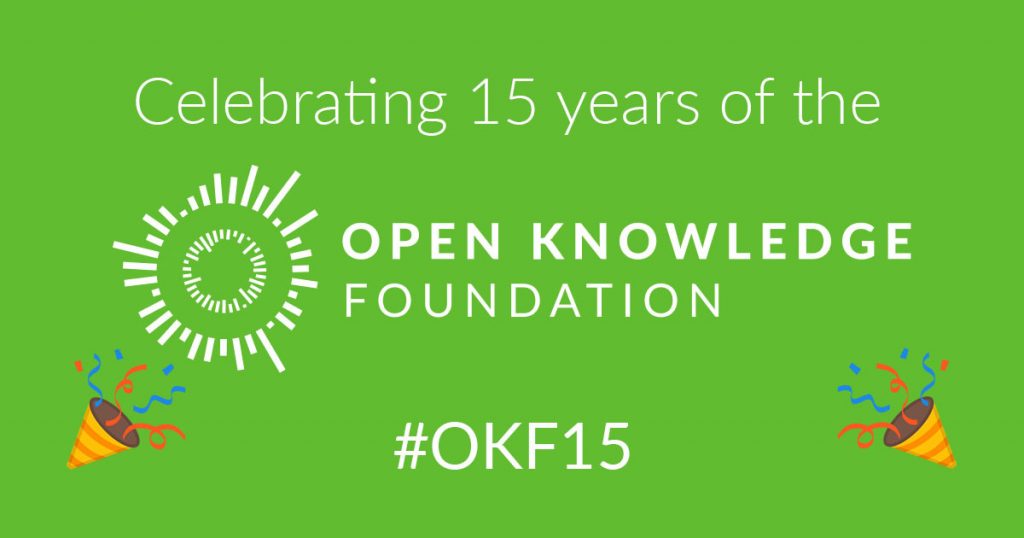 Fifteen years ago, the Open Knowledge Foundation was launched in Cambridge by entrepreneur and economist Rufus Pollock.
At the time, open data was an entirely new concept. Worldwide internet users were barely above the 10 per cent mark, and Facebook was still in its infancy.
But Rufus foresaw both the massive potential and the huge risks of the modern digital age. He believed in access to information for everyone about how we live, what we consume, and who we are – for example, how our tax money gets spent, what's in the food we eat or the medicines we take, and where the energy comes from to power our cities.
From humble beginnings, the Open Knowledge Foundation grew across the globe and pioneered the way that we use data today, striving to build open knowledge in government, business and civil society – and creating the technology to make open material useful.
We created the Open Definition that is still the benchmark today – that open data and content can be freely used, modified, and shared by anyone for any purpose.
With staff on six continents, we became known as Open Knowledge International and launched projects in dozens of countries.
As we celebrate our 15th anniversary today, our world has changed dramatically. Large unaccountable technology companies have monopolised the digital age, and an unsustainable concentration of wealth and power has led to stunted growth and lost opportunities. When that happens it is consumers, future innovators and society that loses out.
We live in powerful times, where the greatest danger is not the chaos but to rest in the past. So as we reach an important milestone in our organisation's own journey, we recognise it is time for new rules for this new digital world.
We have decided to re-focus our efforts on why we were created in 2004, 'to promote the openness of all forms of knowledge', and return to our name as the Open Knowledge Foundation.
Our vision is for a future that is fair, free and open. That will be our guiding principle in everything we do.
Our mission is to create a more open world – a world where all non-personal information is open, free for everyone to use, build on and share; and creators and innovators are fairly recognised and rewarded.
We understand that phrases like 'open data' and 'open knowledge' are not widely understood. It is our job to change that.
The next 15 years and beyond are not to be feared. We live in a time when technological advances offer incredible opportunities for us all.
This is a time to be hopeful about the future, and to inspire those who want to build a better society.
We want to see enlightened societies around the world, where everyone has access to key information and the ability to use it to understand and shape their lives; where powerful institutions are comprehensible and accountable; and where vital research information that can help us tackle challenges such as poverty and climate change is available to all.
Our work will focus on health, where access to medicines requires new thinking, and on education where new EU-wide copyright law impacts on both academic research and on people's ability to access knowledge.
We will also concentrate on employment, including tackling the growing inequality from working patterns and conditions, and the ability for creators and innovators to be fairly compensated. This reaches to the heart of a fair, free and open future where there is opportunity for all.
We have also set out five demands for this week's European elections and will push for MEPs from across Europe to prioritise these when the European Parliament returns in summer.
Firstly, we will fight the introduction of Article 17 of the EU's copyright reforms which threatens to restrict the sharing of data and other content on the internet for half-a-billion people in Europe.
We also want to see improved transparency measures at social media companies like Facebook to prevent the spread of disinformation and fake news.
We recognise the concerns that people have about the misuse of data, so we will champion 'responsible data' to ensure that data is used ethically and legally, and protects privacy.
We also want to persuade governments and organisations to use established and recognised open licences when releasing data or content; and we will aim to build a network of open advocates in the European Parliament who will push for greater openness in their own nations.
We live in a knowledge society where we face two different futures: one which is open and one which is closed.
An open future means knowledge is shared by all – freely available to everyone, a world where people are able to fulfil their potential and live happy and healthy lives.
A closed future is one where knowledge is exclusively owned and controlled leading to greater inequality and a closed future.
With inequality rising, never before has our vision of a fair, free and open future been so important to realise our mission of an open world in complex times.