On Saturday 7th March 2020, the tenth Open Data Day took place with people around the world organising over 300 events to celebrate, promote and spread the use of open data. Thanks to generous support from key funders, the Open Knowledge Foundation was able to support the running of more than 60 of these events via our mini-grants scheme. 
This blogpost is a report by Laetitia Ndeke from BloGoma in the Democratic Republic of the Congo who received funding from Mapbox to partner with Lumumba Lab and Collectif24 to increase young people's knowledge of open data.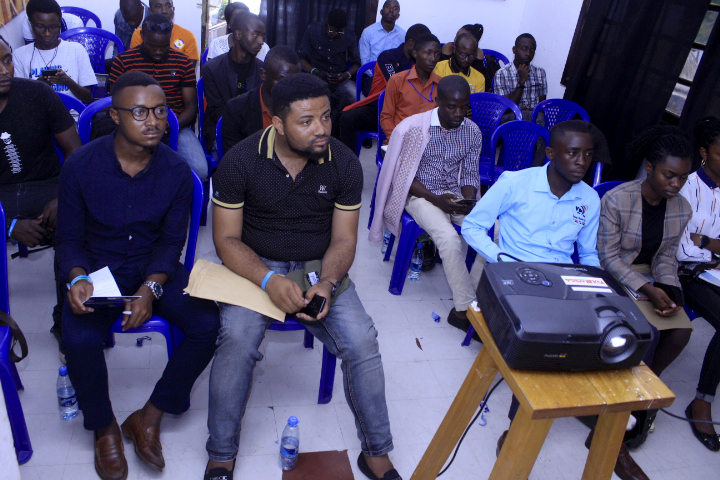 A group of young people from different walks of life gather in a room with white walls, attentively looking at the projector screen. From civil society organisation representatives to journalists, artists and more, their hands are frantically writing on notebooks, trying to catch up with the presentations. The presenter is showing them examples of how open data has been used in other countries to empower citizen actions for their communities. The conference is taking place at the cultural centre Yole!Africa, the regional hub of artistic creativity and cultural exchange.
For years, the Democratic Republic of the Congo has been hailed for its potential to contribute to the development of the whole African continent. But this is also a country which has known decades of violent armed conflicts in its eastern part. The NGO International Rescue Committee labelled it as the deadliest conflict since World War II. Billions of US dollars have been poured into the country either as a financial support to the government or as humanitarian aid with NGOs. 
At the same time, a number of factors are creating a real opportunity to empower communities to take calculated actions that could transform their lives. The first factor to consider is the penetration of mobile phones, smartphones and access to internet that is astoundingly increasing in DRC. The second one is the wind of "startups" and "social innovation hubs" currently blowing across the African continent. Adding this to the current dynamic of advocacy organisations and youth participation platforms, there has never been a perfect time to mobilise around open data. That's exactly what motivated the community of bloggers from Goma – BloGoma, the Lumumba Lab and Collectif24 – to organise the conference mentioned in the introduction.
During the two-hour exchange, the first speaker, Innocent Buchu, a researcher, blogger and journalism teacher at Goma University, introduced participants to basic notions of open data, giving them a broad understanding of what data is and different types of data. Then, came the second speaker, Blaise Ndola, the head of BloGoma, who talked about concrete ways data can transform lives of ordinary citizens. With examples of initiatives from other African countries that have started opening their data, making it available and digestible to the general public, he showed how locals could use such an information in their daily life.
After a series of questions and answers, the speakers encouraged participants to commit to promoting open data. The first step, of course, educating oneself about the topic and then using the knowledge in coordinated initiatives with other actors. Seventeen participants accepted to volunteer time and resources for future open data related activities. The next task for this group is now to identify needs that could met with open data without generating privacy or data protection issues.