Open Knowledge Foundation is excited to announce the list of organisations who have been awarded small grants to help them host Open Data Day events and activities across the world.
We received 296 small grants application this year and were greatly impressed by the quality of the event proposals.
This year we are supporting 14 events; 10 open data events and 4 events for the "Ocean data for a thriving planet" category. 
Unlike previous years, this year's open data events supported by the small grants can take place anytime from 5th June 2022 until 31st August 2022. We are extremely grateful to our partners Microsoft, who have provided funding for this year's small grants scheme.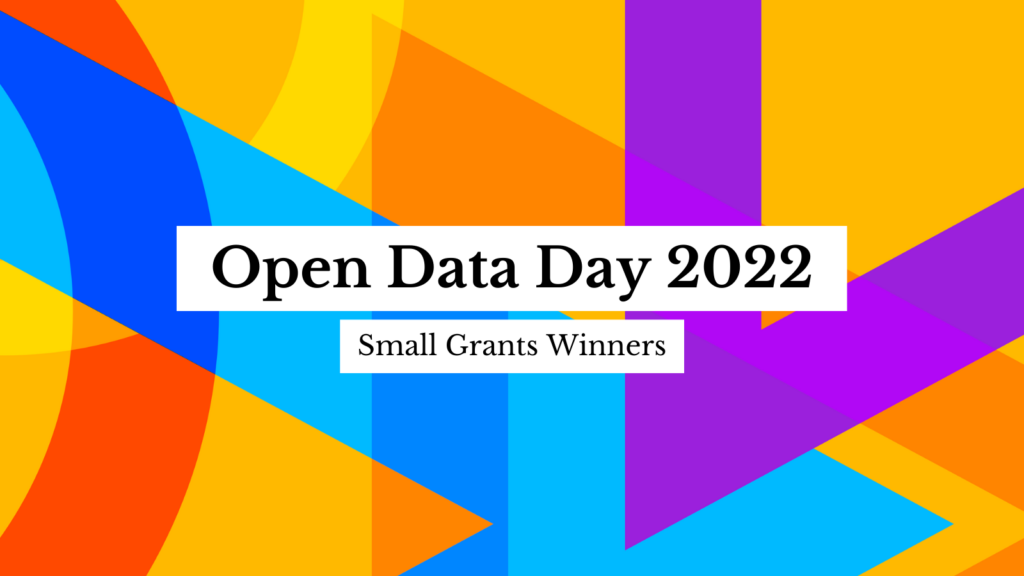 Here are the organisations who will receive small grants:
Open data events
Tanjona Association (Madagascar)
Host 2 days workshop to help/prepare the young generation from multidisciplinary backgrounds to think together about a solution from open data to protect Madagascar biodiversity and tackle the climate change issues.
Bolivia Tech Hub (Bolivia)
Explore the unorganized biodiversity data with the help of the technical and non-technical community by organising the data exploration, better utilising the available tools, and sharing the finisings.
Dream Factory Foundation (Botswana)
Use open data to educate and inspire a call to action for environmentalists and agricultural experts in Botswana to start using sustainable and climate-smart agricultural methods in order to improve production yield and promote a more sustainable environment.
Lekeh Development Foundation (Nigeria)
Build the capacity of the coastal community in Ogoni on practical air quality monitoring for effective environmental management.
Fundación Datalat (Ecuador)
Promote the use of environmental open data to map the state of the forest and natural parks in Ecuador through a mapping exercise with offline visualization techniques.
SUUDU ANDAL (Burkina Faso)
Hold workshops with experts in Ouagadougou and Dori and discuss how communities can use data for local and global development in the context of governance and security in Burkina Faso.
Agro Tech Liberia (Liberia )
Create awareness around the importance of the development, dissemination, and use of food and agriculture-related data for strategic planning, and design of policies and programs for the achievement of the zero hunger goal of the SDGs.
YouthMappers (Tanzania)
Mapping flood protection zones and evacuation routes to improve preparedness and response capabilities to urban floods among local communities in Morogoro Municipality and Ifakara Town Council, Tanzania.
Map the main sources of financing and the flow of resources that should be directed towards the scientific and technological development of Brazil.
Digital Openers AB (Sweden)
Present method using Freedom of Information, share results from investigative budget transparency survey, and involve participants in using the data for the upcoming Swedish election.
Ocean data events
Escuela de Fiscales (Argentina)
Host blended event with panel presentation and workshop to Involve citizens and civil organisations in the use of data for environmental activism and ocean protection.
U-INSPIRE (Indonesia)
Generating new ocean data for a coastal community in Krui, Lampung Province. A sharing session to discuss how the disaster impacted their livelihood and share how to monitor their surroundings using a few low-cost sensors and build it together with the community so they can maintain the sensor.
Train journalists on how to seek data to increase media coverage or engage them on a variety of coastal resilience topics, including ecosystem rehabilitation, livelihood, and food security, shelter and infrastructure, land use and development, managed retreat, and more.
Establish an alternative paradigm for sustainable development with peoples' power and involve fisher people in transformative politics to bring in the same. Organise training programs for youngsters in the fishing community to train them with available data on sustainable development, inter-generational equity, governance, and gender justice.
About Open Data Day?
Open Data Day is an annual celebration of open data all over the world, where we gather to reach out to new people and build new solutions to issues in our communities using open data.
Groups from around the world create local events on the day where they use open data in their communities. It is an opportunity to show the benefits of open data and encourage the adoption of open data policies in government, business, and civil society.
Need more information?
For more information, you can reach out to the Open Knowledge Foundation team by emailing opendataday@okfn.org. You can also join the Open Data Day Google Group to ask for advice or share tips and get connected with others.