The following guest post is from Daniela B. Silva and Diego Casaes from the Transparency Hacker Community in Brazil.
CONSEGI, an open source software and e-Government conference organized by (and mostly for) public IT departments and officers, took place on May 11, 12 and 13th, in Brasilia, the capital of Brazil. For the first time, the theme of the event was open government data, thus bringing activists from all over the world – such as Rufus Pollock, from OKFN; Nigel Shadbolt, from data.gov.uk, and David Eaves, from the Vancouver's Open Government Motion and other projects – to share their experiences in OGD and the culture of openness.
Apart from government officials and university students, CONSEGI was also attended by hackers. About 30 of a group of more than 500 hundred scattered all over Brazil (and abroad!), we were there as members of the Transparency Hacker community. Half of this group arrived in Brasilia after a 15-hour-long bus drive from São Paulo, and still managed to pay a visit to the Congress in an express and exquisite hacker tour around the Chamber of Deputies and the Senate.
But the way that lead us to CONSEGI was much longer than anybody's trip to Brasilia. Transparency Hacker is a community of hackers, developers, activists, journalists, professors and government officers/officials that dates back to October 2009, after the realization of the 1st Transparency HackDay.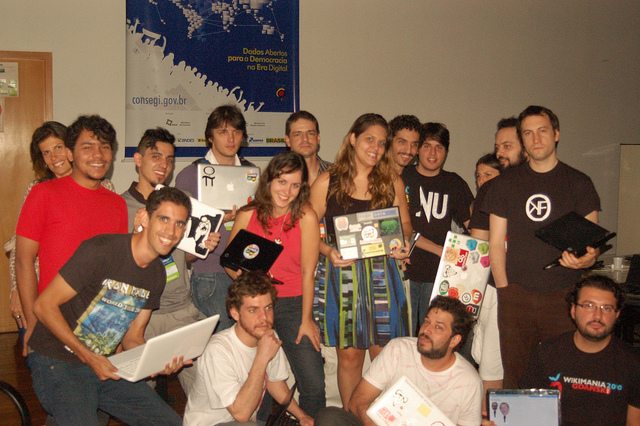 Our first meetup took place when very few people were familiar with open government data in Brazil, and even fewer were discussing it with society. Nevertheless, this first hackday based on public information and data gathered over a hundred people; and the group who attended it then triggered the start of a collaboration process that channeled the use of public data in new and imaginative ways, creating projects together, and raising awareness on the importance of OGD throughout the country.
Even though we're pushing the subject into discussion in public forums and elsewhere, the amount of open government data available in Brazil is still very little. That's indeed a motivation for us to keep our collective effort in making OGD a relevant topic in the government's agenda, and we do this with actions that demonstrate our demands for openness: hacking, scraping and cloning government websites.
"Why?", some may ask. Because that's the way we will legitimately participate in controlling public budgets, in accessing data for local or city services and in raising awareness about the Brazilian legislative process, until the politics involved in opening data and promoting transparency are fully understood by our government representatives also as a process, not solely as an objective with time, date and limitations.
Our actions are inspired by many different political views and goals, but one of our practical wishes is to foster in every member of the group the autonomy they need to browse through this set of ideas and opinions, as well as keeping it diverse. We have no list of principles or set of rules, and although it may sound chaotic, this gives people freedom to fit in in whatever role they find necessary or that they find that they can give a significant contribution.
What many of our projects have in common is a critical approach over access to information, weighing technology and its possibilities for openness and participation as crucial elements for contemporary democracies.
Over the legitimacy of our practices, we made our way to CONSEGI as we did in many other government events – to show to public officers, representatives and politicians the reason why we want open government data and the formats and ways that we want this date to be made public. We do it because we can, and because we think that's our role, but also because we believe that hackers and government can (or must) coexist.
In parallel with lectures, panels and workshops run by the Government and free software communities in CONSEGI, we held a Transparency HackDay. In the event's unconference room we gathered the members of the group and other "curious citizens" (as some in the THack mailing list like to be referred) together to think and design projects, bringing things that were long only ideas into reality.
There were about eight ideas being projected, designed or implemented during these days, all in a collaborative manner. If we could put the finger on the featured projects, they would be listed as below:
ChequeURL: it plays along the very idea of URL shorteners, and when the user pastes a URL of a news story, it automatically searches for names of companies. We are using a database of the 700 most important companies in Brazil. What this hack does is to compare the names of these companies and display their relationship with the Brazilian government, side by side with previous donations to candidates in 2010 elections.
Otoridades: a simple platform (using WordPress!) that gives the citizen the ability to send reports of abuses of power. Everyone is invited to contribute. With it we plan to give a tool for Brazilians to voice-out their demands and stories of corruption and report of "authorities" who have used their influence in a negative way or to acquire personal benefits.
Mapping of Legislative Process: we've been working collectively in the mapping of the legislative process. We want to make sure people understand how laws are made in the Congress; what the proceedings are and steps to pass a bill, and what the tricks and tips are that only our representatives are familiar with until now.
The lessons learned in CONSEGI include the notion that there is still much work to do in the open data scenario in Brazil, but there is will in some parts of the government to bring a culture of openness to the Leviathan. But indeed, the bonus point of our trip to CONSEGI was the ability to put names to faces and interact with other people from the international open data community.
We are very excited with what we are building here in Brazil, and the growth of our vibrant group of hackers is quite stunning. From now on, we would like to share best practices and learn from others, engaging Brazilians in a global conversation on the use of information for social good, and help riddling the puzzles and challenges that come to our hands, just for the sake of hacking stuff. Any ideas?
Lucy is a free range "tech-translator", blogging about her work at http://techtohuman.com/.
Formerly, Lucy worked for Open Knowledge leading School of Data, co-editing the Data Journalism Handbook and coordinating the OpenSpending community.