The following guest post is by Thomas Gegenhuber, Naumi Haque and Stefan Pawel, who are involved in Open Commons Linz.
In 2010, the City of Linz, Austria completed a year-long study of an "Open Commons Region" for government. The findings of the study introduce a framework for open government, with the goal of creating a vibrant public-private ecosystem that includes public administration, corporations, arts communities, educational institutions, and citizens. The focus is on local governments, who are closest to the people and have an opportunity to use principles of transparency, participation and collaboration to improve services in areas that directly affect local communities, such as education,
transportation, connectivity, and culture.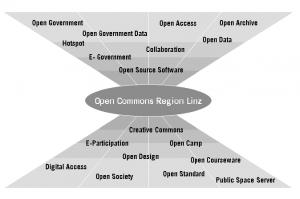 In 1979 Linz became a place for experimenting with digital culture by creating the "Ars Electronica." The initiative is part avant-garde festival, part competition, part on-going showcase for excellence in digital art, and part media art lab providing artistic expertise for R&D projects. The City of continued by addressing basic accessibility with the Hotspot Initiative and has expanded the scope of open government with initiatives such as the Public Space Server, the Creative Commons Subsidy Model, and the first steps towards open data.
The study "Open-Commons-Region Linz" was conducted by the IT department of the city in collaboration with the Johannes Kepler University. The report summarizes the role of local government in establishing an Open Commons Region. In the past, public funds for economic development have been focused largely on capital infrastructure like roads and institutions. In a
knowledge economy, it makes sense to also invest in intellectual growth, shared data, and ideas. In this context, the role of the government is to create a framework for public knowledge, draft appropriate legislation, build awareness, and support budding initiatives set forth by citizens and
private enterprises.
The Open Commons Region Linz is working on a platform called "Clickservice", like SeeClickFix or FixMyStreet, and on an Open Government Data platform. The Open Government Data platform will also be open for other smaller cities around Linz, but also for institutions and companies. Both
projects will start this autumn.
Theodora is press officer at the Open Knowledge Foundation, based in London. Get in touch via press@okfn.org