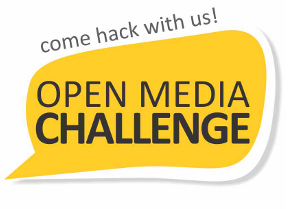 The Open Media Challenge (OMC) is a two-day event, laying the groundwork for improving data journalism in Eastern Europe. The aim is to write code for free software which will solve real-world media problems around data aggregation and visualization. It will be a collaborative effort focused on Eastern European information collection and dissemination, and will be conducted in English language.
Coders, Designers, Journalists and Activists who want to team up and play with data on a specific issue, can submit their proposal using our submit form. The call for proposal starts today and is open until 14th of July.
The main event will take place in Mid September in Bucharest – more details coming soon. It's going to include an Open Hackday, as well as Code Review, International e-Jury and Celebration day. Check out next steps, proposal list, and other event-related news, on the FAQ page.
The event is funded by Knight-Mozilla Open News, and was initiated by the Sponge Media Innovation Lab for Eastern Europe. The organizers are CRJI, geo-spatial.org, Ceata, ROSEdu and ApTI.
Hope to see you there!