Buildings account for more than 30% of final energy use and energy-related carbon emissions in the world today. This sector
has the potential to play a crucial role in mitigating the global challenge of climate change. However, the building industry is a
local industry and the sector is fragmented at all levels, from planning to design and practical construction and over its various
technical aspects.
In this context, how best to help the sector deliver its global mitigation potential? Our answer at the Global Buildings
Performance Network (GBPN) is collaboration: stimulating collective knowledge and analysis from experts and building
professionals worldwide to advance best building performance policies and solutions that can support better decision-making.
At the cornerstone of this strategy is our new Linked Open Data website launched on the 21st of February. This web-based tool
is unique in that it has been designed as a global participatory open data knowledge hub: harvesting, curating and creating
global best knowledge and data on building performance policies.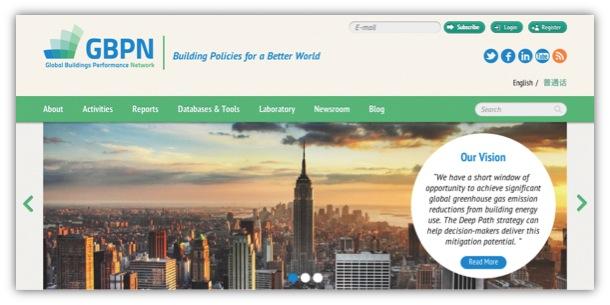 As the energy performance of buildings becomes central to any effective strategy to mitigate climate change, policymakers,
investors and project developers, members of governmental institutions and multilateral organisations need better access to
building performance data and knowledge to design, evaluate and compare policies and programmes from around the world.
The GBPN encourages transparent availability and access to reliable data. The GBPN data can be freely used, reused
and redistributed by anyone (as provided under a Creative Commons Attribution CC-BY 3.0 FR license.) – subject to the
requirement to attribute and share alike. In addition, the GBPN Knowledge Platform has been developed making use of Linked
Open Data technology and principles to connect with the best online resources. The GBPN Glossary is linked to DBpedia as
well as the reegle's Clean Energy and Climate Change Thesaurus developed by the Renewable Energy and Energy Efficiency
Partnership (REEEP) and (REN21). A "News Aggregator Tool" service is also available. And our
platform connects to our Regional Hubs data portals: Buildingsdata.eu, the open data portal for energy efficiency in European
buildings developed by the Buildings Performance Institute Europe (BPIE), and Buildingrating.org, the leading online tool for sharing global best practices on building rating and disclosure policies launched by the Institute for Market Transformation (IMT) in 2011.
One of the main features of the website is the "Policy Comparative Tool" enabling comparison of the world's best practice
policies for new buildings. By understanding how countries have designed and implemented best practice codes, policy makers
can use this information to strengthen the future design of dynamic policies. The tool provides interactive data visualization
and analytics.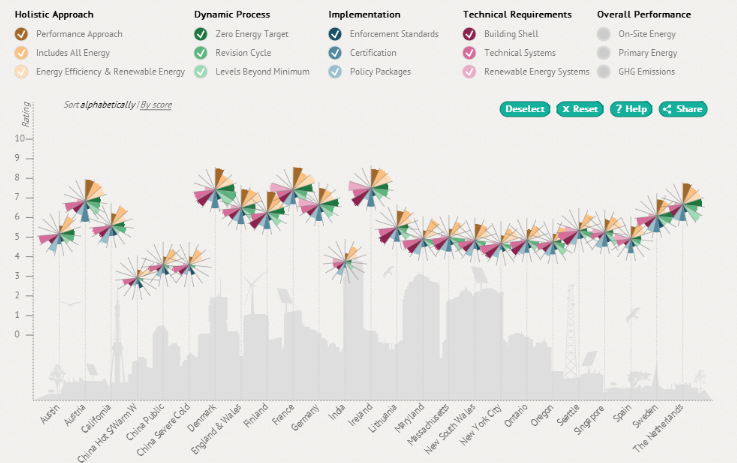 The GBPN aims to facilitate new synergies with energy efficiency experts and building professionals worldwide. For this
purpose, the new website offers a Laboratory, a participatory research collaboration tool for building energy efficiency experts
to share information and generate new knowledge on how best to develop ambitious building energy performance policies
globally.
The GBPN will be enriching its data over time with additional topics and information generated through data exchange
projects and research partnerships and is inviting any interested organisations to suggest any opportunities for collaboration.
The GBPN Open Knowledge Platform has been developed together with the Semantic Web Company, a consulting company
and technology provider providing semantic information management solutions with a strong focus on Open Data and Linked
Open Data principles and technologies.
###About the GBPN:
The Global Buildings Performance Network (GBPN) is a globally organised and regionally focused network whose mission is to
advance best practice policies that can significantly reduce energy consumption and associated CO2 emissions from buildings.
We operate a Global Centre based in Paris and are represented by Hubs and Partners in four regions: China, India, Europe and
the United States. By promoting building energy performance globally, we strive to tackle climate change while contributing to the planet's economic and social wellbeing.
Follow us on Twitter @GBPNetwork
Contact us at info@gbpn.org – www.gbpn.org
Anne-Claire is communications manager at the GBPN, and Martin is CFO at the Semantic Web Company.