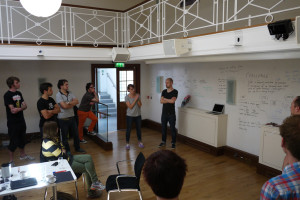 Lovely attendees of OKCon, it's time to make plans for the workshops you want to attend! Each workshop session now has detailed information about moderators and speakers, topics that will be covered, and practical information about capacity limits and where and when they will be taking place.
There are three very easy steps to follow:
Step 1 – Go to the Schedule
Step 2 – Click on your favourite workshop(s)
Step 3 – Get in touch with the organisers via the email address given to express your interest, begin collaborating, and book your place – hurry, seats are limited!
The workshop organisers are ready and waiting for your input and ideas, and can't wait to fine tune the session with you! Don't hesitate to get in touch with them if you have any questions about the workshop.
Why not check out:
…and there are many more!
Zara works with School of Data leading our research and learning, and the 2015 Fellowship Scheme. She is based in Berlin, and can be found tweeting @zararah.