900 people, 55 countries, 2 full conference days plus 2 satellite days.
OKCon convened our network and community in Geneva, Switzerland – at the largest Open Knowledge event. We share a common goal of knowledge being open. Across the movement (Open Science, Open Data, Open Government, Open Culture and many more), there were workshops, keynotes and participants from many walks of life.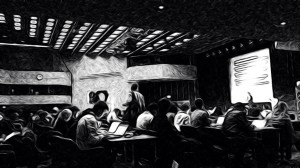 We would like to thank our speakers, participants, partners, sponsors and supporters for building this fantastic event. While we continue to prepare our full Community Report, here are some highlights:
Jay Naidoo, Chair of the Board of Directors and Chair of the Partnership Council of the Global Alliance for Improved Nutrition (GAIN) was a keynote at OKCON 2013. He inspired us with a strong call to action:
Jay Naidoo on Why Open?
Read more wrap-up posts from the community:
Additional resources:
Heather is Community Engagement Director at the Open Knowledge Foundation, based in Toronto. She's passionate about global storytelling, citizen voices, excellent software, crisismapping, collaboration, localization and open everything. Learn more at @heatherleson or textontechs.com