Legal questions are at the heart of what openness is about, and there has always been interest at the Open Knowledge Foundation in open legislation – both in theory and in practice. Remarkable projects have been started around the world in open lobbying and open law data.
This has proven ample inspiration to put open law, legal apps and legislation in the spotlight at the Open Knowledge Conference 2013 in Geneva, during a four day satellite event conducted by members of the local Open Knowledge Foundation Switzerland chapter.
Law Mining Hackdays
We convened at OKCon's conference venue for three days, then wrapped up with a day on campus at the University of Geneva. The Monday morning workshop saw over 25 people pack into the room from diverse backgrounds: hackers, lawyers, businesspeople, academics. They took part in an introduction to mining legal data, to see our expert panel present 11 challenges, and to hear John Sheridan speak about legislation.gov.uk, the open legislation portal of the United Kingdom: a remarkable project and valuable lesson in the particularities of working with legal data and making it accessible to all.
John Sheridan presentation on Vimeo
Wide public interest
Over the following three days dozens of people dropped into the specially set up OKCon hackspace to put brains, pens and computers together to make the most of the opportunity to collaborate across geographic and professional boundaries, pitching in to advance the projects during the busy conference schedule.
People took part who were already running successful legal software businesses, mingling with staunch advocates of open source and open data, data scientists applying Semantic Web ideas to meta-laws, students keenly visualizing the intricate networks of legal code, activists launching new awareness initiatives. On-the-ground experiences were being shared from around the world, and a "hacky", let's-do-it atmosphere prevailed.
In the buzz of excitement around OKCon and the ideas going around the room, three groups formed around our participants core areas of interests for the hackday, which we referred to as:
Case Law – working with data about legal cases, such as the proceedings of courts
Legal Concepts – making the laws and their workings more open, and
Usability of Law – making legal data more usable to the general public.
Projects and initiatives
On Thursday we wrapped up the event with interesting results. It is clear that the law has much to say about openness, and that at the same time the road ahead to opening up the legal world to more analysis, visualization, and usable applications is long. While the technical understanding of laws around the world today continues to be more grounded in stories than systems, an enormous amount of work is being done to transform justice from a social artefact to a methodical science. The hackday projects are seeds of change:
§ Case Law as a Service (CLaaS) will make legal decisions on national and international levels available online and more accessible than ever. The team aims to create an open framework and platform architecture that allows users and a multitude of applications easy access to case law data. Concepts and demos included: Human Rights Case Laws, Case Law Linked Data, and an open search engine for the Swiss Supreme Court.

§ Open Law Search makes everyday law work easier by exposing valuable resources on the Open Web. Users can search and filter across a variety of domains especially relevant to European law. It is live and available here: http://www.openlaws.eu/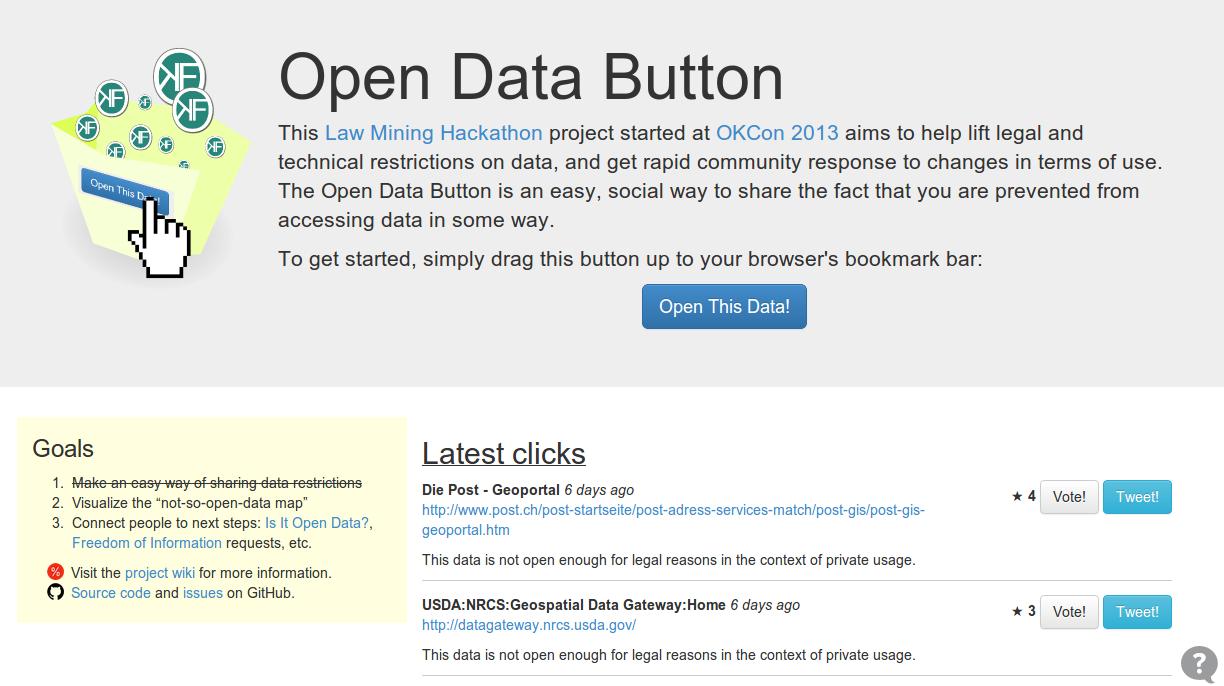 § Open This Data! is a simple idea with an aim to help lift legal or technical restrictions on data, and get rapid community response to changes of terms of use. The Open Data Button is a new, easy, social way to raise awareness of not-so-open data.

§ Open Privacy Legislation assesses a range of government websites and rates them according to criteria from the Declaration of Parliamentary Openness. The result is this map of world legislative standards.

---
These projects are all open source, they need your feedback, support and championing. Please try their demos, check out the wiki pages, let us know over the mailing list if you have ideas to share with the teams.
Simultaneously to the conclusion of the Law Mining Hackdays, an exciting new project was unwrapped from across the Atlantic which we couldn't help but admire: The Constitute Project, a beautifully designed search engine and explorer of the world's constitutions. This and many more inspirations and open data sources will guide us in future endeavours.
What happens next?
The meetings at OKCon and Law Mining Hackathon results have led to a renewed interest and several new initiatives for the Open Knowledge Foundation's Open Legislation Working Group, where Clemens Wass has stepped up to moderate the mailing list.
Discussions are re-starting after a few months of hiatus, and we are looking forward to more shared thoughts and observations on the world of legal openness. Please sign up at legislation.okfn.org and use it to send in your announcements, suggestions and ideas for projects on these themes. Stay on the list to stay on top of all the above, including news of upcoming events in the months ahead.
On behalf of my co-organizers, we extend our thanks to OKCon and the University of Geneva for hosting the event, to our experts and sponsors for their support, and most kindly to everyone who contributed sparks of knowledge and made the hackdays a blast of learning, collaboration and making. Let the #legalhack-ing continue!
Tech dude in creative district Switzerland, co-kickstarter of the Swiss Open Data Initiative and organizer of local Open Government Data events and projects. Member of the Open Knowledge Foundation's Working Group on Open Legislation and Local Group for Switzerland. Follow @loleg