The following article is cross-posted from OpenDemocracy.
David Cameron's lobbying bill exposes the hollowness of his muscular claims about cracking down on crony capitalism. Britain's democracy remains under corporate capture.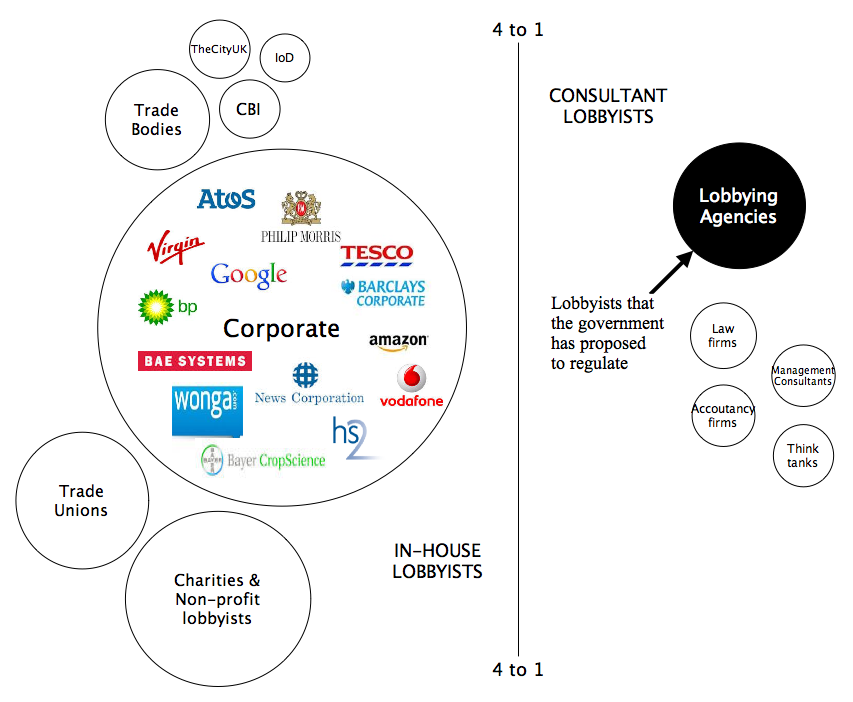 Image: Government wants to register Lobbying Agencies alone (Alliance for Lobbying Transparency)
Today the government's proposed Lobbying Bill will go into parliamentary ping-pong between the House of Commons and the House of Lords. If this Bill passes without significant amendments it will do nothing to stop secret corporate lobbying, making a mockery of the coalition's open government aspirations.
Every year an estimated £2 billion is spent attempting to influence decisions in Westminster, an amount that is topped only by spending in Washington and Brussels. Even more than its counterparts across the channel and across the pond, London's lobbying industry has been able to operate in the dark, free from scrutiny and interference: unregulated, unrecorded and unimpeded.
Four years ago next month, just before the 2010 general election, David Cameron announced his intention, if elected, to tackle the "unhealthy influence" of "secret corporate lobbying". He pledged to "sort out" what he called "crony capitalism", to shine the "light of transparency" on lobbying, and to force our political system to "come clean about who is buying power and influence".
The theme of his speech was "rebuilding trust in politics". He attacked then Prime Minister Gordon Brown's "secretive, power-hoarding, controlling" government, and its handling of the 2009 parliamentary expenses scandal.
Transparency has since become a major theme of the coalition government under Cameron, who has claimed repeatedly that he wants to "fix our broken politics" and make the UK "the most open and transparent government in the world".
Fast forward to the government's proposed lobbying bill, tabled for discussion in parliament today. The second part of the bill has been widely criticised for gagging charities during election periods. The first part, which outlines plans for the lobbying registry, has received less public attention.
Far from shining a light on the activities of the influence industry, the proposed registry would exclude the vast majority of commercial lobbyists, covering as little as 5 per cent of all lobbying activity. Among the excluded, all 'in-house' lobbyists — those based at major corporations, banks, consultancies, law firms, accountancy firms. Even the registered lobbyists would not be required to give the public information about what they are asking for, who they are meeting with, or how much they are spending.
How do the government's proposals compare with a real statutory register of lobbyists? Here's an illustration from The Alliance for Lobbying Transparency: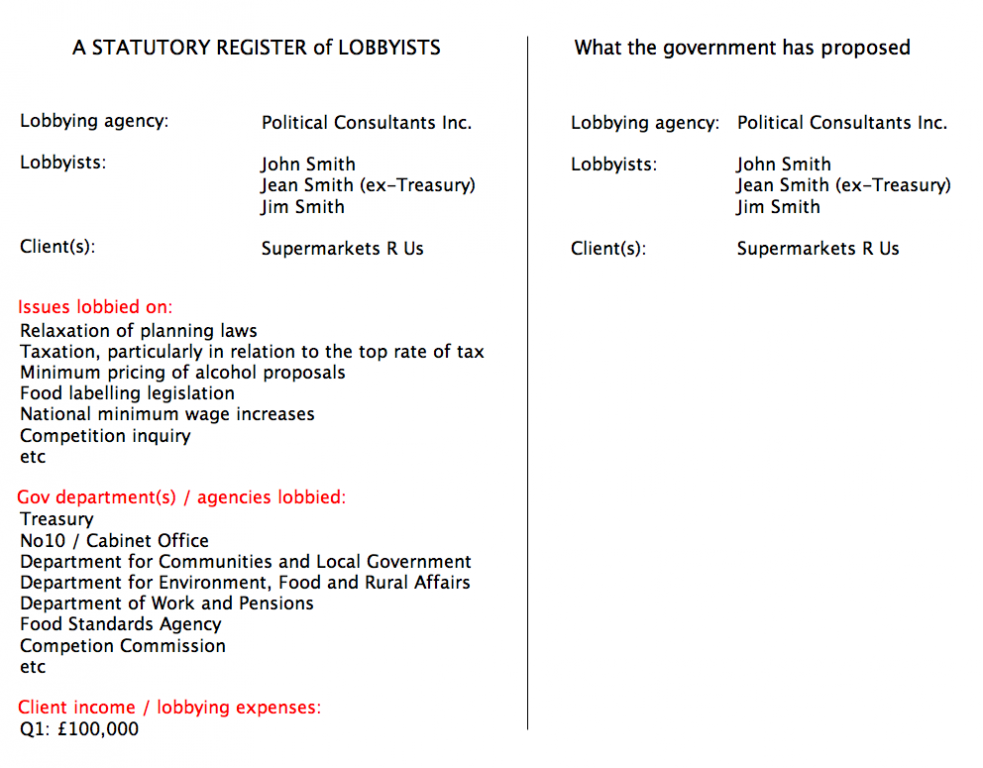 Unless it is scrapped and rewritten or major amendments are made – both exceedingly unlikely – the lobbying bill will make a mockery of the UK's open government purported aspirations. It will leave the British public none the wiser as to how big money and big business are distorting the fabric of public political discourse and decision-making, and to what end. It will do nothing to shed light on how powerful corporate interests are exerting their influence to shape what is politically possible and politically likely – from inaction on climate change and corporate tax avoidance, to fracking, energy prices and the privatisation of public services.
Even a decent registry of lobbyists would give us just a faint sketch of the impact of corporate lobbying on our democracy. The fight for transparency is just a first step that must not distract us from the bigger and more important fight to push back against the malign, distorting, anti-democratic influence of big money and big business on politics.
The passage of the proposed lobbying bill into law would represent a manifest failure of the current government to take even the most elementary of steps to live up to its pre-election promises to tackle secret corporate influence. It will no doubt be remembered as an historic missed opportunity and an astonishing defeat at the first hurdle – making the UK's claims to global leadership in government openness and accountability look like a joke.
The Open Knowledge Foundation and the Alliance for Lobbying Transparency have launched a petition asking the UK government to scrap and rewrite the lobbying bill. You can sign here. It is endorsed by Access Info, the Campaign for Freedom of Information, Campaign for Press and Broadcasting Freedom, Corporate Europe Observatory, Corporate Watch, Greenpeace, Integrity Action, Involve, the Open Rights Group, Spinwatch, the Sunlight Foundation, Unlock Democracy, War on Want and the World Development Movement.