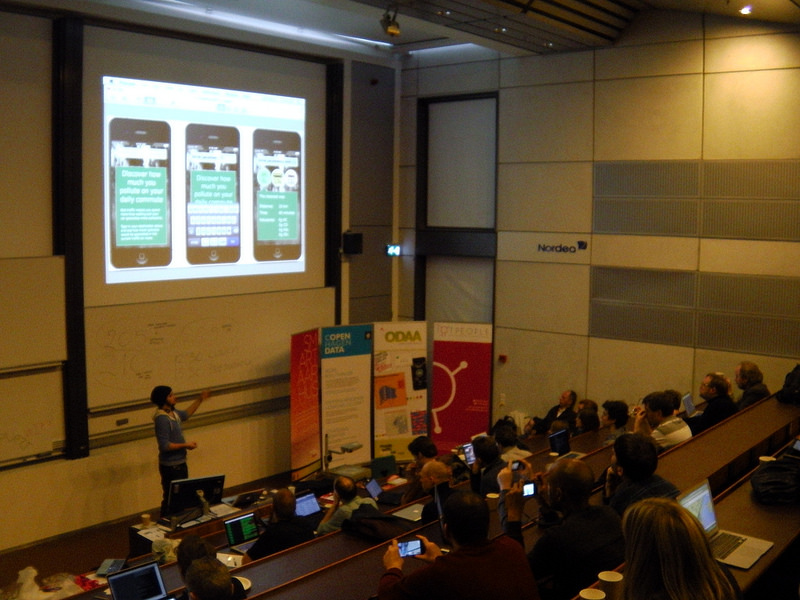 This past Saturday was Open Data Day across the world. More than 190 events took place around the globe and many of these were organized by Local Groups of the Open Knowledge Foundation. In this summary we will be highlighting some of all these great events (see also our blog post leading up to Open Data Day and our dedicated Open Data Day overview page).
In Ireland they worked on 4 open data and civic projects. Around 70 people – data wranglers, coders, activists, civil society representatives and interested citizens – volunteered their time and participated actively in the different projects as well as networked, shared ideas and enjoyed great food! In Egypt lots of participants joined from around the country and collaborated online and offline, and in general lots of attention was garnered, also in the national media and across the social media space. The highlight of the impact was a couple of supporting tweets from Egypt's Minister of Communications and Information Technology, Atef Helmy.
Our friends in India had great Open Data Day success as well. Day­ long events included hackathons, webinars, opening up of datasets, making of data visualization and many other such activities.
The Nepal Local Group also organized a series of activities including talks and various sprints including wiki school and Mozilla webmaking, many of which are summarised in this blog post, this photo gallery and this video.
In Russia and Belarus they had several events in different cities, among other Minsk, Perm and Moscow – collaborating with among other the local OpenStreetMap community and OpenAccess project Cyberleninka. In Belgium they focused on making a pre-Open Data Day event. The result was a full topic stream at the Data Days conference in Belgium, titled 'Open Belgium' and it was a great success. They gathered over 180 data experts (which was maximum capacity of the venue), which included local and national policy makers and even visitors from other countries.
In Scandinavia several activities took place. In Sweden they used the occasion to officially launch the Open Knowledge Foundation Local Group and released a press release. Iceland did a hackathon, Finland hosted an Open Data Brunch and in Denmark they held a grand event with 4 difference hackathons and workshops, where around 60 people – scientists, artists, data wranglers, coders, activists, data providers and interested citizens – participated. Some had worked on making videos from openly licenses cultural heritage content and showcased the results in the evening at a big Bring Your Own Beamer event in downtown Copenhagen. During the day the 4 countries even had a video hangout to share stories and connect over shared enthusiasm about open knowledge!
OpenSpending and Local Open Data Census sprints
Some groups engaged in some of the global Open Data Day topics of the Open Knowledge Foundation network. One of those was the OpenSpending project, where for instance our group in Burkino Faso dug into public expenses. Open Knowledge Foundation Japan passed another milestone and have now added more than 250 datasets on OpenSpending. In London, transactional spending data from the London borough of Lewisham was published by participants – and in Spain they visualised the city of Vigo.
Many groups participated in the global Local Open Data Day sprint. Among the most active were the United States where the sprint was organized in collaboration with CodeAcross and Sunlight Foundation – and the result was the data mapping of over 20 cities across the nation. Also our Greek and German groups did an amazing job and mapped an impressive 10 cities and 11 cities respectively – see photo gallery from Greece here. Germany additionally worked on all kinds of other projects and even shot a little video.
The twittersphere was also highly active all around the globe. Congregating around hashtags such as #ODD14 and #ODD2014 thousands joined to either mention what they were doing or comment on the great works of others. We've highlighted some of the best tweets here.
All in all an amazing day that truly highlighted the breath and depth of the global open data community. We can hardly wait for Open Data Day 2015!
Christian Villum is an open data and open everything advocate, disruptive-technology geek, project bootstrapper & electronic music buff. He lives in Copenhagen, Denmark, and has a background in media and culture entrepreneurship, community creation and hacktivism.