Happy week! We are hosting two Community Sessions this week. You have expressed an interest in learning more about CKAN. As well, We are continuing our regular Community Feedback sessions.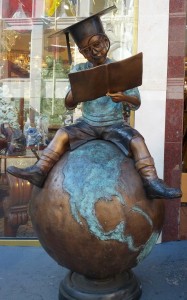 Take a CKAN Tour:
This week we will give an overview and tour of CKAN – the leading open source open data platform used by the national governments of the US, UK, Brazil, Canada, Australia, France, Germany, Austria and many more. This session will cover why data portals are useful, what they provide and showcase examples and best practices from CKAN's varied user base! Bring your questions on how to get started and best practices.
Guest: Irina Bolychevsky, Services Director (Open Knowledge)
Questions are welcome via G+ or Twitter.
Date: Wednesday, April 30, 2014
Time: 7:30 PT /10:30 ET /14:30 UTC /15:30 BST/16:30 CEST
Duration: 1 hour
Register and Join via G+ (The Hangout will be recorded.)
Community Feedback Session
We promised to schedule another Community Feedback Session. It is hard to find a common time for folks. We will work on timeshifting these for next sessions. This is a chance to ask questions, give input and help shape Open Knowledge.
Please join Laura, Naomi and I for the next Community Feedback Session. Bring your ideas and questions.
Date: Wednesday, April 30, 2014
Time:9:00 PT/12:00EDT/16:00 UTC /17:00 BST/18:00 CEST
Duration:1 hour
We will use Meeting Burner and IRC. (Note: We will record both of these.)
How to join meeting Burner:
Audio instructions
Option 1
Dial-in to the following conference line:
Number 1- (949) 229 – 4400 #
Option 2
You may join the conference bridge with your computer's microphone/speakers or headset
How to join IRC:
http://wiki.okfn.org/How_to_use_IRC/_Clients_and_Tips
More about the new Open Knowledge Brand
Host a Community Session in May
We are booking Community Sessions for May. These Open Knowledge online events can be in a number of forms: a scheduled IRC chat, a community google hangout, a technical sprint or an editathon. The goal is to connect the community to learn and share their stories and skills. If you would like to suggest a session or host one, please contact heather dot leson at okfn dot org.
More details about Community Sessions
(Photo: Heather Leson (San Francisco))
Heather is Community Engagement Director at the Open Knowledge Foundation, based in Toronto. She's passionate about global storytelling, citizen voices, excellent software, crisismapping, collaboration, localization and open everything. Learn more at @heatherleson or textontechs.com