At last, it's here!
Check out the details of the OKFestival 2014 programme – including session descriptions, times and facilitator bios here!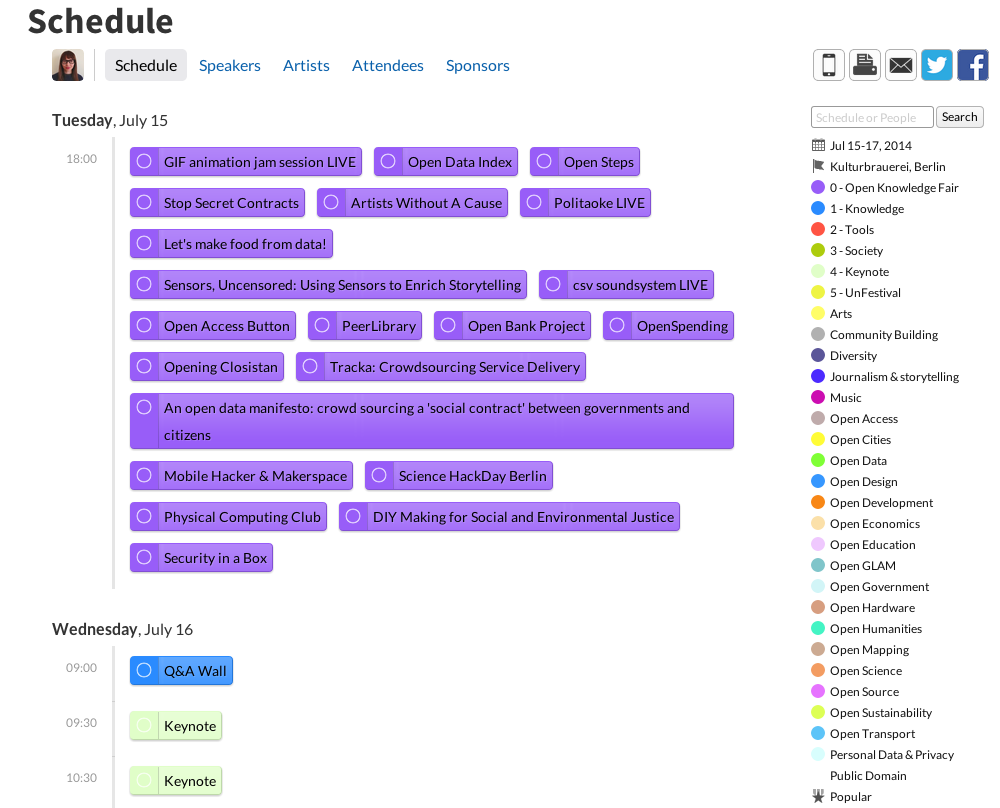 We're using a tool called Sched to display the programme this year and it has several great features. Firstly, it gives individual session organisers the ability to update the details on the session they're organising; this includes the option to add slides or other useful material. If you're one of the facilitators we'll be emailing you to give you access this week.
Sched also enables every user to create their own personalised programme to include the sessions they're planning to attend. We've also colour-coded the programme to help you when choosing which conversations you want to follow: the Knowledge stream is blue, the Tools stream is red and the Society stream is green. You'll also notice that there are a bunch of sessions in purple which correspond to the opening evening of the festival when we're hosting an Open Knowledge Fair. We'll be providing more details on what to expect from that shortly!
Another way to search the programme is by the subject of the session – find these listed on the right hand side of the main schedule – just click on any of them to see a list of sessions relevant to that subject.
As you check out the individual session pages, you'll see that we've created etherpads for each session where notes can be taken and shared, so don't forget to keep an eye on those too. And finally; to make the conversations even easier to follow from afar using social media, we're encouraging session organisers to create individual hashtags for their sessions. You'll find these listed on each session page.
We received over 300 session suggestions this year – the most yet for any event we've organised – and we've done our best to fit in as many as we can. There are 66 sessions packed into 2.5 days, plus 4 keynotes and 2 fireside chats. We've also made space for an unconference over the 2 core days of the festival, so if you missed out on submitting a proposal, there's still a chance to present your ideas at the event: come ready to pitch! Finally, the Open Knowledge Fair has added a further 20 demos – and counting – to the lineup and is a great opportunity to hear about more projects. The Programme is full to bursting, and while some time slots may still change a little, we hope you'll dive right in and start getting excited about July!
We think you'll agree that Open Knowledge Festival 2014 is shaping up to be an action-packed few days – so if you've not bought your ticket yet, do so now! Come join us for what will be a memorable 2014 Festival!
See you in Berlin!
Your OKFestival 2014 Team
As the Open Knowledge Foundation's Events Manager Beatrice leads the team organising OKFestival 2014 (Berlin, July 15-18 – see you there!). Furthermore, she coordinates other Open Knowledge Foundation events working to expand the organisation's global network through a variety of in person and online actions and formats.
She's also a core member of OpenTechSchool, a community initiative offering free programming workshops and meetups. Follow her on Twitter @beatricemartini.