We are excited to announce that registration is open for 'The Open Exchange for Social Change'. This event has been referred to in the past as 'The Unconference' during the flurry of pre-event IOCD Madrid announcements made over the past few weeks.   The response has already been amazing on social media, and we have received many inquiries about the event itself.
We decided to name it The Open Exchange for Social Change so we can be open and transparent about our goals for the event  The name 'The Open Exchange' reflects the guiding principles along with the activities that will take place during in the event.  We aim to create space where participants will be able to exchange knowledge, understanding and build solidarity that will lead to better outcomes for IODC and beyond.  It is open space where you will be able to propose topics for discussion that are most relevant and urgent for your work.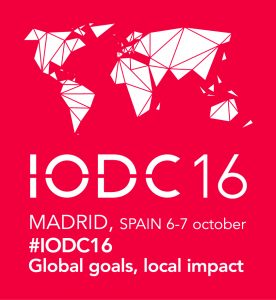 The theme that we chose for this year is 'Social Change'. We want to more than just "open data" and reflect on the change we are all passionately involved in.  By 'social' we mean different and diverse aspects of our lives – from politics, the communities we interact with, to our relationships with the environment, the financial world and even space. We want to explore how open data creates, contributes and supports social change. How do we create positive or negative change and what we should do next?  Your ideas and actions will serve as content for the main conference, and help us to set the goals for the IODC roadmap.   
To have a successful Open Exchange, we created the 'Buddy system'. Buddies are participants who take an active role in contributing and shaping the event to assure its smooth running and success. Buddies can do following parts:
Leading/Facilitating a session

Supporting new facilitators to run sessions

Help to document the event and session outcomes

Making sure that the unconference will feed the main conference by using your social media skills
To support your contribution as a Buddy, we will be providing an online session where we will give an overview of The Open Exchange, and tips on Facilitation.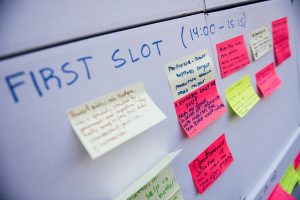 The lead facilitator of the unconference is Dirk Slater from Fabriders. Dirk has years of experience in facilitating participatory events, and leading successful workshops that focus on civil society and technology, and we are excited to have him on board and share with us the secrets to successful events focused on collaboration.
Anyone who comes to The Open Exchange will be able to facilitate a session.  We invite you to register as a buddy ahead of time so that we can prepare and support you as best we can.
If you are interested in joining to The Open Exchange for Social Change, please register to the event in advance on http://open-exchange.net/. You can also find on the site all the information you need about the event. Didn't find what you are looking for? Write to us on the forum – https://discuss.okfn.org/c/iodc-unconference
Looking forward seeing you on the 4th of October, 9:30 at Centro de convenciones IFEMA NORTE, Madrid!