This blog post is part of our summer chapters updates and was written by the team of OK Brazil. 
Brazil is not only about the Olympics. A lot has been going on in the Brazilian chapter of the Open Knowledge Network as well. Here we highlight the significant chapter developments, including some new faces and some exciting plans.
Personnel
One of the most crucial changes in the chapter is in the area of human resources.  Ariel Kogan, an OK Brazil longtime member, took over as CEO from Tom (Everton) Zanella Alvarenga. We wish Tom much luck in his new path and would like to thank him for the work he has done for the chapter so far.
Also, We also have a new addition to our chapter, Elza Albuquerque who joined us as our communication officer.  Lastly, we have a new advisory board. You can meet our new board in this link.
Open Spending News
Where did my money go website already has the executive budget data for four Brazilian cities: São Paulo (SP), Belo Horizonte (MG), in order toCuritiba (PR) and Recife (PE). The Brazilian Open Spending team is looking for more information about the others so they can add them to the platform.
We also welcome a new developer to the OpenSpending team, Lucas Ansei. He will be responsible for the next system implementations.
Our latest publications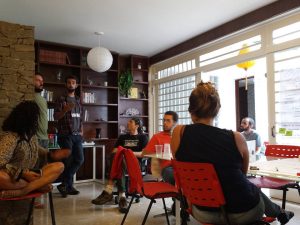 Global events
– Trip to Estonia, digital government laboratory.
In July, Ariel Kogan and Thiago Rondon (Open Spending coordinator and Adviser for Open Knowledge Brazil)  travelled to Estonia to learn about their experience with e-government, e-vote, data security and administration. The trip was supported by Fundacion Avina, in the context of EuVoto (I vote) project.
– OKBr participation in the Berlin International Open Knowledge leadership course by Rufus Pollock. The participation in this meeting was also possible thanks to Fundacion Avina support.
Transparency
Check our accounts and balance –
Final words…
Lastly, OK Brasil is in the process of planning ahead. We initiated a new strategic planning process for the chapter for 2016-2018. The goal is to validate what was built in previous stages in order to increase new contributions to present the first OKBr planning document from 2016 to 2018.
Have a look at the Open Knowledge Brazil retrospective and next steps and let us know what you think. We are looking forward to hearing from the global community and connecting more with what others are up to.  Follow us on Facebook or Twitter for more live updates!