In support of our mission to empower civil society organisations to use open data to improve people's lives, Open Knowledge International is partnering with a number of projects committed to using open data to address human rights issues. RTEI approached us to develop a platform to facilitate an open public dialogue on the right to education across the world and to provide ongoing technical support for the project.
RTEI, a project of RESULTS Educational Fund, is a global accountability initiative that aims to ensure that all people, no matter where they live, can enjoy their right to a quality education. RTEI monitors the satisfaction of the right to education based on international human rights law frameworks. Working with civil society partners, RESULTS Educational Fund supports in-country and international advocacy based on findings from RTEI from 2015 and forthcoming findings in 2016. Advocates, researchers, and all citizens can use RTEI to engage in informed dialogue about the satisfaction of the right to education.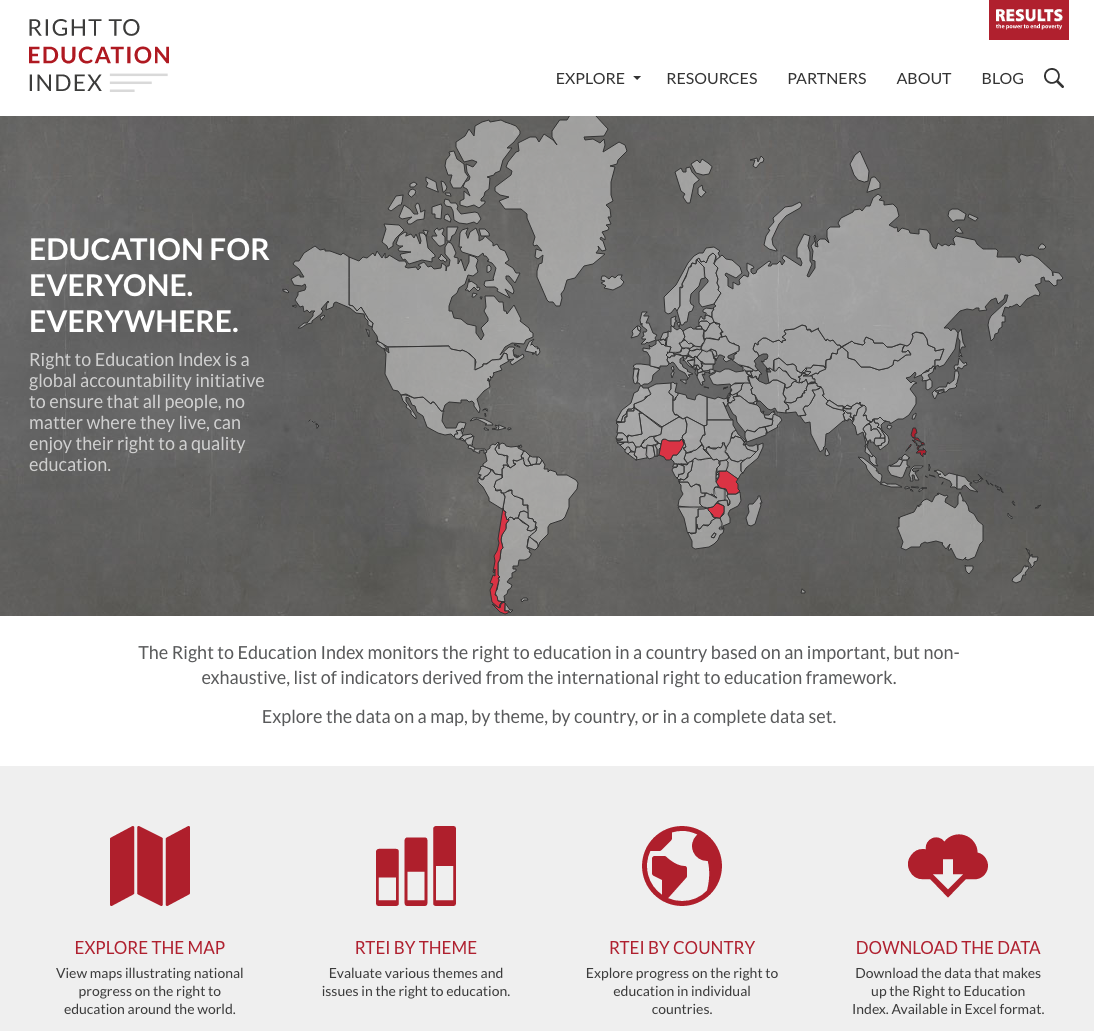 We are pleased to announce that www.rtei.org is now live!
RTEI is a global index built out of the international right to education framework to track national progress towards its fulfillment. RTEI uses a comprehensive survey of close-ended questions answered with supporting documentation to substantiate national satisfaction of the right to education. Each question has an explicit basis in one or several international human rights instruments, namely United Nations legally binding international conventions.
RTEI is a tool to increase open public dialogue around the right to education
In 2015, civil society representatives, educational experts, and government officials from Chile, Nigeria, the Philippines, Tanzania, and Zimbabwe partnered with RESULTS Educational Fund in the pilot of RTEI, the results of which can be found in the RTEI pilot report. The report suggested strengths and weaknesses in certain national legal frameworks around the right to education, that educational resources, such as teachers, textbooks, and classrooms, were inadequate, and that countries were struggling to adapt education to the needs of all learners. The differences between national data in the index were explored in more depth in the report and on www.rtei.org.
Not only is RTEI a tool to increase open public dialogue around the right to education, it encourages governments to build transparent, public data systems documenting their promotion and expansion of public education for all. In the 2016 calculations, a penalty for missing data has been incorporated to hold governments accountable to public information standards. In this way, RTEI recognizes the risks and possible detriments of closed and unavailable data related to the satisfaction of the right to education. More information about methods and calculations can be found here.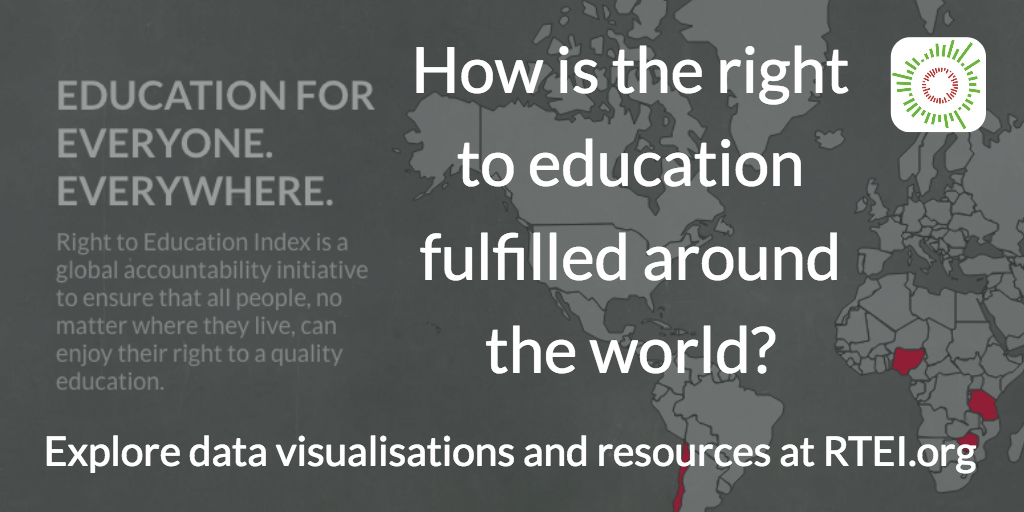 Researchers and advocates interested in education and human rights are now able to access the 2015 data and analysis on rtei.org, developed in partnership with Open Knowledge International. Visitors can explore the resource library, a remarkable collection of documents assembled through RTEI data collection related to national policies and standards outlining the right to education. You can also download the data, including the raw data and 2015 analysis, or explore the data visually by country and theme using Open Knowledge International's user-friendly design.
RESULTS Educational Fund is currently completing the 2016 data collection round of RTEI with civil society partners in 15 countries: Australia, Canada, Chile, the Democratic Republic of the Congo, Ethiopia, Honduras, Indonesia, Nigeria, Palestine, the Philippines, South Korea, Tanzania, the UK, the US, and Zimbabwe. Stay tuned for the 2016 country reports and global report to be published by March 2017.
Questions or Comments
Please send questions or comments about RTEI to rtei@results.org.
Ally Krupar is the Senior Associate on the Right to Education Index, an international research and advocacy project of RESULTS Educational Fund. She is an ABD PhD Candidate in Adult Education and Comparative and International Education at Penn State. She also teaches at American University in the School of International Service and School of Professional and Extended Studies. Over the past three years, she was a Visiting Researcher in Dadaab, Kenya, conducting project evaluations and dissertation fieldwork with refugees. She holds a MA from AU focusing on conflict resolution and human rights, and anthropology BA from Case Western Reserve University.