PiMaa is an Internet of Things project in Kampala, Uganda that seeks to build low-cost environment monitoring stations and open-up any data collected. PiMaa is an initiative under Outbox, supported by Open Knowledge International through the Africa Open Data Collaboration Fund.
Kampala is in a lot of growing pains. The current administration is doing their utmost best to increase the living conditions of the inhabitants. Public spaces are beautified, public transport is reformed, roads have been improved and tarmacked, and there is a phone number and contact point where citizens can report noise-pollution.
Kampala City Council Authority (KCCA) is really modernising the way the city is being managed. Still, for the naked eye, it is quite obvious Kampala's environment is suffering from a lot of different challenges mostly caused by human activity. Globally, there has been an urgent action to combat climate change under Sustainable Development Goal (SDG) 13 and improve resilience of Cities under SDG 11.
In Kampala, there is no way to determine the air quality given that there is no infrastructure to support environmental monitoring, air quality standards in place nor data on air quality. The growing reliance on diesel fuels for power generation, increased congestion on roads, indoor pollution due to poor connectivity to electricity grid and noise all lead to increasing pollution.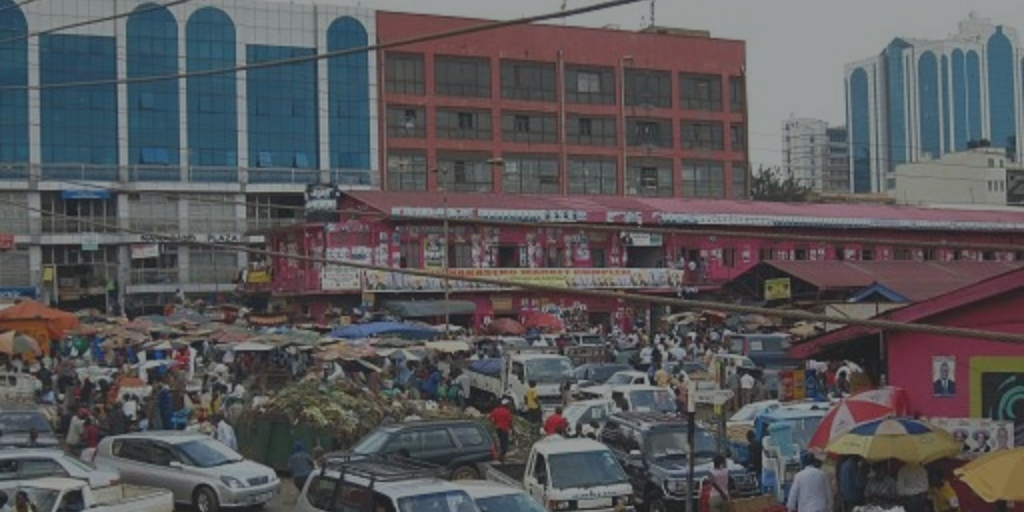 Image credit: Elevated view of Nakasero Market, Kampala (Public Domain)
In a study conducted by Dr. Bruce Kirenga on the state of ambient air quality in two Ugandan cities, it was noticed that air pollution in two Ugandan cities that include Kampala and Jinja is 5.3 times above the standards set by the World Health Organisation (WHO). Further to that, the State of the Environment report in 2010 highlights the lack of air pollution data.
There is a need for a robust, economical and extendable system for measuring the environment in the city of Kampala, Uganda that is low cost, modular and open source.
As a group of enthusiastic technology fellows, we have decided to embark on a project to build low-cost environment stations that may enable us to use open up data to track our environment. We called it "Pimaa" — literally from the local Luganda language word "Okupima" which means "to measure". We want to embark on gathering data on our environment to enable us to track its quality and measure progress towards fulfilment of SDG 13 and SDG 11. This "Pimaa" project aims to use open data to expose challenges faced and create awareness on the state of the urban environment, allowing organisations like KCCA, National Environment Management Authority (NEMA) and other stakeholders to measure the impact of the balance between an ever growing population, policy and project implementations.
Pimaa is an Internet of Things (IoT) project that seeks to build a low-cost environmental platform that can be easily deployed to public outposts and sites using small monitoring devices that collect data on air quality using sensors. The data collected will be transformed and stored on the Pimaa platform against open data standards that will ease the accessibility and dissemination of collected data.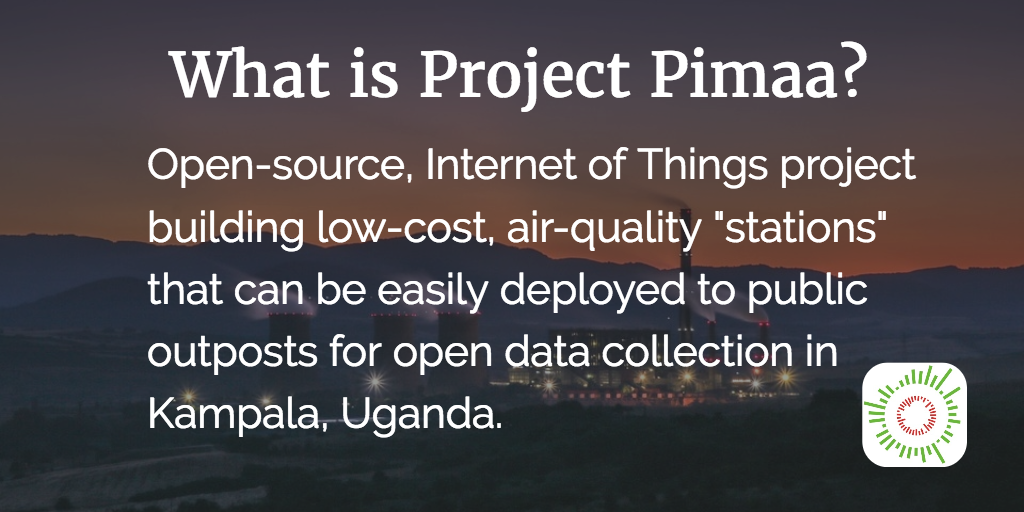 Pimaa's data collection hardware (station) will use the Raspberry Pi at its core, and will be attached with air quality sensors to measure various environmental pollutants that include Carbon Monoxide (CO), Sulfur dioxide (SO2), Nitrogen dioxide (NO2), Ozone (O3), Particulate matter (PM2.5). Although not classified as air pollutants, we shall also have sensors to measure ambient environmental temperature and humidity. Noise levels will also be recorded due to the impact it has on the psychological well-being of the general public.
The purpose is to develop a live prototype of the low-cost environment station that can then be adopted by any interested parties to scale.
How can the project scale?
The "Project PiMaa" platform is designed around the Raspberry Pi (a credit card-sized single-board computer) as the core of the system that is used to measure several environmental conditions ranging from temperature, humidity, light or UV, air pressure, and air quality (Nitrogen dioxide, Carbon Dioxide levels etc). To be scalable with such a system, the cost becomes a major issue.
In addition, we can't handle the cost of data across all these locations but we have a brilliant solution to that. We shall use the the "LoRaWAN network" for Internet of Things networks. We are to roll out a very cheap "Internet of things" across Kampala based on 100% Open Source solutions that the Stations upload their data on-to one (1) base central station that covers a radius of up to 10 kilometers and the network acts in free spectrum, thus eliminating exorbitant network traffic costs that the mobile network operators would have charged us.
A live prototype of PiMAA
We have another challenge. We won't be able to pay the electricity bills if we are to scale that much and cover the whole city. The Solar Panel and the IOT combined would bring the operational costs of the station to zero (0). (cleaning & maintenance labor excluded). These additional technologies will make the stations much more attractive to roll out in neighbourhoods with less stable power and no wireless Internet.
Also, we need to have an implementation that is based on open source technologies and with modular reconfigurable sensors that can be distributed across wide areas is a plus. Finally, the data needs to be fully accessible remotely anywhere on the web and visualized in a format that can be easily interpreted to make informed decisions on policies, planning and progress towards achievement of SDGs.
How might the data collected and insights developed be useful?
Data is as good as its usage, the conversion to insights and making informed decisions from it. Showing the raw data alone will not be enough, we will also need to do research and explain what the data means. What is bad air quality? What does it lead to? How does urban air quality affect the GDP of the country? What happens when a child gets too little sleep because there is a noisy night-church or night club keeping her awake every night? What is the effect of the weather on the data we find?
We do understand the gap in skills sets to make this happen. We shall have our trained data fellows work closely with the partner organisations on a day to day basis to put together insights from the data coming out of the these stations. The data posted will be pushed to any open data portals in the country, but we will also develop a website that shows our data and other relevant data (wind, noise pollution, air quality etc) on a map and over time.
Our desire is to build a proof of concept that can be adopted to influence policy.
We want to be able to answer these questions and use these measurements to influence policy –
How bad is air quality in Kampala?
How does Kampala improve the quality and timeliness of data gathered on the urban environment to accelerate implementation and action?
Where are the (most) polluted areas of town and where this pollution is coming from?
How can the data inform proponents of alternative cooking solutions make their point based on actual measurements?
Our learnings and next steps
It has been a challenge identifying open-source air quality sensors that work outdoors. Most of the air quality sensors are built to work indoors. When we initially started out on the project, we were under the impression it would be easy to find all the sensors we need. For the rapid prototype, we are opting to test with the indoor sensors and later identify outdoor air sensors for the live prototype.
We need partners on this project. We are interested in working with the national environmental regulatory Authority, the Kampala Capital City Authority division responsible for environmental monitoring and assessment, providers of solar energy equipment to power our stations, students or professors from university departments focused on environmental research and clean energy CSOs/NGOs. Volunteers who would offer to host our stations on their buildings are also welcome.
Lastly, we are interested in talking with people that are implementing or have done similar projects before to share experiences. You can contribute to our project on GitHub. You can also follow us on Twitter @projectpimaa.
This piece originally appeared on the Outbox research Medium blog and is reposted with the author's permission.
Richard is the founder and lead at Outbox, a Google for Entrepreneurs partner hub that helps new and upcoming African entrepreneurs interested in using technology with workspace, mentorship, and training programs. Through partnerships, it helps them raise funding and access markets.