Recognizing that capacity building is central to economic growth, reductions in poverty and equal opportunities, Open Knowledge International with the support of the Open Data for Development (OD4D) Network is expanding its work with civil society organisations (CSOs) through the Embedded Fellowship Programme.
In the last three months, I worked as an embedded fellow, consulting with Women Environmental Programme (WEP), by sharing data skills, and working on a data project with the team in their Nigeria office. The timing seems right. Not only is the information revolution upon us but trends towards democratization, government decentralization and economic liberalization have profoundly reshaped how universities, NGOs and other public-interest organizations do their work, thus, presenting them with new challenges and opportunities.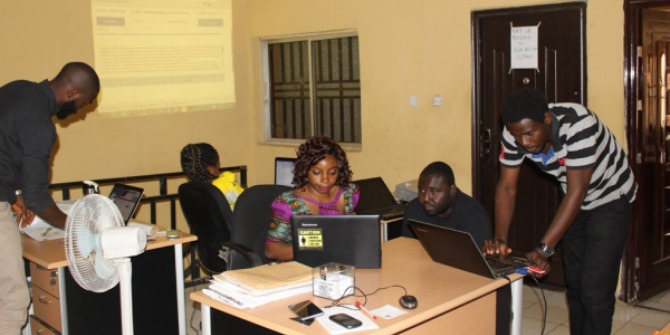 Getting to Know the Team
But how has it been like, working with Women Environment Programme in the last few months? WEP works basically on women's empowerment across the world, and as their name implies, most of their work is focused on advocacy for women. I spent 2 hours highlighting what the needs were for a data project, and for sustainability reasons, I developed a questionnaire to ascertain the level of knowledge and skills of the team I will be working with in days to come.
In human capacity building, we refer to this as a bottom-up approach. Ninety percent of the staff mentioned that they wanted to learn more about PDF extraction. Simple right? That's what you get from questionnaires, but in the real world, while I was conducting training, they found out that they needed more, and you know what more means in the short time-frame of 6 weeks? Information overload! Here's a brief look at the topics we covered and the feedback we received.
Exposing the Wealth of Open Tools
While highlighting data projects we could work on, such as creating advocacy products from citizen surveys, I was focused on getting some of the team members to be able to use some of the tools I introduced them to – Timeline.js for creating project or campaign timelines; Infogr.am for creating visualizations; Google Fusion Tables for publishing; licensing data using Creative Commons; Google Form for Surveys, using the Kobo Toolbox; analyzing and visualizing qualitative data using Wordle and a bunch of tools that can save them time in achieving their various tasks.
What did I get from working with them on using some of these tools? "Strinkwish" as some of the staff will say, as we engaged in hands-on training on each tool. During one of the sessions, I had to ask, and they told me it's an organizational coined word, meaning extraordinaire! Hope you also have an organizational dictionary.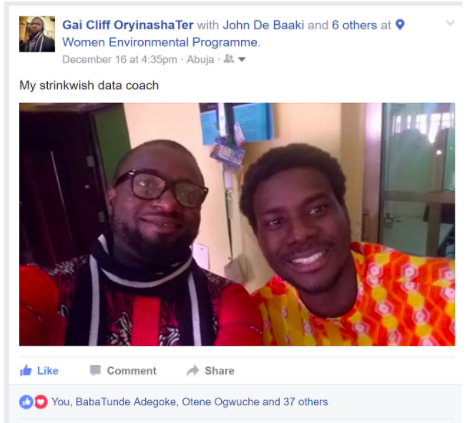 With Gai Cliff, the Senior Programmes Officer at WEP
Evaluating the effects of capacity development, such as this, is not straightforward and the short- and longer-term perspectives need to be considered.In the short term though, staff mentioned how this has been helpful in their work:
"I am so excited that I could quickly use Tabula to extract pdf files, and also create a visualization for qualitative analysis", Evelyn Ugbe, a Programmes Officer at WEP said as she was working on her new report on women advocacy.
With hands-on training like this, one cannot really measure the level of impact until you ask what participants have learnt, and I was amazed by the response of the staff after having 3 sessions with them. Another comment from staff member Emmanuel sheds light on the organisational-level improvements:
"It's such a  right time to have you. I am head of human resources and using Google Drive, coupled with the Google Fusion Tables had made my task easier, especially that I have been able to create a collaborative way, of getting feedback from staff."
So in the short term, increases in knowledge and skills can be measured and in the longer term, one can measure whether people are doing things differently as a result of the capacity building by applying the skills they learned. I will be looking out for this, in the coming months.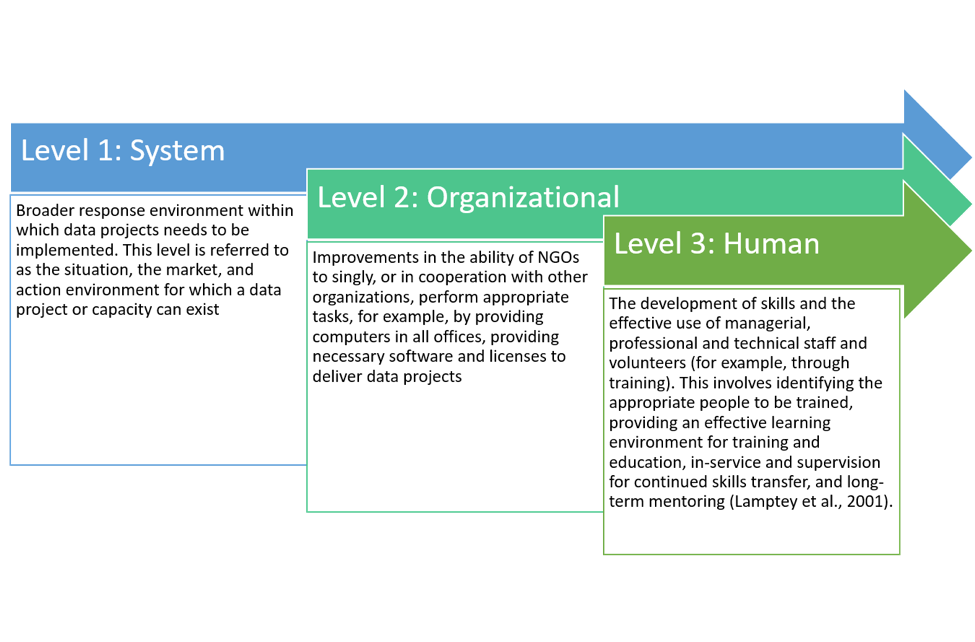 The three levels of capacity development (Adapted from UNDP, 1997)
Building Infrastructural Capacity Building is Paramount
With my experience of training and coaching staff and individuals, I have come to realize that skills and knowledge of trainees might not be enough, especially when it is within an organization: the system development capacity and organizational development capacity (described above) are more important and often unrecognised. As such, I was not surprised at times when some hands-on sessions became frustrating for the team because of unreliable and slow internet. At one point I needed to bring my internet router, so I could get my rhythm on. Also, when one of the staff members, Elizabeth, tells me her computer just keeps going off because her laptop battery isn't working and power isn't stable, I was drawn to how critical infrastructural efficiency lies at the foundation of successful open data capacity building.
I was also able to identify that WEP needs a simple and slick website together with an email hosting service that allows staff to easily exchange information for its kind of work. Gai Cliff, a Senior Monitoring and Evaluation Officer at WEP asked in one of the sessions about one of the those I had introduced to them, "So how do we get the paid version, we are limited to some added functionality. Do you always get this when you do hands-on training using open-source tools?". I had this several times! I like the fact that we had some talks about this challenges, and how going forward this can be sorted so we can easily publish some of the advocacy works I will be producing from the data projects.

What's Next?
"Olu, we will love to continue this in the coming year so you can produce our advocacy materials. These sessions have been helpful for my team, and also that you can play an advisory role on the organizational capacity development", Priscilla Achakpa, the Chief Executive Officer at WEP mentioned. "Absolutely" I replied while thinking of my calendar for the first quarter of the coming year, and also visualizing the support each of the staff had requested for, which I think could do well to accomplish the long term goals of this fellowship, and as such, ensuring the 1,110 minutes committed to this first phase, can become sustainable!
Oludotun is a Monitoring and Evaluation Expert, a Lead Development Consultant at Cloneshouse Nigeria; and Co - Founder, Connected Development Follow The Money, and formerly a School of Data Fellow