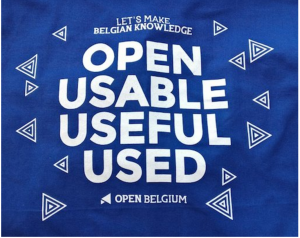 When you belong to a worldwide community such as the Open Knowledge Network, travelling to other countries means you can meet like-minded people by just knocking on the door of a local branch. That is exactly what I did last year when I lived in Brussels. I signed up as a volunteer for the Open Belgium 2016, a yearly community-driven conference.
It turned into an incredible internship for a couple of months. A year later, I am not living in Belgium anymore, but wanted to visit the team and Open Data Day was a perfect excuse. So I sign up as a volunteer again. And what do I see first upon arrival? A whole bunch of new family members.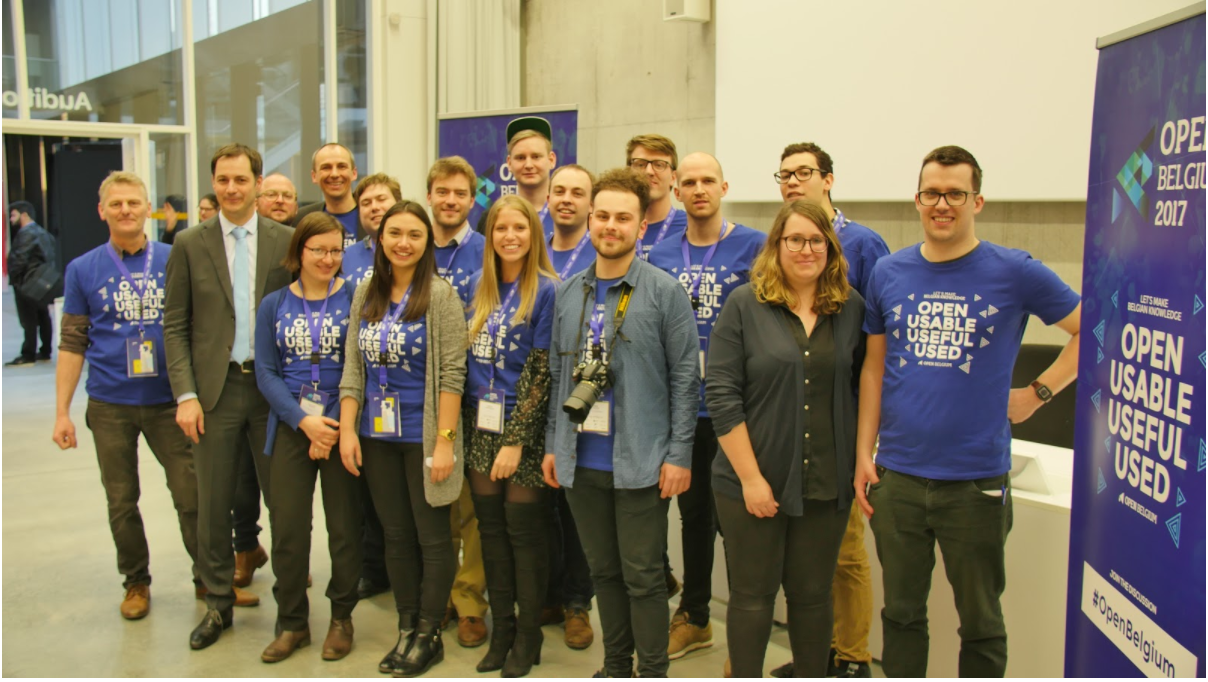 Open Knowledge Belgium: Meet the next generation
It's been a few months since Dries Van Ransbeeck took up the torch of the project coordinator role from Pieter-Jan Pauwels, but you can already see the changes. The office has moved from Ghent to Brussels, with new interns commuting daily from various parts of the country. You can already say that Open Knowledge Belgium is taking another dimension. And it's the new generation of volunteers that made the Open Belgium happen this year. You can check out the volunteers' hall of fame here. My task as a volunteer for the Open Belgium was to type 'like a maniac'  and keep a record of all the discussions. Find below my one-blog-summary of the day.
State of Open Data: Low-hanging fruit is gone
The event traditionally kicked off with the overview of the state of Open Knowledge in the country. Delivered by Toon Vanagt, the chairman of the Open Knowledge Belgium and Inge Van Nieuwerburgh, Board Member and coordinator of scholarly communications, it was rather a positive sum-up of the previous community efforts.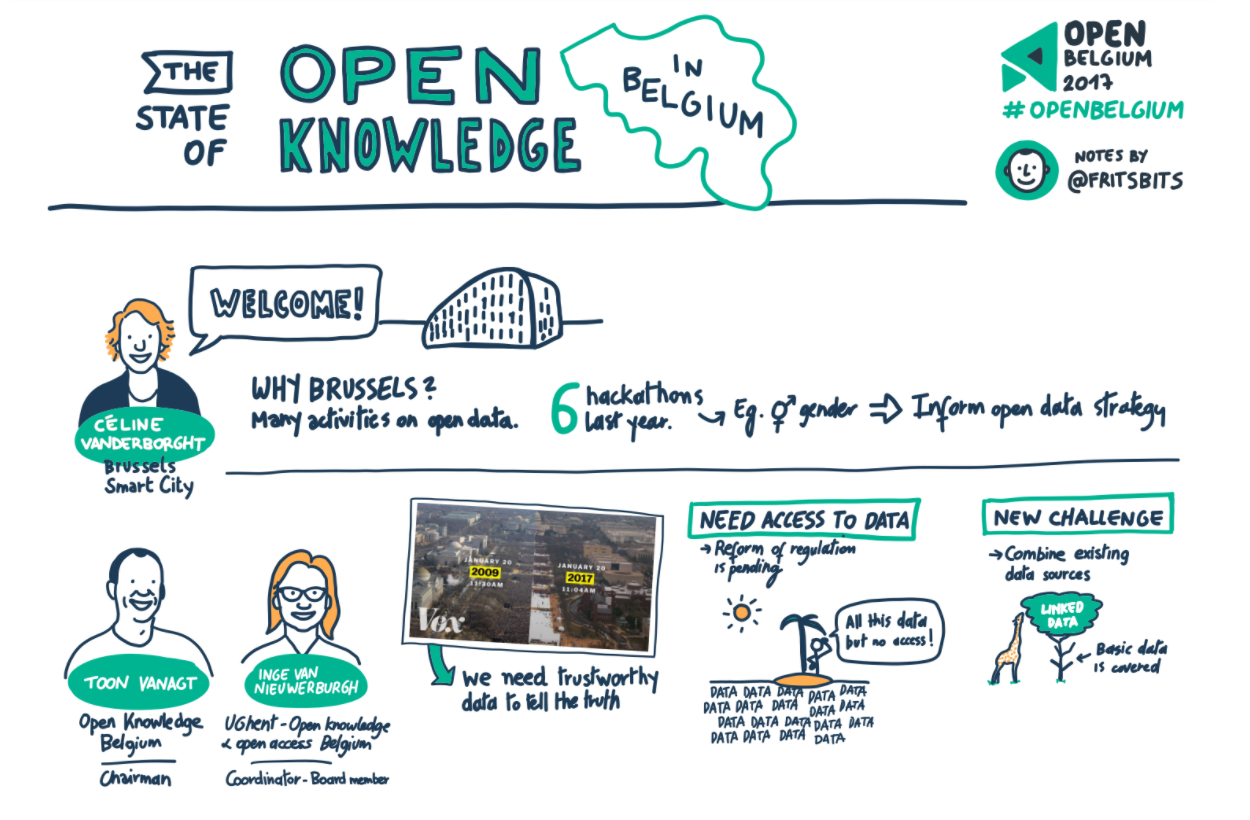 The laws are in place – the European Directive on the reuse of data was transposed into Belgian Law (NL, FR), providing strict obligation for administrations to make information available for reuse. Open Knowledge Belgium has a recognised role in the process of open data legislation. The basic datasets are open. Data portals are the new black.
The task now is to go further to improve data quality, aiming at the 5-star model of Tim Berners-Lee. This will mean building ontologies for linked open data, long but necessary debates about algorithms and ethics, an ongoing search for a revenue model based on open data, and filling new roles in a data field society such as data curator, data stewards and data analyst. That's a long, but exciting way to go.
Belgian Transport Authorities: we've changed
How long till we get the real-time public transport data? That was the hottest question on the panel with Belgian Public Transit Authorities. Sure, it is a big technical, legal and ethical challenge – a lot needs to be done to make this possible. But it's also important to appreciate having this dialogue today. This has not always been the case.
Indeed, only a few years ago SNCB was very protective of its data. In 2010, it sent a letter to Belgian IT student Yeri Tiete who had developed a timetable app, iRail.be. The letter stated: 'Your website makes reuse of SNCB data. This violates its intellectual property rights, including copyright and database rights. It also makes you guilty of the criminal offence of counterfeiting' and urged him to cease the app immediately.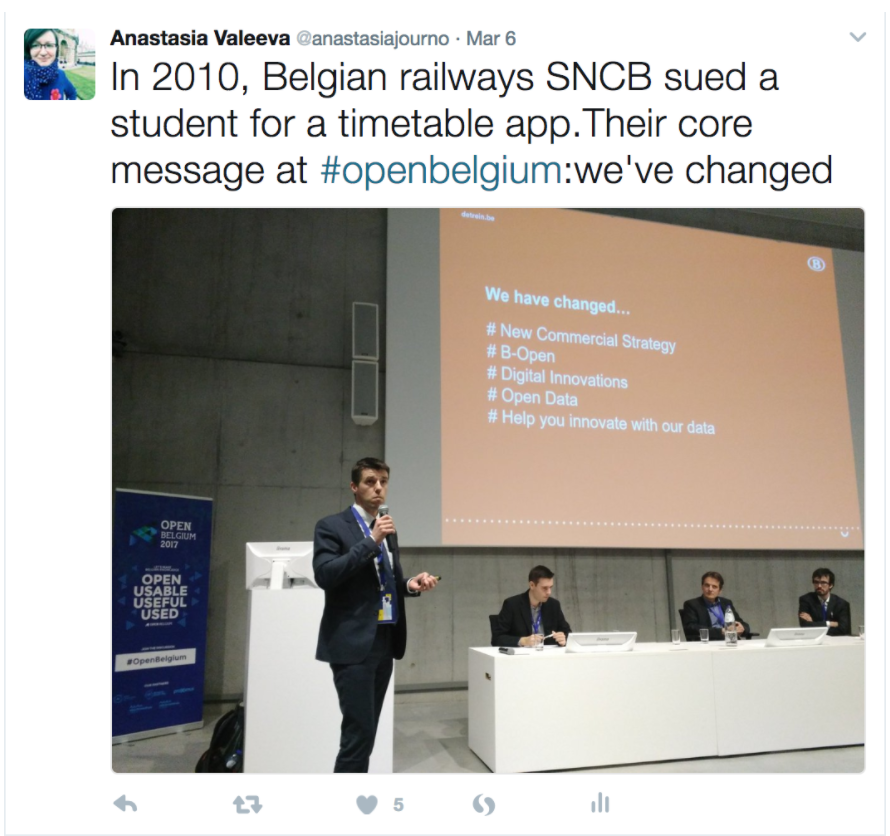 Tiete and the online community had to find lawyers to fight back. Their legal basis for defending the use of the data was based on a series of linked cases from the European Court of Justice. The Court then ruled that when information in databases is generated as part of the regular activities of a company, then that data is not protected by database rights because the creation of the information has not required ―substantial investment and hence may be used by third parties without them needing to seek permission.
In this context, the very presence of Belgian public transport authorities at the Open Belgium conference gets a whole new meaning. Their explicitly expressed commitment to share the data, support open data initiatives and engage developers for co-creation paves the way for innovation and smart use of their data.
Mind the gender gap! 
The event touched upon various initiatives around open data. Representatives from Wikipedia talked about closing the gender gap. When 9 out of 10 registered users on the website are male, the average editor being a 31 years old man with a degree in higher education, you don't have to be a data analyst to see the possible biases of the content.
To close that gap, Wikipedia has several projects running. One of these projects is 'Women in Red', which is an initiative of creating links to non-existing pages about prominent women in relation to their works and biographies; therefore calling for action to create these pages. Another is Art + Feminism edit-a-thon which is a series of community-organized events that aim to teach folks how to edit, update, and add articles on Wikipedia.
And other Stories 
Being a journalist myself, I was particularly interested in the session on who should tell the data stories by Maarten Lambrechts. 'New kids on the block' as Maarten puts it: are state agencies and statistical offices competing with journalists over the narrative of data. It is increasingly important for media not to outsource the interpretation of data.
"How many toilet apps do we need?" – Is a classic sceptical question regarding hackathons. However, Belgium now sees 'the return of the hackathon' – the second wave of interest and support for hackathons. They are becoming more inclusive, focused and thematic, organised around a particular topic such as diseases, a problem such as gender equality or a city, such as Gent. 'We need as many toilet finders as people need' – is a positive answer for the hackathon organisers.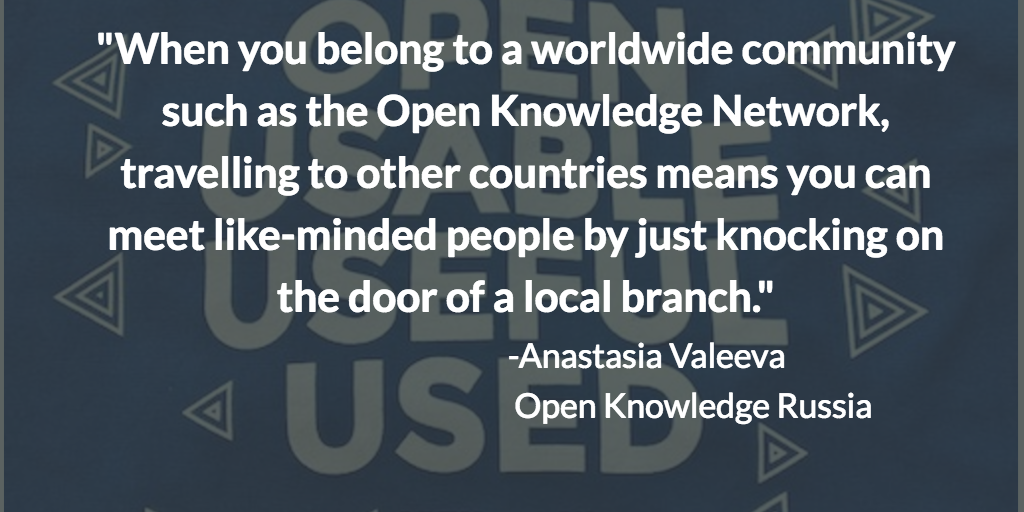 This is my wrap-up for you. Go check the full list of presentations, notes and visual summaries here. At the closing panel, we sketched the next steps: unlocking legislation, working on open licences, creating policies around linked open data. You may have heard it before, right? But these are all parallel paths, and we are moving, step by step.
Anastasia Valeeva is a member of Open Knowledge Russia, where she is involved in data journalism projects; she has also worked with Open Knowledge Belgium for #Diplohack Brussels, a transparency hackathon about the EU decision-making. Anastasia is a freelance data journalist and data journalism trainer, currently based in Oxford where she is doing research about open data journalism.