This blog post is part of our on-going Network series featuring updates from chapters across the Open Knowledge Network and was written by the Open Knowledge Ireland team.
This post was first published on 12th April 2017 by Flora Fleischer on OK Ireland's website: https://openknowledge.ie/hwl1/
On the sunny Saturday of March 25th, Open Knowledge Ireland held a workshop powered by citizens which focused on discovering how Open Data can help the ever present Hospital Waiting List problem. With the workshop, we created a space to build engagement around open data and hospital waiting lists and offered participants a practical way to get involved. The workshop was possible because, in December 2016, the National Treatment Purchase Fund (NTPF) published Hospital Waiting List Data on data.gov.ie as machine readable data for the first time. Hospital Waiting List data can now be found here, here, and here.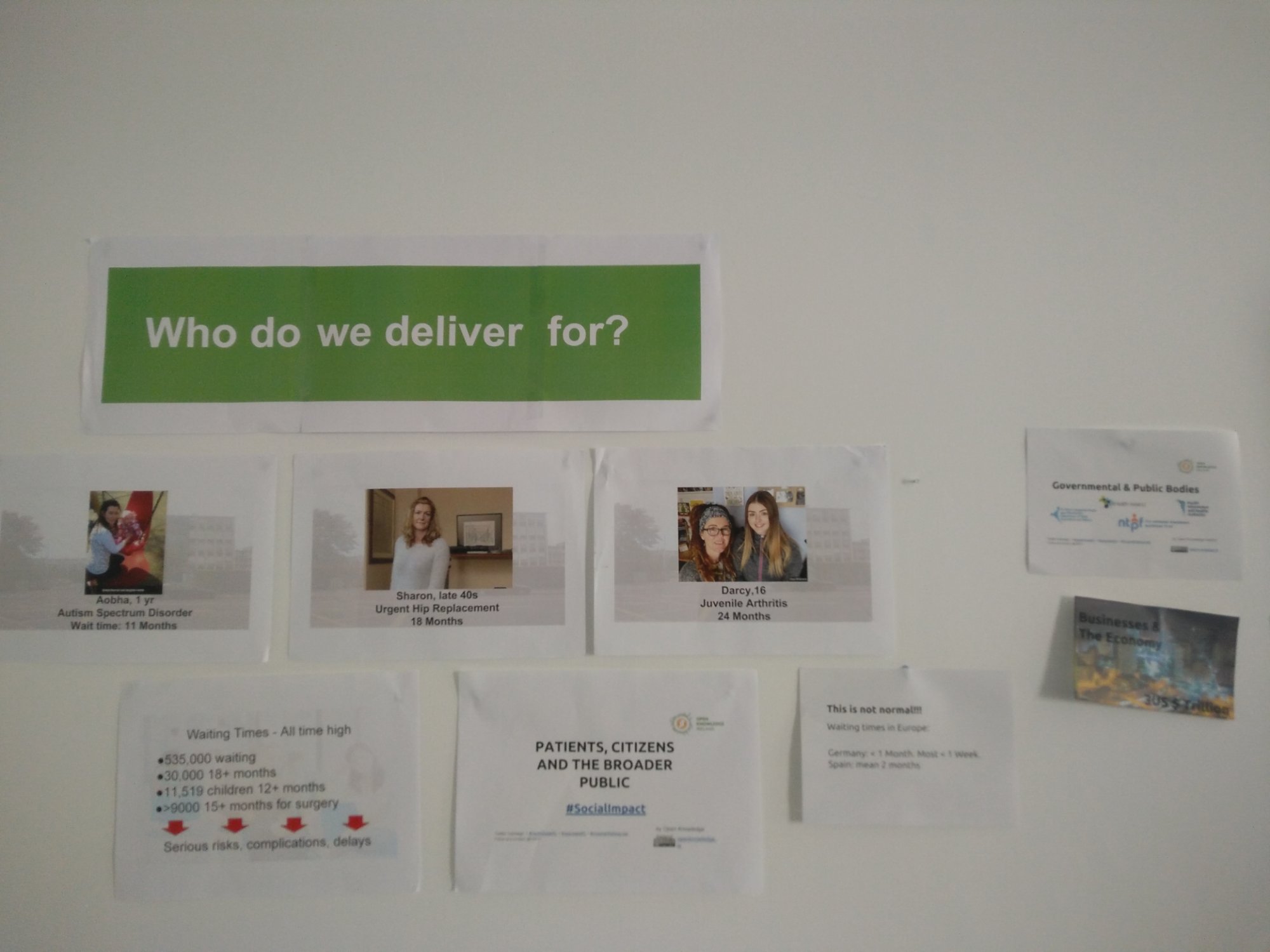 Hospital Waiting List Workshop #1 focused on identifying & discovering the patient journey, the data that is available, an operating model for use case creation using open data and a long list of potential use cases that for prioritisation at Hospital Waiting List Citizen Workshop #2.
The workshop benefited from having experienced professionals from a range of new and disruptive fields of industries and expertise. On the day OK Ireland facilitated Data Analysts, Customer Experience SMEs, Technology Solution Consultants, Digital Natives, Students, and Coders. We also provided Open Data insights from Ireland and abroad and framed the topic for the day – ways of using open data to address the growing Hospital Waiting Lists in Ireland.
Here is an account of Piush Vaish – a participant at the 1st Hospital Waiting List workshop citizen about how the day went. The post first appeared on his LinkedIn page.
Ways to Improve Hospital Waiting List Using Open Data
Ireland has one of the worst hospital's waiting lists as a developed country. We all have or know someone who has experienced the uncertainty of the length of time to wait before seeing a specialist. We constantly wonder about our health while we wait, affecting not only our physical but mental health as well. For instance, I had to wait overnight to be seen by a specialist at Beaumont hospital.
Therefore, when an opportunity came to tackle the problem of hospital waiting list using data, I had to do something. That chance came through a workshop/hackathon organised by Open Knowledge Ireland on 25th March 2017. It was the first in a series of hospital waiting list focused workshops held at Guinness Enterprise Center. Open Knowledge Ireland is a part of Open Knowledge International with the goal of opening all essential public interest information. It is a non-profit organisation dedicated to promoting open data and open content in all forms to create insights that drive change and benefit the public at large.
When I arrived at the venue there was a short session where we got to know the other participants over a cup of tea and biscuits. The group of participants came from a different background with various different skill sets and industry experience. Some of them were UX designers, web/ application developers, statisticians, past participants and data scientists. However, we all had one reason to be at the workshop.
The motivation was to tackle a very real social problem as a group of experts and for our citizens by using public data about hospital waiting lists to make that information easily accessible for everybody.
Afterwards, we took up an office in a special set-up meeting room to learn about the work of Open Knowledge Ireland, what open data is and the reasons why we should be interested in the hospital waiting list data.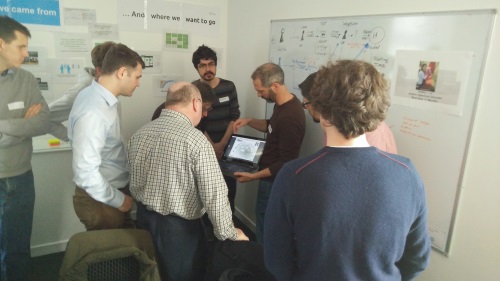 Open Knowledge Ireland explained their mission, vision, and values. The hospital waiting list datasets are produced by the NTPF. Since July 2012, the NTPF is responsible for the publication of outpatient and inpatient waiting lists. However, they originally published this data in pdf format which is not considered an 'open' data format. It limits the usability of the data.
Hence, Open Knowledge Ireland has worked over the last two years to create examples of how the Out-Patient Waiting List and Inpatient/Day Case Waiting List can be published in easily accessible format. They also worked together with the NTPF and the Department of Public Expenditure and Reform to get this data published in machine readable format. In December 2016 hospital waiting list data was for the first time made available in machine readable format on data.gov.ie. This now enables anyone to download the datasets and do any sort of analysis on it.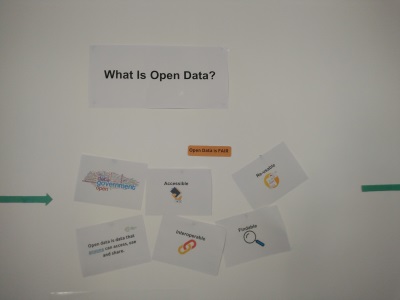 The format of the workshop was unconference or open space conference. It was my first time attending such a conference. We were given a problem statement but we were free to tackle it in any way the group thought to be most useful to understand the problem more. The agenda was driven by the participants and their expertise in technology, digital, User Experience design, Digital, Analytics and backgrounds from various industries.
There were no narrow topics pre-determined, no keynote speakers invited and no panel had been arranged – so the workshop was very interactive and very driven by the participants themselves. The topics to be discussed were refined through the participation of the attendees to problem statements that could be tackled and looked at in one day. If a session among a group did not inspire an attendee or was not contributing, then he/she were free to get up and find a different group. This enabled everyone to leverage and play on their strength, do research and contribute to understanding the problem statement based on their own experience.
We convened at the individual breakout sessions to discuss the progress of each working group and share learning's between the working groups. In my opinion, this process helped to apply ideas and empowered participants to share their ability. This offered an opportunity to have an unfiltered exchange of creative ideas.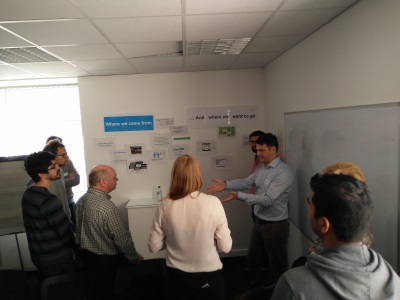 My first work group was working on mapping the journey for the patient right from getting a symptom till diagnosed by the specialist. The aim was to document the end to end experience of the patient through their perspective, understand how patients are interacting with their general practitioner or hospital, find pain points, identify areas for improvement and improve the experience moving forward.
The visualisation inspired us to seek value-driven decisions based on a patient's experience model of performance.
There was another group who mapped a patient's journey from A&E, how this journey is currently tracked and how the data is collated by one specific hospital. This was to understand the pain points that hospitals may come across when gathering and providing the data.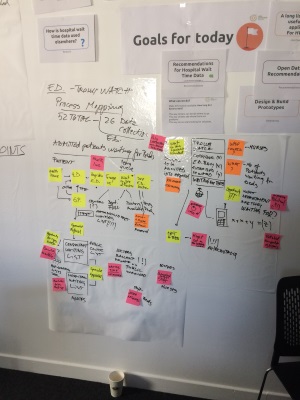 Later, we swapped our findings to create a complete picture of the patient's journey.
I then swapped from the journey mapping group to another group that was working on data validation. It was essential for the long-term success of the project that the data is open, correct and useful.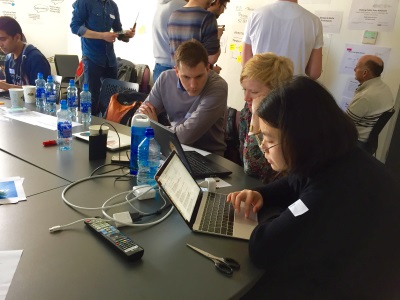 We ensured that the data gathered by NTPF was using data/statistical standards. While I was engaging with different groups, the other participants were engaged in data analysis, creating an API and researching the problem in other countries. The figure below shows an early view of the type of insights that can be generated using the hospital waiting list data that is available on data.gov.ie today.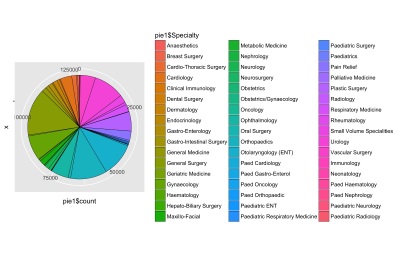 We also had a short video presentation by Bob Harper from Detail Data who created the Hospital Waiting List Dashboards that are available for Northern Ireland. He explained how he is using the data provided by NHS on his website to present information in a way that is more easily accessible to and understandable by the public in Northern Ireland.
At the end of the day, we all presented our findings to the group and decided what we'll focus on during the next workshop.
Some of the points we aim to discuss in the next workshop are:
Understand existing Hospital Wait Time data publicly available in the Republic of Ireland
 Understand and highlight data gaps
Recommend additional data points required to build tools useful to citizens (suggest via data.gov.ie)
 Identify quick-win use cases and begin prototyping
Identify more complex use cases and next steps
If you are inspired by what we have achieved and interested to continue the journey to empower the public please register your interest by attending the next workshop: Hospital Waiting List Citizen Workshop #2.
Contact: flora.fleischer@openknowledge.ie