Today we, the Open Education Working Group, publish a joint letter initiated by Communia Association for the Public Domain that urgently requests to improve the education exception in the proposal for a Directive on Copyright in the Digital Single Market (DSM Directive). The letter is supported by 35 organisations representing schools, libraries and non-formal education, and also individual educators and information specialists.
In September 2016 the European Commission published its proposal of a DSM Directive that included an education exception that aimed to improve the legal landscape. The technological ages created new possibilities for educational practices. We need copyright law that enables teachers to provide the best education they are capable of and that fits the needs of teachers in the 21st century. The Directive is able to improve copyright.
However, the proposal does not live up to the needs of education. In the letter we explain the changes needed to facilitate the use of copyrighted works in support of education. Education communities need an exception that covers all relevant providers, and which permits a diversity of educational uses of copyrighted content. We listed four main problems with the Commission's proposal:
#1:  A limited exception instead of a mandatory one
The European Commission proposed a mandatory exception, which can be overridden by licenses. As a consequence educational exception will still be different in each Member State. Moreover, educators will need a help from a lawyer to understand what they are allowed to do.
#2 Remuneration should not be mandatory
Currently most Member States have exceptions for educational purposes that are completely or largely unremunerated. Mandatory payments will change the situation of those educators (or their institutions), which will have to start paying for materials they are now using for free.
#3: Excluding experts
The European Commission's proposal does not include all important providers of education as only formal educational establishments are covered by the exception. We note that the European lifelong-learning model underlines the value of informal and non-formal education conducted in the workplace. All these are are excluded from the education exception.
#4: Closed-door policy
The European Commission's proposal limits digital uses to secure institutional networks and to the premises of an educational establishment. As a consequence educators will not develop and conduct educational activities in other facilities such as libraries and museums, and they will not be able to use modern means of communication, such as emails and the cloud.
To endorse the letter, send an email to education@communia-associations.org. Do you want to receive updates on the developments around copyright and education, sign up for Communia's newsletter Copyright Untangled.
You can read the full letter in this blog on the Open Education website or download the PDF.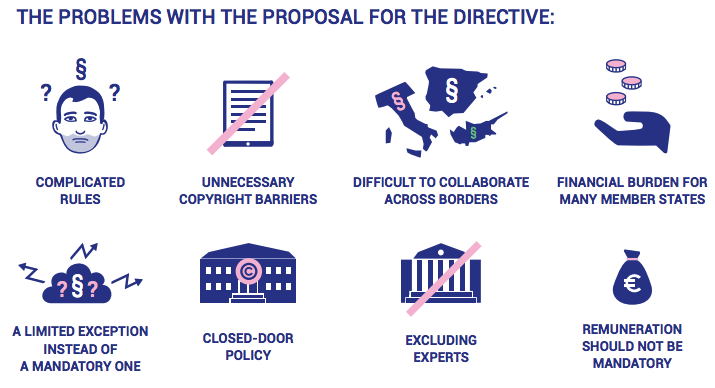 Co-coordinator of the open education working group and researcher in Open Education. PhD in Education and fellow of the Higher Education Academy.