When: May 7th, 5-7pm
Location: Eliot Center, Portland, OR
Cost: Free; pizza & beverages available

Join Open Knowledge Foundation (OKF) for a community event the night before csv,conf,v4! This meet and greet happy hour will feature lightning talks on open projects, designated networking time, and pizza. We invite OKF community members to submit ideas for short lightning talks (5 minutes maximum).
Do you want to give a talk, but aren't already a member of the OKF community? No problem! We are an inclusive community of Open enthusiasts (open data, open science, open source, open government, etc), and the evening is open to anyone who wants to share their ideas.
Come learn more about what we do, the open projects our members are working on, ways to get involved with an open project, and meet others! This event is open to all (including csv,conf,v4 attendees as well as other open enthusiasts).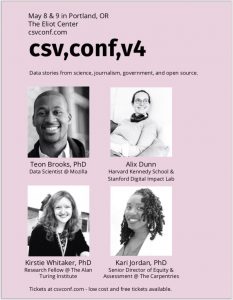 More about csv,conf,v4
csv,conf is a community conference for data makers everywhere, bringing diverse groups together to discuss data topics, and featuring stories about data sharing and data analysis from science, journalism, government, and open source. It takes place from May 8-9 2019 at the Eliot Center in Portland, Oregon. More information on the program is available from the website, and you can still get your conference tickets on Eventbrite.
More about Open Knowledge Foundation (OKF):
OKF is a global non-profit organisation and worldwide network of people passionate about openness, and using advocacy, technology and training to unlock information and enable people to work with it to create and share knowledge. Chat with us on Gitter, join a discussion on our Forum, or check out our projects for ways to get involved!

Lilly is the Product Manager for the Frictionless Data for Reproducible Research project. She has her PhD in neuroscience from Oregon Health and Science University, where she researched brain injury in fruit flies and became an advocate for open science and open data. Lilly believes that the future of research is open, and is using Frictionless Data tooling within the researcher community to make science more reproducible.