Over 36 hours, Jo Barratt and Lilly Winfree from Open Knowledge Foundation's Frictionless Data team joined 60 people from around the world to develop innovative solutions to open science obstacles at the 2019 eLife Innovation Sprint. This quick, collaborative event in Cambridge, UK, on September 4th and 5th brought together designers, scientists, coders, project managers, and communications experts to develop their budding ideas into functional prototypes. Projects focused on all aspects of open science, including but not limited to improving scientific publishing, data management, and increasing diversity, equity, and inclusion. Both Jo and Lilly pitched projects and thoroughly enjoyed working with their teams on these projects.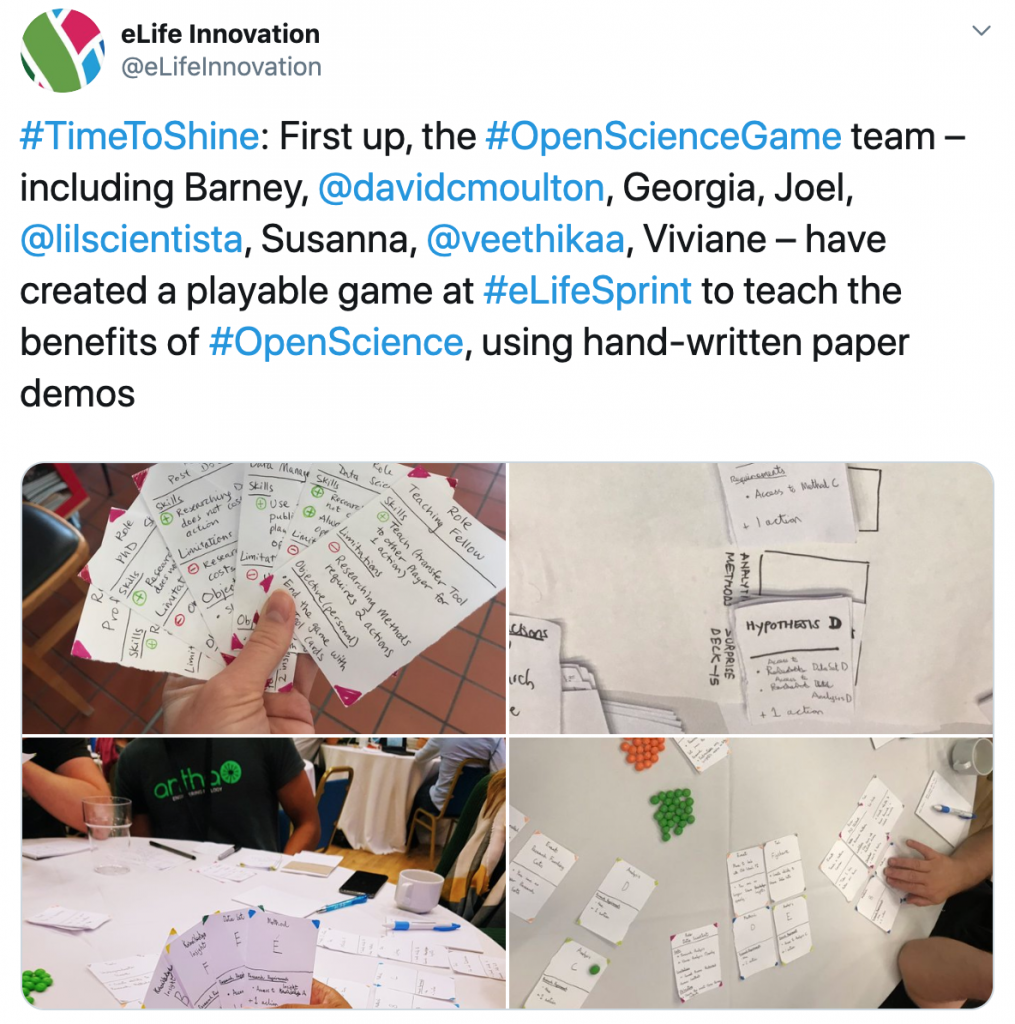 Lilly pitched creating an open science game that could be used to teach scientists about open best practices in a fun and informative way. Read on to learn more about these projects, and their experiences at the Sprint. Jo proposed making a podcast documenting the Sprint experience, projects, and people aiming to that would be fully produced and edited and publish the piece during the Sprint. 
Lilly's inspiration to create an open science game came from her experience at Force11 in 2018, where she played a game about FAIR data (Findable, Accessible, Interoperable, and Reusable). She realized that playing a game can be a great way to learn about a subject that might otherwise seem dry, and creating a game prototype seemed like a fun, accessible, and achievable goal for the Sprint. The open science game team formed with eight people from diverse backgrounds, including a game designer, board game enthusiasts, publishers, and scientists. This mix of backgrounds was a big asset to the team, and played a large role in the development of a functional game prototype.
To start designing the game, the team first decided that the goal of the game should be to teach scientists about open science best practices, while the collaborative goal for the players would be to make an important scientific discovery – like curing a disease. The team crafted the storyline of the game, and finally worked on the game play mechanics. In the end, the game was made for 2-5 players and ideally would take about 30-45 minutes to play.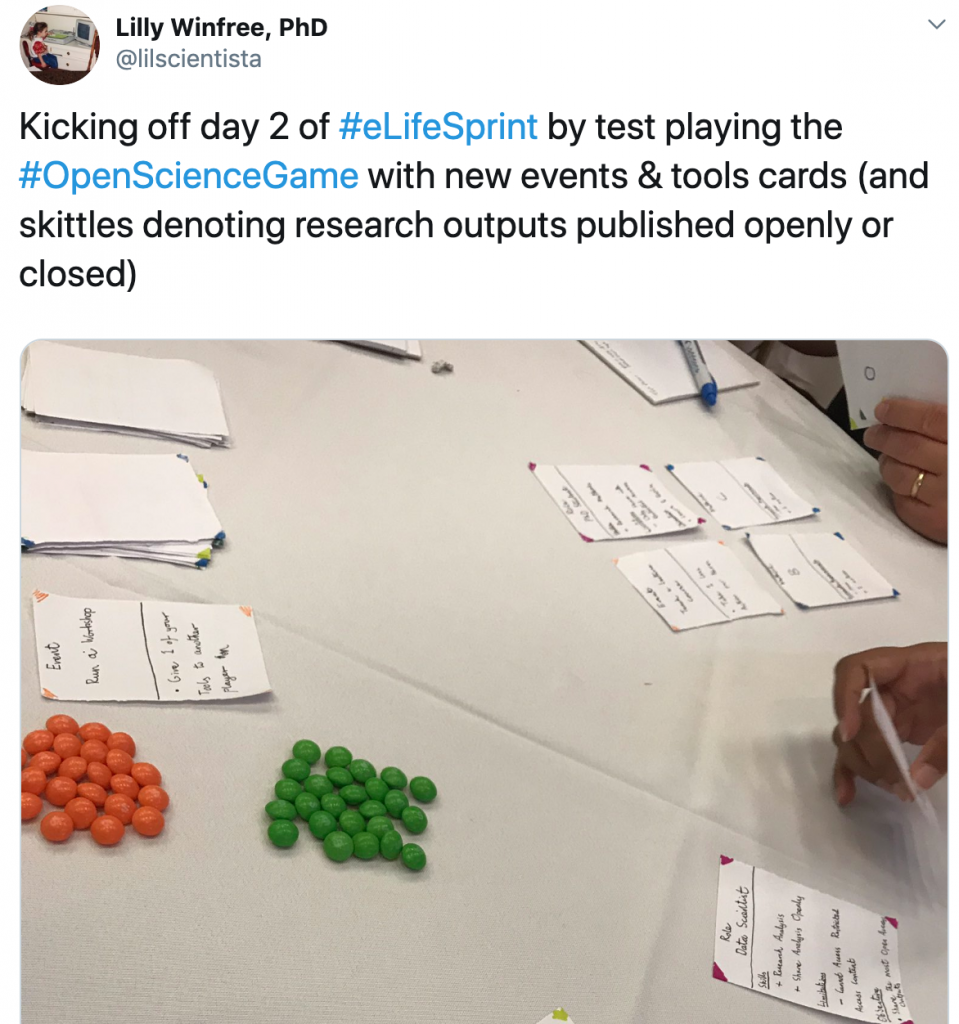 To play, each player gets a role card — Lab Principal Investigator, Graduate Student, Data Management Librarian, Teaching Assistant, and Data Scientist. Each of these roles has personas and attributes that impact the game. For instance, the Principal Investigator has negative attributes that make sharing research openly harder, while the Teaching Assistant has positive attributes that make it easier to teach new tools to other players. On each turn, the players can draw research object cards or tool cards that help advance the game, but might also draw an event card, which can have positive of negative effects on the gameplay. The ultimate goal is for the players to share their research findings, which requires the player to draw and "research" an insight card and it's related methods card, data collection card, and analysis card. The game ends once enough research findings are shared (either openly or with restricted access).
A fun and interesting part of the game is that the players can role play their characters and see how attitudes towards open science differ and how those attitudes affect the progression of science. Hint: to win the game, the players have to cooperate with each other and openly share at least some of their research findings. The team is currently digitising the game so others can play it – keep track of their progress on their GitHub Repository.
"My team was fantastic to work with. I came to the Sprint with a basic idea and a hope that we could create a fun, educational game on open science, but my team really ran with the idea and created a game that is so much more than I had hoped for!" – Lilly Winfree, OKF
OKF delivery manager, Jo Barratt, brought his storytelling talents to the forefront for the eLife Sprint by proposing the creation of a podcast to document the people and ideas at the Sprint. Jo has produced many podcasts over the years, and thought the podcast format would offer a unique perspective into the inner workings of the Sprint. He was delighted to have two other Sprint members join his Podcast team: Hannah Drury and Elsa Loissel from eLife. Neither Hannah nor Elsa had worked on a podcast before, but both were eager and quick learners. Their project started with Jo giving Hannah and Elsa quick lessons on interviewing, using recording equipment, editing and sound design. Jo was really excited to have such collaborative team members to work with, which was very in line with the synergistic spirit of the Sprint.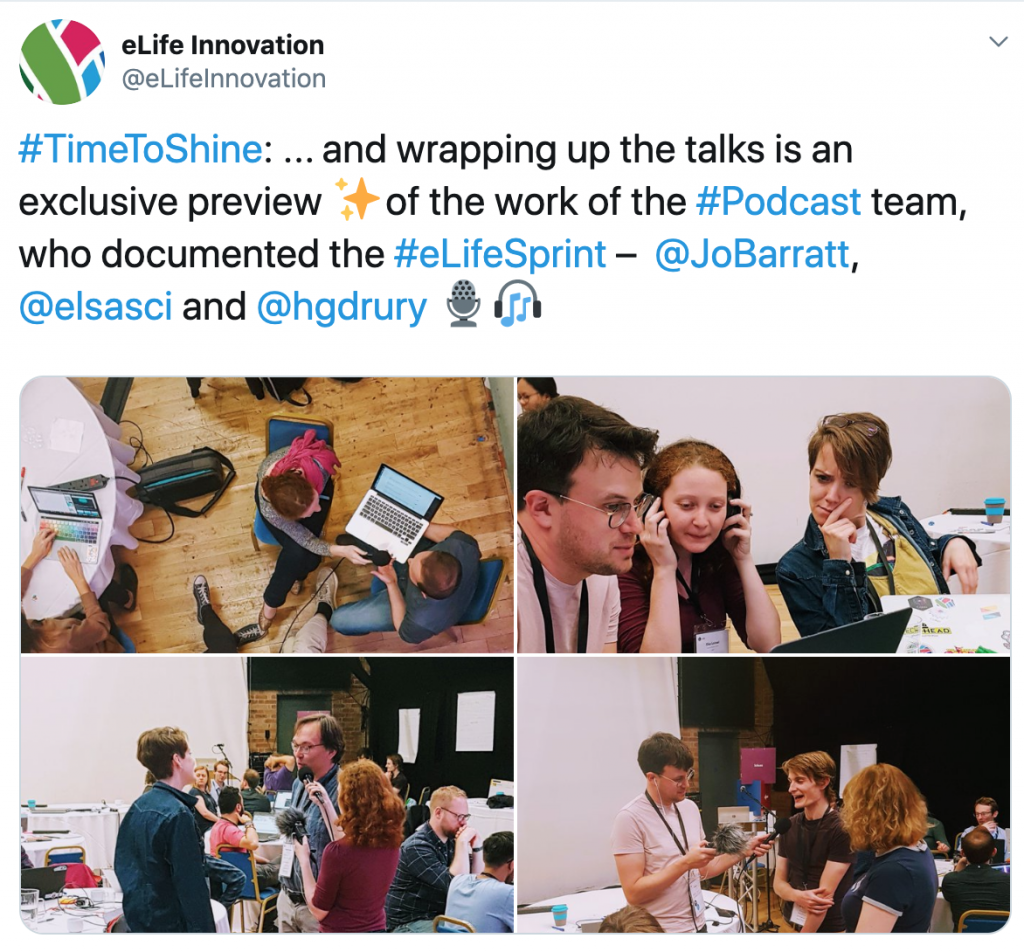 To capture a feel for the essence of the Sprint, Hannah and Elsa began by interviewing most Sprint members, asking them questions like about their backgrounds and what they hoped to get out of the sprint. Interviewees were also asked to give their views on what 'open science' means to them. Next, the team interviewed several projects for a more in depth discussion into how the Sprint works and what types of projects were being developed. In the final podcast, there are interviews with the teams from the open science game project, one on equitable preprints, the project looking at computational training best practices, and the high performance computing in Africa team. Each of these segments shows the people, methods, and progress of the projects, highlighting the diverse people and ideas at the Sprint and giving listeners insight into the process of this type of event as well as many of the problems that face the open science community.
Jo's highlight of the podcast was a conversation between current Innovation officer at eLife, Emmy Tsang, and the past officer, Naomi Penfold. They discussed their experiences hosting the Sprint, and to commented on changes they have witnessed in the open science movement. Listeners to the podcast will notice the overarching themes of openness, collaboration, excitement, and hope for the future of science, while also being challenged to think about who is being left behind in the progress towards a more open world. You can hear the full podcast (and see pictures from the Sprint) here, or listen on Soundcloud here.
"I supported them but really this was made by two scientists who had zero experience in this and I think making this in 2 days is really quite impressive!" – Jo Barratt, OKF
The OKF team would like to thank Emmy and eLife for a great experience at the Sprint!