Save the date for csv,conf,v5! The fifth version of csv,conf will be held at the University of California, Washington Center in Washington DC, USA, on May 13 and 14, 2020. 
If you are passionate about data and its application to society, this is the conference for you. Submissions for session proposals for 25-minute talk slots are open until February 7, 2020, and we encourage talks about how you are using data in an interesting way (like to uncover a crossword puzzle scandal). We will be opening ticket sales soon, and you can stay updated by following our Twitter account @CSVconference.
csv,conf is a community conference that is about more than just comma-sepatated-values – it brings together a diverse group to discuss data topics including data sharing, data ethics, and data analysis from the worlds of science, journalism, government, and open source. Over two days, attendees will have the opportunity to hear about ongoing work, share skills, exchange ideas (and stickers!) and kickstart collaborations.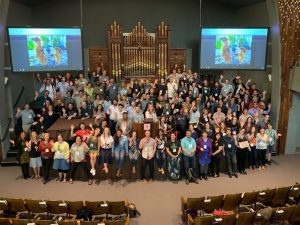 First launched in July 2014,  csv,conf has expanded to bring together over 700 participants from 30 countries with backgrounds from varied disciplines. If you've missed the earlier years' conferences, you can watch previous talks on topics like data ethics, open source technology, data journalism, open internet, and open science on our YouTube channel. We hope you will join us in Washington D.C. in May to share your own data stories and join the csv,conf community!
Csv,conf,v5 is supported by the Sloan Foundation through OKFs Frictionless Data for Reproducible Research grant as well as by the Gordon and Betty Moore Foundation, and the Frictionless Data team is part of the conference committee. We are happy to answer all questions you may have or offer any clarifications if needed. Feel free to reach out to us on csv-conf-coord@googlegroups.com, on twitter @CSVconference or our dedicated community slack channel. 
We are committed to diversity and inclusion, and strive to be a supportive and welcoming environment to all attendees. To this end, we encourage you to read the Conference Code of Conduct.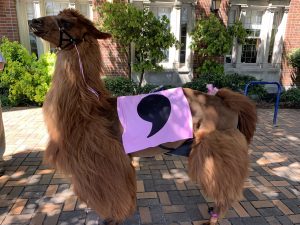 Lilly is the Product Manager for the Frictionless Data for Reproducible Research project. She has her PhD in neuroscience from Oregon Health and Science University, where she researched brain injury in fruit flies and became an advocate for open science and open data. Lilly believes that the future of research is open, and is using Frictionless Data tooling within the researcher community to make science more reproducible.