This year has been such an eventful year for all of us. As 2020 nears its end, here at Open Knowledge Foundation we are starting to think about Open Data Day 2021. I checked my calendar this morning – and it's only 4 months away !
Open Data Day is such a great opportunity for the entire open data community to come together to show the benefits of open data. Last year over 300 Open Data Day events took place in over 50 countries. Our (OKF's) role is facilitation
As we start to make plans, we would like you to have your say on how we (OKF) can best support Open Data Day.
Do you have any ideas? Or comments? Advice?
Tell us how you think we can better support Open Data Day 
We want to know 
The good stuff.

What worked at Open Data Day last year? What did you enjoy most? Which events really stood out? Did you meet someone at Open Data Day 2020 that changed the way you work for the better?

The bad stuff.

What didn't work last year? What could we have done differently? How would you like Open Data Day to improve? How can we achieve more impact? Are there other data tracks we should focus on?

How can we help each other?

Open Data Day brings people together from around the world to celebrate open data. Are you interested in volunteering to help the global event happen? We are thinking of running a live online event and maybe some global competitions. And perhaps doing some fundraising for the whole open data community. Do you want to help ?
We'd love it if you can take 3 minutes to share your thoughts in our survey and tell us how you think we can improve Open Data Day.  
We want to make Open Data Day 2021 better than ever, and we can only do that with your help !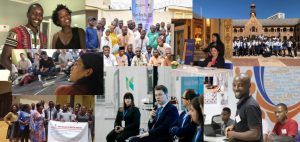 James is the Development Manager at Open Knowledge Foundation. James is passionate about developing innovative projects that deliver measurable positive impact in the world. Get in touch if you want to talk about your ideas ! @the_robot_james