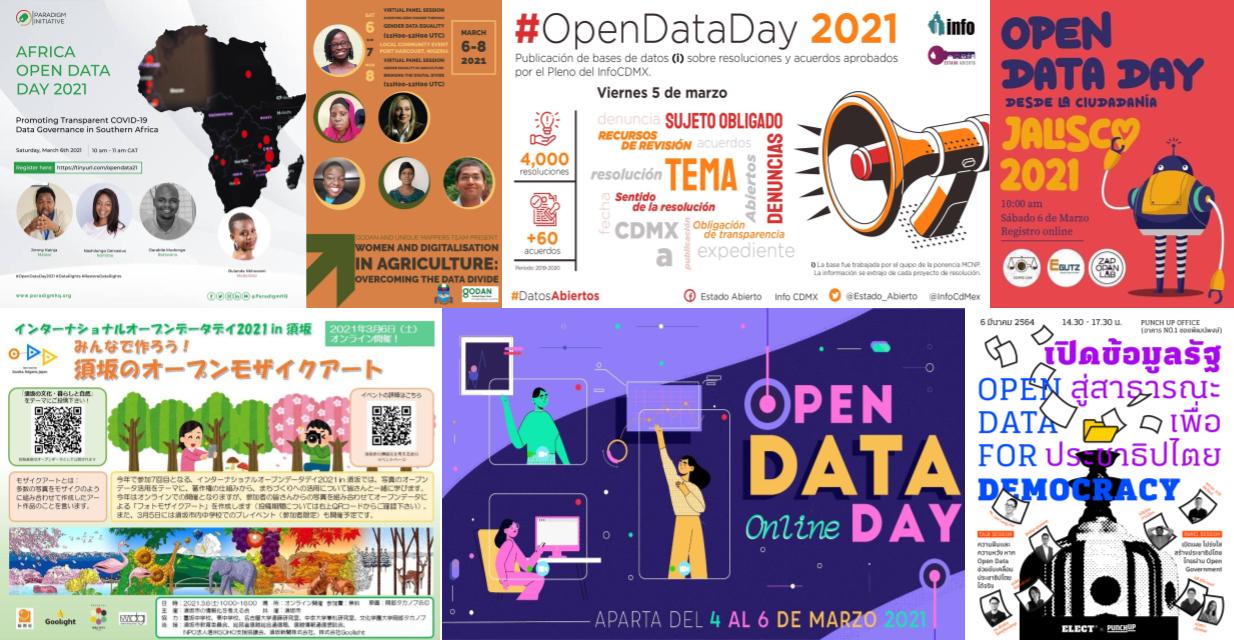 A few months ago on Open Data Day 2021, over 300 teams from around the world organised Open Data Day events.
Thanks to our partners – Microsoft, UK Foreign, Commonwealth and Development Office, Mapbox, Global Facility for Disaster Reduction and Recovery, Latin American Open Data Initiative, Open Contracting Partnership and Datopian – we also gave away 60+ mini-grants to support teams in 36 different countries.
We are always working to make Open Data Day more successful. This is why we recently asked you about your experience of Open Data Day 2021.
If you didn't yet complete the survey – it's not too late ! Complete the survey here.
We wanted to know:
– what worked
– what didn't work
– how we can make Open Data Day 2022 even better.
= = = = =
Here is a summary of what you told us you want
Mini-grants
– More mini-grants, with more money, for more comprehensive and impactful events
– Funding available before the events, not just afterwards
– Priority support for regional events that connect people
– An expansion of the established mini-grant themes (Environmental Data, Tracking Public Money Flows, Open Mapping, Data for Equal Development) to includes new topics such as

– Open for projects that don't fall inside the pre-established categories/themes
– Local Government for projects that align with local government objectives
– Science and Health for open science and research events
– Post Covid Decision-Making to help us make better decisions in a post pandemic world
– Impact Evaluation for data about measuring the impact of projects
– Libraries
Community Development & Communications
– More guidance on how to run a successful virtual event and what kinds of tools are recommended
– A calendar, or visual tool, to see different events happening according to regional time zones
– Different community development tools (not just the Open Data Day mailing list) to help people connect with each other
– Thematic or geographic focused activities or processes before Open Data Day to help event organisers connect with each other to improve collaboration and share resources
– Open Data Day events throughout the year
– Resources in additional languages including: Arabic, Ewe, Slovenian, Swahili and Urdu
Open Data Day Activities
– Spread events over a week (Open Data Week or Open Data Day Weekend !) to make it possible for people to attend more virtual events
– Promote some keynote events/lectures during Open Data Day
Website
– Improve the events listing by making it searchable by language and type of event (talks, discussions, seminars, coding etc)
– Allow people to subscribe to events to get updates
– Invest money in better overall visual design, better data visualisation of events integrated with the map
= = = = =
Over the coming months, the Open Knowledge Foundation team will discuss these ideas and see how many of them we can incorporate into Open Data Day 2022.
If you would like to help – please sign up to the Open Data Day mailing list to join the discussion.
James is the Development Manager at Open Knowledge Foundation. James is passionate about developing innovative projects that deliver measurable positive impact in the world. Get in touch if you want to talk about your ideas ! @the_robot_james