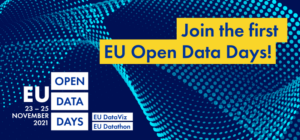 Here at Open Knowledge Foundation, we are really pleased to see that registration is now open for participants for the first EU Open Data Days.
The programme lasts three days from 23rd to 25th November 2021, and is split in two main parts.
– EU DataViz, a conference on open data and data visualisation for public administrations, from 23rd to 24th November 2021; and
– EU Datathon, the annual EU open data competition, on 25th November 2021.
It's free and open for everyone to attend, and is designed for a broad audience – including experts, open data enthusiasts and the public.
= = = = = = =
Registration can be done here.
= = = = = = =
Since EU Open Data Days launched in March 2021, Open Knowledge Foundation is proud to be an official partner of EU Open Data Days.
We hope to see you there !
James is the Development Manager at Open Knowledge Foundation. James is passionate about developing innovative projects that deliver measurable positive impact in the world. Get in touch if you want to talk about your ideas ! @the_robot_james