Last week people from around the world joined the Frictionless Data team for the world's first Frictionless Data Hackathon. Find out what happened, and make sure you join the Frictionless Data Community to find out about upcoming events.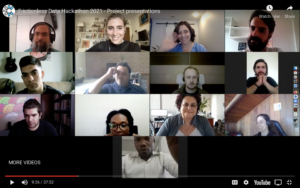 Watch video here
What's this about?
The team at Open Knowledge Foundation have lots of experience running and attending Hackathons. We know how powerful they can be to create new functioning software and useful innovations in a short space of time.
This is why the team at Frictionless Data were so excited to launch the first Frictionless Data Hackathon on 7 – 8th October 2021.
Over 20 people from around the world signed up for the event. During two full days, the participants worked on four projects, all with very different outcomes. For example:
Covid Tracker was aimed at testing Livemark – the latest Frictionless tool – with real live data to provide an example of all its functionalities. Check out the project Github repository to learn more.
the Frictionless Tutorial project created new tutorials using the Python Frictionless Framework (see tutorial here)
Frictionless Community Insight focused on building a new Livemark website to tell the story of the Frictionless Community – who we are, where we are from, what we do and what we care about (see draft website here)
DPCKAN was a project proposed by a team working on the data portal of the state of Minas Gerais in Brazil to develop a tool that would allow publishing and updating datasets described with Frictionless Standards in a CKAN instance. Check out the Github Repository here.
The prize for the best project, voted by the participants, went to the DPCKAN team. Well done André, Andrés, Carolina, Daniel, Francisco and Gabriel!
"I feel pretty happy after this frictionless hackathon experience. We've grown in 2 days more than it could have been possible in one month. The knowledge and experience exchange was remarkable", said the winning team.
Find out more
You can learn more about the Frictionless Data Hackathon here and watch the project presentations here.
Learn more about Frictionless Data on our website frictionless.io. Ask us a question, or join the Frictionless Data community here.