On September 4th, Open Knowledge Foundation, together with Open Knowledge Estonia and Open Knowledge Finland, held a parallel event to the Global Open Government Partnership Summit in Tallinn to talk about the tech we want (and need) to open governments.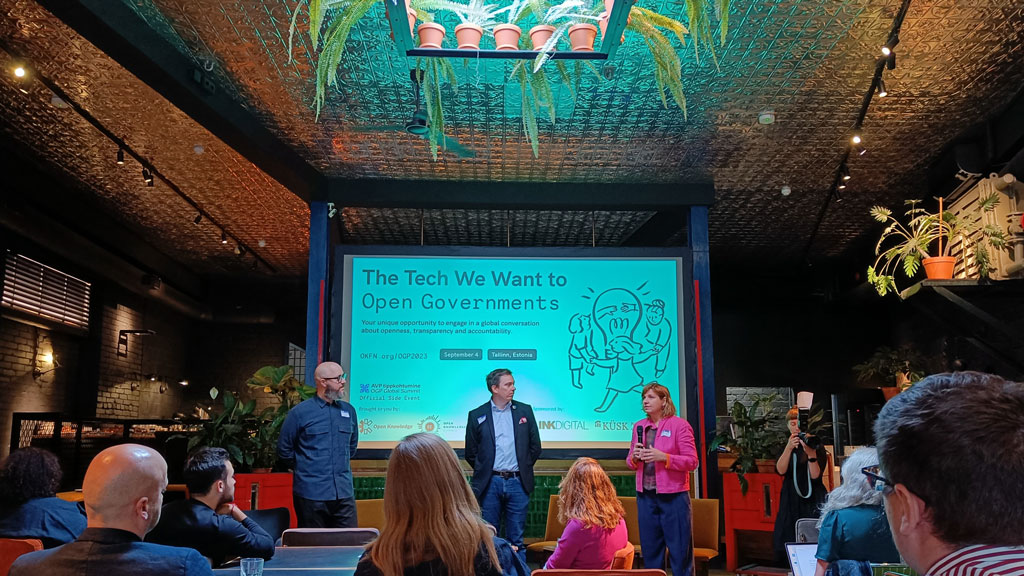 Today we are witnessing a worrying trend towards increased secrecy and opacity around the world. From government agencies withholding information to businesses concealing their practices and enforcing secrecy, it seems that transparency and openness are under threat.
One of the concerns is that technology, which was once seen as a powerful tool for transparency and accountability, is becoming less transparent itself. Are we witnessing a big backlash against the tools that we have been supporting and that we thought were effective in promoting transparency? With the emergence and prevalence of powerful algorithms and AI, there are concerns about their potential for bias, lack of transparency, disinformation spread, and the danger they could cause to our democracies.
It was essential for us to take some time to address these concerns, and the Open Government Partnership (OGP) Global Summit in Tallinn seemed the ideal place to do so. We joined forces with Open Knowledge Estonia and Open Knowledge Finland, and organised together a full-day event on the future of transparency and open governments: The Tech We Want to Open Governments.
The event began with a bang: a top-notch keynote speech on how to pierce the walls of State secrecy by Italian investigative journalist Stefania Maurizi. Stefania shared her experience working with the Freedom of Information Act (FOIA) to access sensitive information to uncover deeply concealed secrets in the WikiLeaks case or the Regeni case, showing that FOIA is unfortunately not always as effective as one may think. More often than not access to information is actually completely asymmetrical, with litigation costs far beyond what a normal person can afford. Depending on the Country, you can also get very different information, as shown in the photo below.
"We need to build stronger alliances between journalists, tech activists, and legal professionals to lead the fight for more transparency if we want change to happen", said Stefania, and indeed the need to join forces to be stronger together is an idea that resonated very much with the panel discussion that followed the keynote.
It was my pleasure to moderate an awesome panel composed of Natalia Carfi from Open Data Charter, Mel Flanagan from Nook Studios, open data activist Kateryna Borysenko, and our very own Patricio del Boca. On the coat-tails of Stafania's last words, we talked about the need to build bridges between our communities, to be stronger together. After all, OKFN's mission to push open knowledge as a design principle is very aligned with Open Data Charter's first principle (Open by Default), and can be supported by Nook Studios' Making Open Kit.
As our movement is getting out of the more activist spaces and becoming more institutionalised, we should stop throwing stones at governments because things do not work. We should start instead helping governments to make things better. We have after all the expertise to do so, and it should be our mission to make governments not only more accountable but also more trusted entities. "It is very dangerous when the trust in governments is eroded because that creates a window of opportunities for extremism and organised crime to take over", a very good point made by Danielle Bello from Open Knowledge Brazil, our first-line commentator.
Kateryna also pointed out that we should make our open digital infrastructure more resilient. In her country, Ukraine, open data portals disappeared with the beginning of the full-scale invasion. How can we prevent that from happening?
The conversation went on during lunch around project tables, until it was finally time to open the Tech Noon, a hands-on session with tech demonstrations in a fair-like mode.
The projects and organisations presented were: Link Digital, Transparency International Estonia, ParliamentSampo (a linked open data research infrastructure of Finnish parliamentary data), Texta (a language technology company using AI), Ajapaik (a platform to crowdsource additional metadata about pictorial heritage), Wikimedia Estonia & Finland, and we had of course an Open Knowledge Hub booth, to showcase Foundation and Network projects. We presented some of the projects that are part of our Network Project Repository, and also had an opportunity to understand from the event participants how we can collaborate to make our tech stack more useful for them. The Tech Noon was an excellent opportunity to connect and lay the foundations for more and better future collaborations, as recommended in the morning panel.
My key takeaway from the event is that we need more spaces like The Tech We Want to Open Governments to come together and discuss pressing issues of today, because it is only together that we can find solutions. We need to build bridges between our communities to have the critical mass necessary to push for open knowledge to be a design principle in all political agendas. We can only hope to be effective if we do this together. Only with our voices united can we make our asks heard, better support our democracies, and avoid governments' downward spiral into secrecy.
Thanks again to Link Digital and the Estonian National Foundation of Civil Society (NFCS – KÜSK) for making this event possible. Congratulations to Open Knowledge Estonia and Open Knowledge Finland for making this Network event a true success.
---
Check out more photos in the Flickr album: