Last Wednesday, November 8th, we had the pleasure of organising the second round table to share experiences related to the development of open digital technologies and data standards in electoral processes.
Beyond presenting our new initiative, the main objective of the event was to listen to and know the local perspectives of each participant, in the hope of identifying common points and possibilities for collaboration.
Round Table
Julia Brothers presented the Open Election Data Initiative (NDI) with a clear message: Elections belong to the people therefore election data belongs to the people. She shared her trends and lessons learned in open election data: Using social media is great but not sufficient to truly open election dada, new actors and new technologies can impact data openness, opening data builds confidence in electoral institutions, open election data is an important tool in the fight against disinformation (as we are witnessing in Argentina)
Joël Gombin working at Datactivist talked about going the last mile of open election returns in France and remarked that even when France has a first-class electoral data collection system it is still very hard to use it. It is not available in a single space nor a single format, geographical units change and there is no univocal way of describing candidates and parties. Therefore, it is a lot of work to use these data, for a one-off analysis and even more for longitudinal analysis. The message is clear: We need a modern way to publish these data.
Judit Meyer from DiEM25 walked us through the system they designed to facilitate electoral observation in the last elections in Greece. The system combined 21000 voting booths with geolocation and a database of members to organise and distribute the work of the volunteers. The platform also allowed them to centralise material like identification, rules, pre-written complaints and training. With this platform, the voter could report an issue and be sure that a volunteer would be assigned to it. The main problem was disjointed data like voting centres divorced from address data and IDs not matching with previous years.
Samuel Baltz from the MIT Election Lab gave us a perspective on the landscape of the data initiatives in the United States of America. The key takeout was the Federal Government does not have jurisdiction over electoral data, this causes huge challenges when trying to collect national data since they do not have a centralised web page. However, he highlighted the work of universities to consolidate these data. He noted how far away the US infrastructure for electoral data is from the European one. He is currently working with a group of 10 developers to collect data from all the states, and clean and sanitise them. He is also currently working on collecting audit data from elections.
Polash Datta presented PolitiPro which is an initiative in Bangladesh to create Politician Profiles to bring information about the candidates to the citizens. One key element that sparked interest in the call is that they collected loan information, among assets, liabilities, cases against them and more. The project struggled with a lot of "open data" not being truly available (inaccessible websites for example). They are currently trying to start working with electoral data in conjunction with other organisations since they have an election in January 2024.
Jelena Stefanovic brought to the table experience monitoring elections. She placed in the centre of the conversation what she considers the three main pain points that require more open data as they are becoming more distant to voters: Political advertising as third-party advertising are making the process more obscure, Campaign financing: where the money is coming from is usually something voters do not know and how election results are presented is rarely done in a way that it is easily accessed and researchable. Also made a good observation while noticing that the outsourcing of the process to private companies takes the process away from the voters.
Angelo Gulina gave an overview of Indecis.it: election programs just a click away. His challenge relied on how to build a proper taxonomy for all the program data, finding this data since every party publishes it in different ways and if it would be possible to develop a standard for parties to publish it in a consolidated way. Shortcomings, it does not offer an explanation of how parties or coalitions plan to implement their proposals and it is not possible to identify inconsistencies in the program. For the future they are planning on civic monitoring and fact-checking: are parties "keeping their promises"?
Sicco van Sas, a developer at the Open State Foundation, showcased some of the work they are doing at the foundation. The main focus was the application Waar is mijn stemlokaal? (Where is my polling station?) and the process they did to consolidate all the data that cities publish to inform the polling stations into one standard. This standard was co-created with the state and helped with access to the data and reusability in other applications.
Chris Taylor is currently working at the Council of Europe in the division of Elections and Participatory Democracy. After listening to all the participants he did a review and provided some feedback. He emphasised the importance of trust in elections, that there will never be a perfect system or a perfect election so building trust in the process and the dissemination of the information is key. Social media communication is not enough since it does not cover key aspects of communication like accessibility or language barrier. He pointed to the Los Angeles County project as a good example of accessibility (13 different languages) and openness.
About the project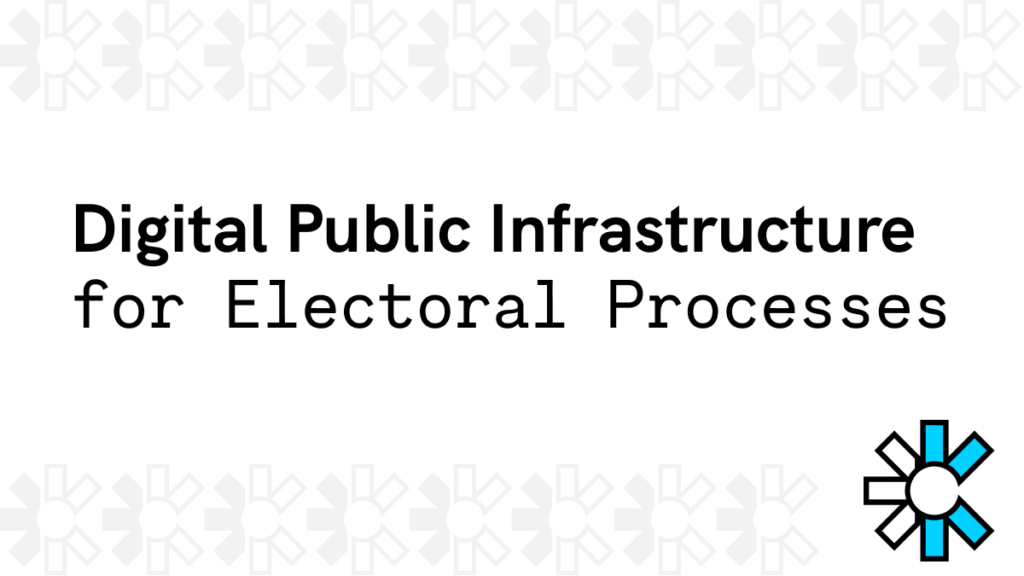 The Open Knowledge Foundation wants to create and enable an international alliance to advocate, design and implement building blocks for a Digital Public Infrastructure for Electoral Processes. The goal of the alliance is to create open-by-design technology that can be reused to make democratic processes more trustworthy, resilient, and transparent.
It is not about voting systems. It's about how open source technology can support all of the stages of the electoral process. From managing the database of candidates and polling stations to the publications and archiving of results.
Democracy needs to be more participatory and only openness can create the foundations for processes where people can be integrated.
The first step in this initiative is to understand what is already available in the field of open elections. We are carrying out a collaborative mapping of local and global projects to gather critical mass and identify gaps, elements that can be reused and the most urgent needs.
Do you know of existing projects or professionals contributing to a digital public infrastructure for elections? Add them now to our Project Repository or Global Directory under the Open Elections category.
Join the coalition
You can express your interest in being part of the coalition working on this project. Fill out the form below and stay tuned for our team to get in touch with more information about the next steps.