The following guest post is by Cécile Aschwanden and André Golliez, from itopia. They are members of the OKF's Working Group on Open Government Data.
Most people in Switzerland (including politicians) still do not know what Open Government Data is all about – but now the OGD virus has reached Switzerland and the discussion has been launched. The first OGD conference hosted by the Swiss Federal Archives – a perfect venue for this event – had many more attendees than expected (around 150). Politicians, high ranking bureaucrats, journalists, scientists, and entrepreneurs gave presentations in the morning and took part in the many workshops in the afternoon. Jeremy Stucky wrote a summary of all the presentations and workshops, which can be found here.
The major conclusion: there is a lot of goodwill from all parties vis-à-vis Open Government Data. Switzerland with its direct democracy is well-positioned for OGD. But many questions are still open, such as financing, licensing, organization, support, governance, etc. The Swiss learning curve and understanding of the dynamic and impact of OGD are in the very early stage. And, many bureaucrats stated clearly they expect a mandate from the government before releasing data for public use.
Andreas Kellerhals, the head of the Swiss Federal archives presented the Swiss federal administration's approach to a single point of orientation (SPO), a key prerequisite to enable access and find a needle in the haystack of treasured information. He that such an SPO be built, in order to support the freedom of information act (BGÖ) with an effective tool.
Prof. Nigel Shadbolt, member of the Public Sector Transparency Board UK, explained in the opening keynote the history of OGD and the big experiences of the UK. He could have talked the whole day about the myriad of useful apps built mostly by volunteer software developers or small companies. (Interestingly, there were hardly any of the large, well-established IT players attending the conference.) Many of these apps are now used also by the public administration.
Switzerland can learn from the other countries. It is important to gain momentum and to support the first movers creating the first apps. The growing community here in Switzerland is gaining momentum and we're confident that soon we will have our first truly open government data sets released accompanied with a Swiss version of OGL. If OGD remains in its baby state it will be of no use (see Rufus Pollack in his closing keynote). If you are interested to see how the baby grows and stay informed the put your name on the mailing list of www.opendata.ch.
Our graphic artist's view (Rolf Willi) on the Federal Palace with Open Government Data.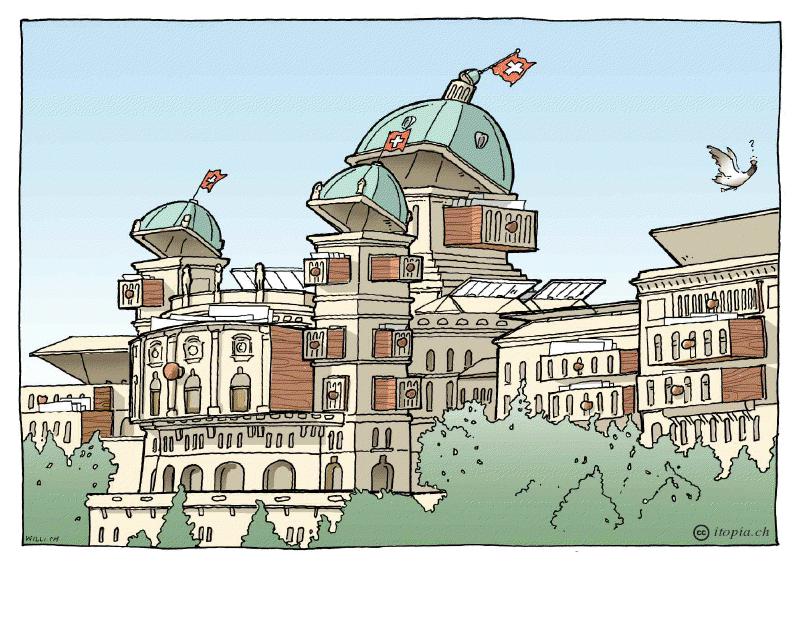 Theodora is press officer at the Open Knowledge Foundation, based in London. Get in touch via press@okfn.org