The following guest post is by Noel Hatch, Projects and Research Lead at Open Kent, and member of the OKF's Working Group on Open Government Data.
A couple of months ago, we launched openkent.org.uk, a project working with 14 public service agencies across our county to open up data that matters to local people – from where their money is being spent, to where they could access local services; from how safe young people feel, to live information on traffic and travel. For the developers, we've created APIs for events and activities, and for our open data in general. And in exchange they've created new information services, like finding where you can park your bike.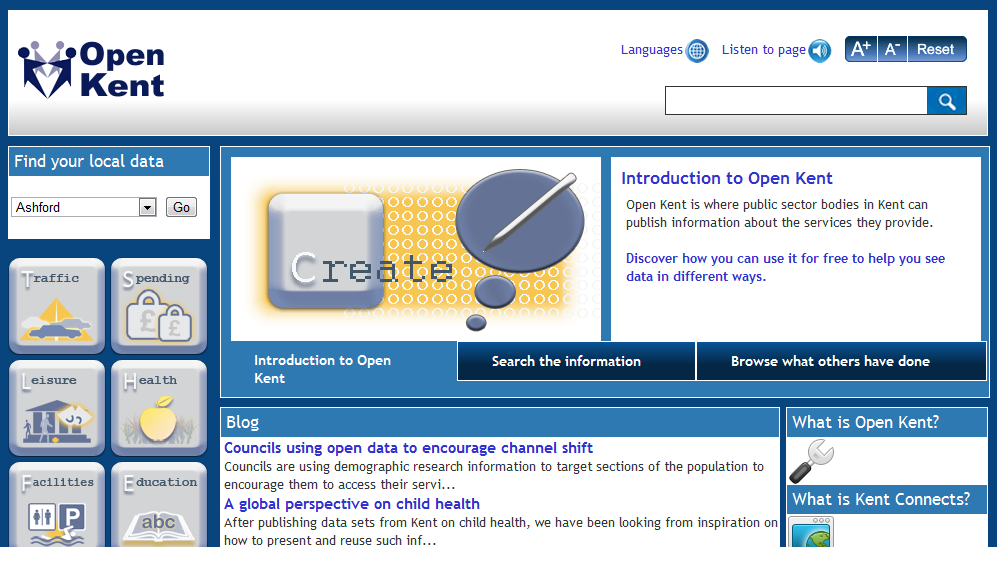 Recognising the importance of education and students in the promotion and development of open data, we're now working with Kent Business School, to find out what would make it easier for people wanting to develop apps using our open data. You can see more here.
But none of what we do could be possible without organisations and networks
like the Open Knowledge Foundation, helping us learn how to
open up data in a way that facilitates the innovators to make the best use of their
skills, or to think about the importance of open standards. Most importantly, they promote an
understanding of why open data is so crucial, and the power of community driven
innovation to create a movement to push for greater openness.
In Kent, we're trying to stimulate that. In fact, it didn't start with open data, but through
opening up our research and development. Last year, we developed a concept
called "Transformed by You", aiming to stimulate people to come up with ideas and work with
students and entrepreneurs to help turn them into prototypes. You can see here
some of what was developed.
If you missed the activities last time round you'll be pleased to know we're doing it
again, but we're doing it slightly differently with partners right across the county.
As Kent Connects, a partnership for local public services across Kent, we're planning
a competition running from September for people to come up with ideas on how
to make their area a better place to live, work & play using technology! We hope this will inform how we approach technology, and also stimulate
connections between the general public and the people who can turn their ideas into reality.
When we launch, there will be the opportunity for people to come up with ideas
online and develop them at a workshop. We will work with innovators to develop
ways to turn their ideas into prototypes and get them together over an innovation
camp (mix of hackday and visual camp). We'll then invite people back to test the
prototypes.
We're trying to better understand people's motivation to
come up with ideas and solve problems together, so we can look at how we
incentivise and reward those innovative behaviours. Different groups
will of course have different motivations. Innovation often depends on the right kinds of difference. That's why we're talking to different groups for our competition, from:
community groups to startups
innovators working in our partner organisations to social entrepreneurs
people looking for the viability of the ideas to students who want to enhance their portfolio
people who want to spin out the ideas into projects to people who want to discuss ways of how technology can be used to help improve public services.
All the assets within those different groups make up more than
the sum of their parts – they form a really strong ecosystem to take prototypes forward. And what we learnt from Transformed by You v1, is that we need
to focus as much on what happens after the competition as what happens before.
So how can we tackle these tensions?
We'd love to explore how you can build momentum for ideas, and help
make them sustainable after the excitement of these types of events.
If you'd like to work with us on this competition, have a look here to see the different
options, but we're sure there are other ways you can partner we haven't thought of. If
you want to submit an idea, we're launching on 16th September, so in the meantime,
sign up to http://dotgovlabs.direct.gov.uk and stay tuned!
So whether you're sunning it on a beach or by your desk while it's pouring down with
rain, do get in touch (holiday postcards accepted!)
Theodora is press officer at the Open Knowledge Foundation, based in London. Get in touch via press@okfn.org