We're pleased to reveal that Carl-Christian Buhr, from the European Comission, will be joining us at OGD Camp, to make a presentation including a video address from Neelie Kroes!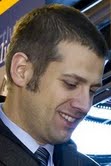 ###About Carl-Christian
Carl-Christian Buhr, an economist and computer scientist by training,
is a member of the cabinet of Neelie Kroes, the Digital Agenda Commissioner and EU
Commission Vice-President. Among other things, he advises her
on ICT research policy, including Open Access policies, ICT
standardisation and interoperability. In his previous job in the
Commission he dealt with antitrust and merger control investigations, for example the Microsoft antitrust case and the Oracle/Sun Microsystems
merger.
Regarding his talk, Carl Christian says:
"In an introductory video message to the OGDCamp, EU Digital Agenda
Commissioner Neelie Kroes will give a glimpse of her upcoming policy
proposals for Open Data.
Building on that, I will expand on the link between public
sector information and scientific information, and the way these are
treated by EU policies. In particular for data (as opposed to
documents), we expect to see more convergence between these two fields.
Theodora is press officer at the Open Knowledge Foundation, based in London. Get in touch via press@okfn.org