Inspired by the great Global Communities Stories, we want to give you an update about what has happened over the last months in our different Working Groups. Working Groups are a great place for people that are interested in open data related to a specific topic such as science, economics, linguistics or government data. We currently have 14 active Working Groups and a few more incubating so there is always something that fits your interest. And if not, you can always set up your own group!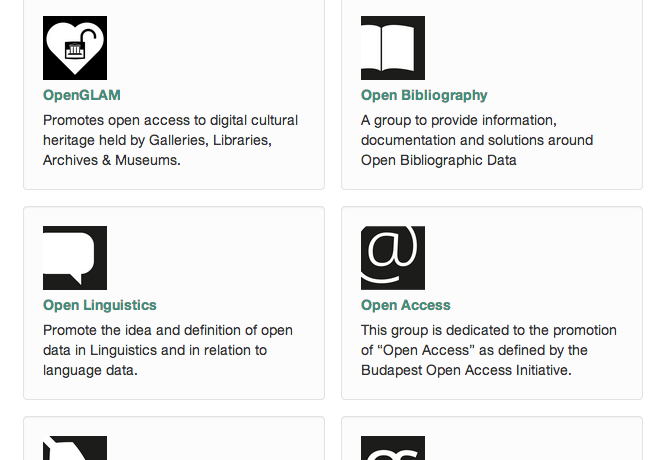 ###Open Humanities
The Open Humanities working group has been organising several developer focussed online Hangouts over the last few months. They have built a game that helps you learn passages from Shakespeare called Bardomatic as well as done some tweaks for the Timeliner which allows you to make elegant timelines out of Google spreadsheets.
To stay informed about the next hangout, please join their mailing list. They are currently working on mapping correspondence data and they invite any javascript developer, designer, litaerature student or basically anyone who loves the humanities to join. For more info see their blog.
###Open Economics
The Open Economics group has been very active. They have been running a series of workshops and events and worked together with the Open Science Working Group on the Open Research Handbook. An interesting project that has started recently is the Automated Game Play Project which has the goal to "build artificial agents by developing computer programs that act like human beings in the laboratory. We focus on the simplest type of problem of interest to economists: the simple one-shot two-player simultaneous move games. There is a wide variety of existing published data on laboratory behavior that will be our primary testing ground for our computer programs." For more info see their resources page
Also the Open Economics international workshop is coming up – June 11-12 in Cambridge, MA. Some prominent speakers include Micah Altman (MIT Libraries Research Director), Shaida Badiee (Head of World Bank Development Data Group) and Eric von Hippel (MIT Sloan School of Management) will be present. For more info see the events page
Meanwhile they have also been posting a whole range of interesting blogposts such as the most recent one with reasons people use not to share their data and the the Reinhart Rogoff saga which got the attention of the LSE Social Impact blog and the New Scientist which concludes that making data and code available is essential in order to replicate scholarly results.
###OpenGLAM & Public Domain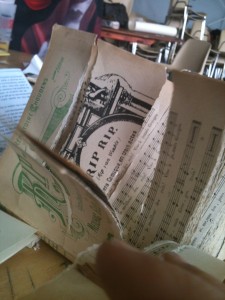 At the beginning of this month, the Public Domain Remix competition was launched in France. The competition aims to give a new life to the public domain by encouraging the creative remix of works that are no longer protected by copyright law. By re-using, re-mixing and using these works as inspiration, these artists show the value of our shared cultural heritage.
The group has also been active pursuing cultural institutions that are using restrictive licenses on content that is out-of-copyright, which resulted in the Walters Art Museum removing the non-commercial restriction of their digitised manuscript collection.
Finally, the group has been working on defining a set of OpenGLAM principles which serve a a set of guidelines for cultural institutions how to open up their data and digitised content.
###Open Hardware & Design
The Open Hardware and Design working group is one of the younger ones. They recently celebrated their one year anniversary with a summary blog post. They have recently launched the first version of the Open Design principles, held Github workshops across Europe, delivered a keynote lecture at LibreGraphics in Madrid, did a lot of arguing about design paradigms, planned a new design hardware challenge in France and helped run the first Design/Hardware/Fabbing topic stream at the Open Knowledge Festival in Finland.
This year, they will focuse on fostering the Open Design community in new ways, from building local installments to participating in MOOCs to inviting design practitioners to feature their works in new and unexpected ways.
That's it for this roundup, next month we will highlight activity from some of the other Open Knowledge Foundation's Working Groups. If you want to be closer involved in one of them, have a look at the overview page, select your topic of interest and get involved!
Joris is community coordinator cultural heritage at the Europeana Foundation and coordinates the OpenGLAM working group.