What does open data / open knowledge have to do with Crisismapping? Everything. In times of crisis, we live in open data / open government ecosystem. We seek, build and make it happen in real time – talk converts to action quickly.
On Tuesday, November 19th, the School of Data hosted a full day pre-conference training session as part of the International Conference of Crisis Mappers Conference (ICCM) in Nairobi, Kenya. The full event hosted over 110 attendees from around the world for a training offering with Knowledge/Research, Maps to Data and Mobile/Security. The Crisismappers community brings humanitarians, governmental staff, civil society practitioners, researchers, and technologists in a common, equal space. Participants work on projects ranging from human rights, anti-corruption, humanitarian response and economic development in post-conflict zones. The brilliance of cross-sector community focused on using data for their work highlights the importance that Open Knowledge Foundation as an member of the greater network. Building a global network of data makers is a one-by-one task. Our goal is to have leaders train their colleagues thus widening a circle of sharing and collaboration.

Some recent examples of our communities connecting include:
Open Spending Tree Map by Donor: Foreign Aid Transparency – Faith (Philippines) and Early Results – Micromappers Yolanda (uses Crowdcrafting which was incubated at OKFN Labs).
Baking Soda with Crisis Mappers
(Steve Kenei, Development Initiatives)
Data is just a word until we activate it. I like to call the School of Data the "Baking Soda" team. Together with key ingredients (community, problem/issue description, data sets and tool menus), they work with others to make data usable and actionable.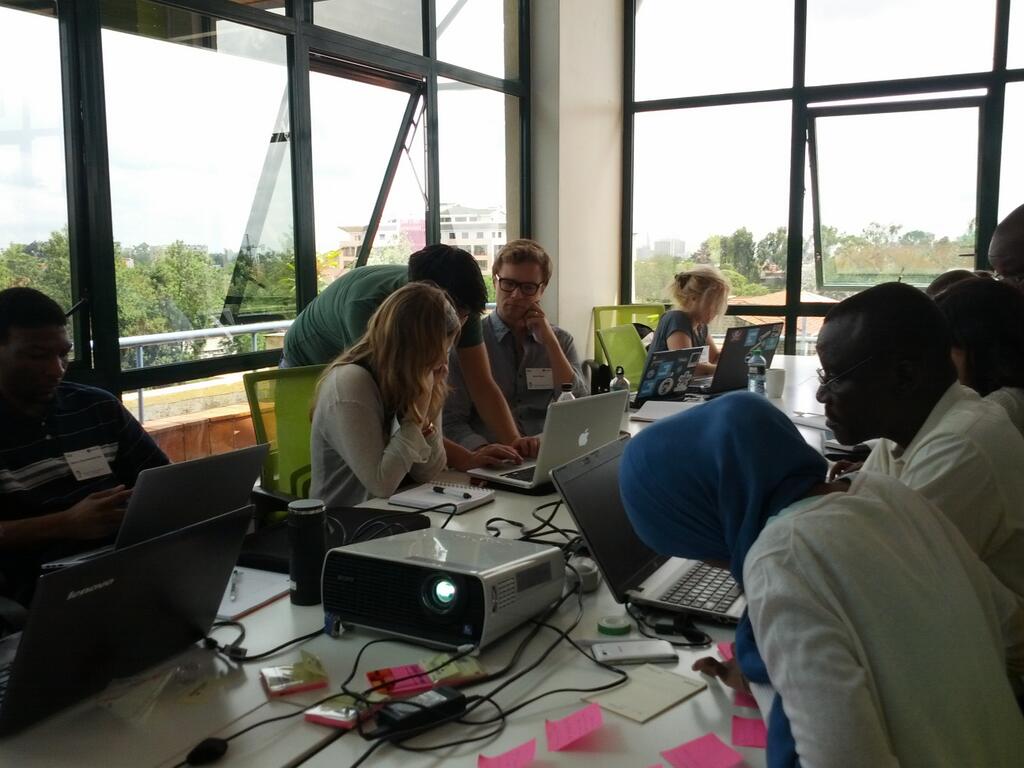 (School of Data session at ihub for ICCM)
The data track workshop sessions including using spreadsheets, cleaning data, data visualization and how to geocode. Some folks stayed in this track all day, even skipping breaks. The track started with a spreadsheet training delivered by Steve Kenei from Development Initiatives, continued with an Introduction to OpenRefine and an introduction to data visualization by Agnes Rube of Internews Kenya. The track was finished by School of Data mentor Ketty Adoch. The workshop was designed to address issues that civil society organizations have using data. One of the exciting results was the sheer concentration and intent of participants. They skipped breaks and even brought their own datasets to guide their learning.
Communities, Ideas connecting:
The ICCM conference, including pre-conference events, was jam packed week of maps, data, research and technology. Most of the ignite talks and panels referred to some stage of open data needs or the issues ranging from data ethics, data quality and data collection methodology. Ketty Adour – one of this years ICCM fellows – she shared her experiences on building a community mapping in Uganda using OpenStreetMap at Fruits of Thought.
Next Steps
During the self-organized sessions, together with Luis Capelo of UN OCHA , I hosted a discussion about Open Data Opportunities and Challenges. It was an exercise for the attendees to discuss Open Data and Crisismapping.

We determined a few concrete actions for the community:

A common data sharing space for Crisismappers interested in Humanitarian data.
A Crisismappers Open Data Working Group to help share impact and build momentum.
Training and a mentorship programs to help build skills and leadership in the field.
The Crisismappers community is over 5000 members strong with a mailing list, webinar and NING site. Do consider joining this vibrant community of maps and data makers who are at the edge of what it takes to unite policy with sheer determined actions. Also see our various Working Groups and the Open Data Partnership for Development programme.

Some additional resources:
Heather is Community Engagement Director at the Open Knowledge Foundation, based in Toronto. She's passionate about global storytelling, citizen voices, excellent software, crisismapping, collaboration, localization and open everything. Learn more at @heatherleson or textontechs.com