Work that strives to make a lasting social impact is a lot like a marathon. You need to learn how to go through long distances in spite of the exhaustion and how to manage your energy; you need to know when to go faster or slower, etc. But in order to get to the finish line, you need to have some sort of company. This is the case with the work undertaken to make Latin America a more open region. Fortunately, we have the right tool for this: Abrelatam|Condatos, the regional meeting for open data, which gathers activists, journalists, public servants, designers and anyone interested and working in the use of open data and the change they can generate in the region.
This was the event's fourth edition, which took place in the beautiful city of Bogotá. I was happy to see that the subjects we talked about have evolved since past editions and we passed from "How do we open data?" to talk about gender and (the lack of) data, entrepreneurship based on open data, business models and standards and much, much more!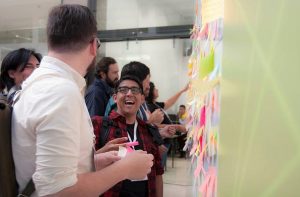 This doesn't mean everything is perfect in Latin America. In fact, as the discourse evolves, it is vital that we can name and know what to do when our governments use openness as a screen without generating deep changes or promoting accountability or entrepreneurship inside and outside of government.
These challenges we identified were put on paper as eight specific points that will help us understand where we, as a region, want to go in the coming years.
Around people
Create awareness between public servants and civil society about how to make use of data and the normativity around it.

Build capacities for structuring, transforming, capturing, liberating and using data
Around data
Have relevant data that responds to the needs of society and governments

Have data with local impact, based on context and sub national needs

Have data for social change and inclusion, which will help fulfill the SDGs, human rights and the principles of open government.
With society
Promote entrepreneurship around data through financing and incentives that seek more sustainable business models

Develop communities for knowledge exchange, experiences and good practices from journalism, startups, academia, private sector, CSOs and other initiatives

Create strategies for opening, liberating and using data with clear regulations, that grow success cases and care about privacy.
In addition to these challenges I'd like to discuss three other subjects I identified during a bunch of hall chats with members of the community.
We need to balance the discussion before the conference
Every year we have new participants in Abrelatam and Condatos. This doesn't mean they're new in their field. In spite of this, we still spend a lot of time providing background to new participants. If we immerse everyone before the conference in previous conclusions we could probably advance the conversations instead spending time giving context.  
We spoke enough, let's take action 
I don't think that this conference should become a hackathon, but we need to find ways to get our hands dirty. We have attendees from three or four editions of the conference that could set realistic goals with tangible results and we could work on them with little time, resulting in something useful for the region during the year between each event.
Let's create space for new people

As much as I love meeting people I've known for years and being able to continue conversations that we left pending in previous years, it's important having new voices in this discussion. The selection committee, who also gave the travel support grants, did a great job at this but we, as individuals, need to start identifying and getting new people into these conversations, even if that means that we get to stay home for the next Abrelatam.
There are many other points to talk about but I'd like to know what other people think. If you attended Abrelatam 2016, don't forget to continue talking about it (like commenting on this point, speaking in the telegram group or writing a response post to this one) and don't forget to include the hashtag #retos2017, since they will help us shape the agenda for the coming months and years.
P.S. I'd like to thank all those who, during these four years have been part of hallway chats, with whom I have learned and shared. I'd also like to give public recognition to the great Fabrizio Scrollini, an always inspiring person with all he has done and keeps doing to create the great community we have.