This piece is written by Jaakko Korhonen and Joonas Pesonen of Open Knowledge Finland
At the end of October a team using OpenSpending tools held a pitch for high-ranking Finnish Government officials in "Hack the Budget 2016," a competition organised by Open Knowledge Finland (OKFFI) and the Finnish Ministry of Finance.
For the hack, the competition team used OpenSpending to create visualizations with fiscal data from the Ministry of Finance's website. Our goal was to harmonise Finnish Government expenditure data from 2002-2015 into a Fiscal Data Package, an internationally comparable format. We were proposing that combined datasets enable exploration of alternative costs from budget data for citizens, NGOs, businesses, party-political organisations and public officials.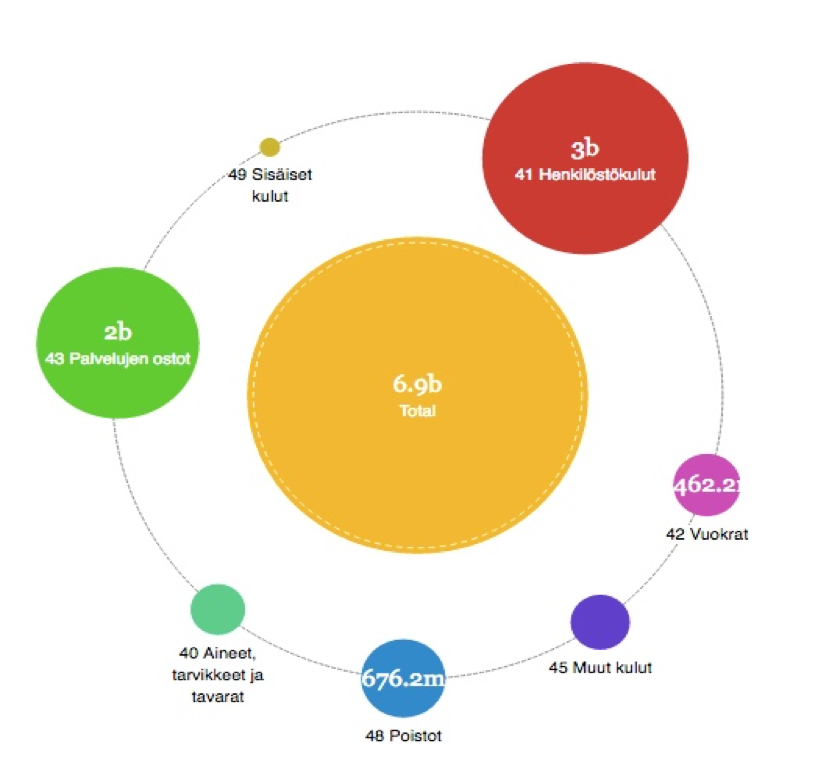 See the whole dataset here: http://next.openspending.org/viewer/.
Our proposal to use OpenSpending to present government fiscal data was selected as the winner of the hack. We are going to work with the government in the near future to implement OpenSpending in Finland. Also, we plan to train a number of users to create fiscal packages and publish them.
These are some of the recommendations we formulated for the Government of Finland:
Harmonised data model. Publishing data in a nationally harmonised data model would enable calculating the alternate cost and project impact analysis already when planning projects. Technology is now available.
Compatible model for publishing data packages enables pursuing real-time budgetary situational awareness.
Data package model can be taken into use with marginal cost in municipalities, government offices and in NGOs, enabling leadership of funded operations with information, and more transparent funding decisions.
Frictionless Data is better than Excel because different applications can be run on top of it very flexibly. A short staff training suffices.
The prize for winning the hack was qualifying for Ultrahack, where the team will continue to develop on the idea and make use of OpenSpending tools. We have initiated discussions with the Ministry of Finance in Finland and are also scheduled to present the work to the Minister of Finance in Finland.