This blog post is part of our on-going Network series featuring updates from chapters across the Open Knowledge Network and was written by the Open Knowledge Switzerland team.
Open Knowledge Switzerland pursues the objective to make data freely available for everyone to use and republish in order to increase transparency, innovation and efficiency. 
We are excited to share the curated highlights from Switzerland for the fourth quarter of 2016 with you all.
Launch of the innovation program food.opendata.ch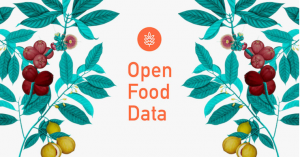 In collaboration with Engagement Migros, the development funds of the Migros group, Opendata.ch launched the three years program "Business Innovation food.opendata.ch". The food.opendata.ch program supports creative, entrepreneurial and scientific projects in the area of food and nutrition data on their way from the first idea to market readiness by providing new open data, intense coaching and mentorship, and financial support. 
The first event to start out the program was the Open Food Data Hackday, which took place in February 2017, with parallel events in Zurich and Lausanne. If you want to follow the progress of this program, check the website -> food.opendata.ch for regular updates. 
Launch of opentransportdata.swiss

The open data platform of the swiss public transport was launched in early December 2016. Opentransportdata.swiss is the platform for customer information data on public transport in Switzerland, where you can obtain data on public transport free of charge and get access to specific public transport services. The data published on this platform has been ideally prepared for developers. With the swiss chapter, we have been fighting for open public transport data since 2011, and now it's finally here! Let's all go use that data to make travel smarter!
Open Letter to Members of Parliament regarding Open Weather Data
In December 2016, André Golliez, the president of Opendata.ch and Edith Graf-Litscher, the co-president of the parliamentary group digital sustainability, co-wrote an open letter to the members of the Council of States. In this open letter, Golliez and Graf-Litscher ask the members of this chamber to support a motion in favour of opening up weather data in Switzerland. You can find the letter here. We will keep you posted on any further development with regards to this matter.
First edition of "Youth hacks Zurich"
The Board and Community Members of the Swiss chapter supported the first edition of "Jugend hackt Zurich" which took place in November and taught teenagers how to code in a bid to make the world a better place.
At the end, ten projects were realised among them are Apps (smart lock); games (the life of Ethan Drake); open data (Hotspot spotter), visualisations (IMNS-Is my network safe?) and hardware projects (with raspberry Pi & Arduino as well as diverse robots with EV3). More information is also available on the official website of the Swiss Television and Radio. If you're interested in finding out more about the Youth Hacks Zurich event, check out the blog which documented the event and the results.  
55 Open Data Apps! 
Since 2014, the Research Center for Digital Sustainability at the University of Bern has been hosting an annual Open Data lecture. As part of the curriculum, students learn to visualise data and develop interactive web-applications. It is the 3rd edition this year, and, already, several open data applications have been developed. These apps can now be found in the Open Data Show Room.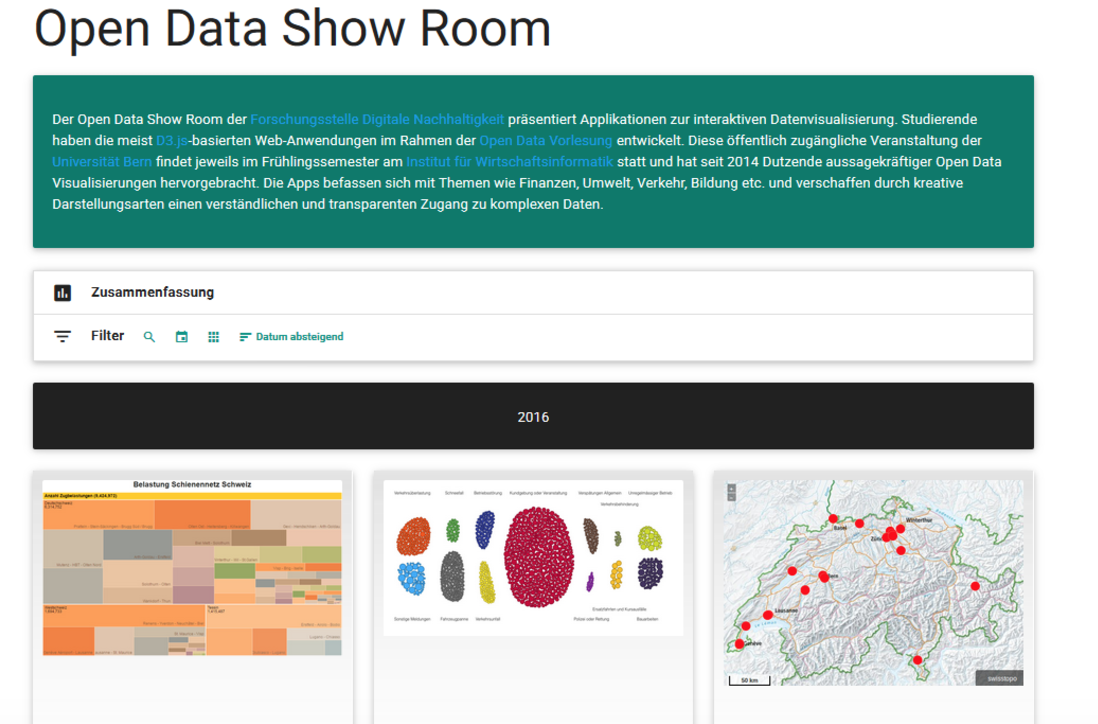 Currently, there are over 55 Open Data Apps in the Show Room which are focusing on categories such as Education, Finance, Society, Health, Environment, Transport etc.
In Q4 of 2016 alone, a total of 23 new apps were being created. And even more, the great news is that the Open Data lecture will be back in spring 2017. To get to the open data showroom, please click on this link.
Keynotes, workshops & roundtables
Last but not least, our community and board members hosted several keynotes, workshops and round-tables in October – December 2016. To highlight one of many examples, we are glad to share Andreas Amsler's keynote about Open Data – for fun and profit. 
Muriel is a member of the executive committee at Opendata.ch - the Swiss Chapter of Open Knowledge. She is passionate about civic tech and empowering people by providing access to open data and free knowledge.