This blog post is part of our on-going Network series featuring updates from chapters across the Open Knowledge Network and was written by the Open Knowledge Sweden team.
2016 was a productive year for Open Knowledge Sweden! We are a team that is passionate about open knowledge, transparency, democracy and value creation. This post documents some of the projects and events we were engaged in for the last quarter of 2016.
EU CLARITY Project
OK Sweden is part of the pan-EU CLARITY Project which is in its first year of a two-year term. The project will support the European Member States in their pursuit for greater trust, transparency, and efficiency within their open eGovernment initiatives and highlight best practices within this field.
We have worked hard as a team in this project and occupied leadership roles on many CLARITY related tasks. For example, Serdar Temiz served as Project Manager for the CLARITY packages OK Sweden was responsible for, while Toni Mickiewicz was adjudged the most active person on the project at OK Sweden.
We have produced several deliverables and conducted many activities as listed below for the CLARITY Project:
We have conducted a

stakeholder analysis

within the open eGovernment ecosystem

We have analysed the

key drivers

in the uptake of open eGovernment services in Europe

We have conducted a

needs assessment

of societal, public sector and industry and market needs when it comes to the uptake of open eGovernment services

We held a

Development Sprint Event

in Amsterdam in December 2016, where four teams developed

blueprints for 4 new open eGoverment services.

We have held two foresight focus groups with stakeholders in Sweden and Spain and will host the third group in The Netherlands in March. Results will be in a forthcoming briefing paper on

"Considerations for the take-up of open eGovernment services in Europe" –

due in March 2017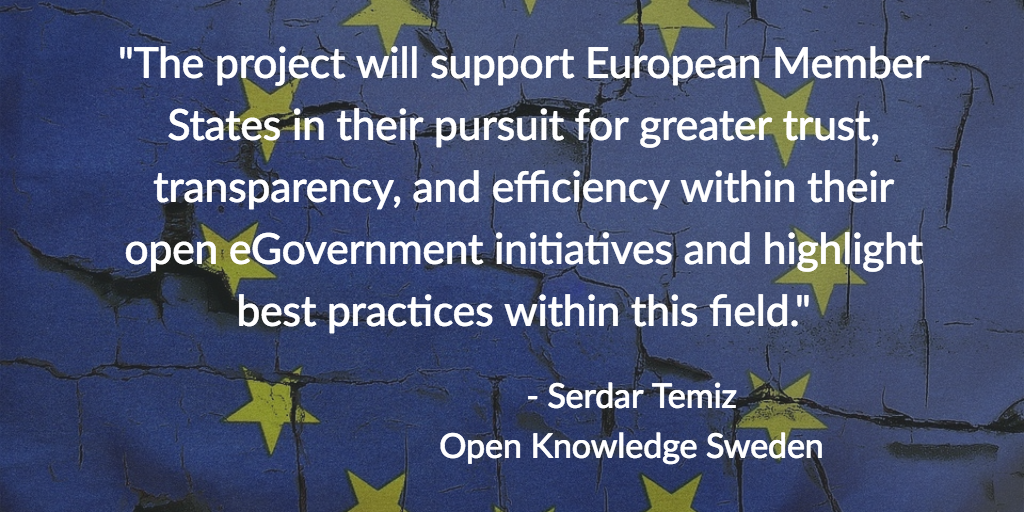 Please read and don't hesitate to give us feedback! You also follow us on our website, as well as social media – twitter and LinkedIn group. If you are interested in joining our contact list, drop us a line.
Open Knowledge Awards in Sweden!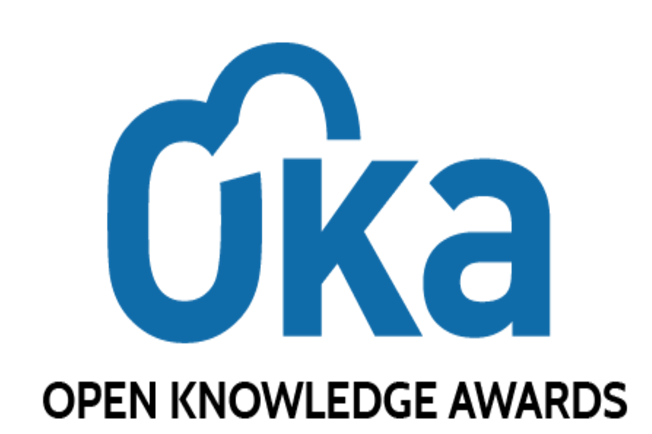 OK Sweden had its first ever Open Knowledge Awards to acknowledge people and organisations that are working towards open Knowledge in Sweden! We collaborated with KTH- Royal Institute of Technologies Industrial Marketing and Entrepreneurship Division and was sponsored by Wikimedia.  The award ceremony was held at KTH ITM Schools Indek Building and was managed by Asmen Gul – the OKAwards and Open Data Index Project Manager of OK Sweden. We plan to have the awards every year!
The awards ceremony received several positive feedbacks and a wide press coverage. We can easily say that it was our most attention-grabbing event of the year.
 You can find more information regarding the award, jury, categories, and winners from here.
FragaStaden.se (AskTheState) – our first Freedom of Information (FoI) Website
Our first FOI website: FragaStaden.se (AskTheState), managed by Mattias Axel was launched in May.  The project is very important to us because we launched it at the anniversary of the FOI Act, which dates back to 1766 – the first freedom of information legislation in the modern sense which is called the Principle of Public Access (offentlighetsprincipen).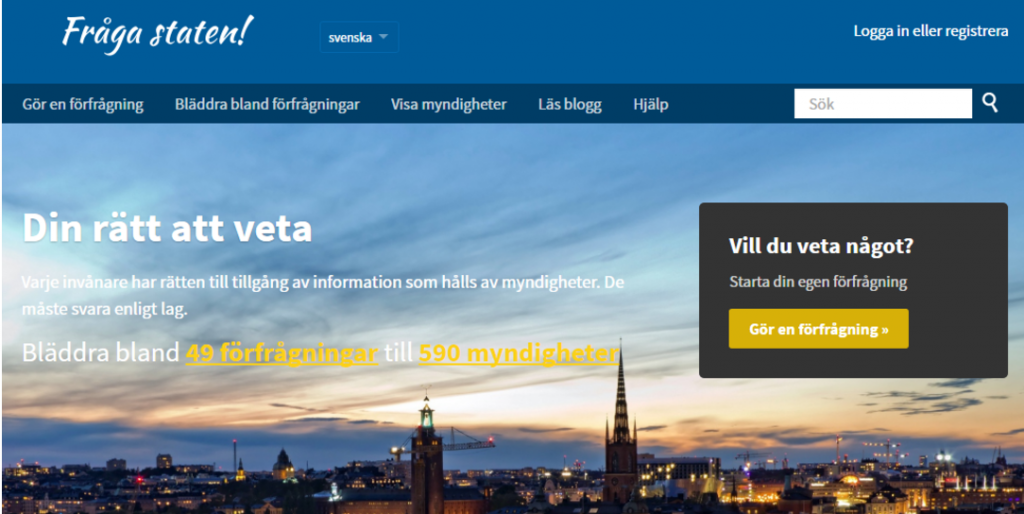 We presented the platform at the Umeå Hacker Space and took part in the sestercentennial – 250th! – Anniversary for the adoption of legal guarantees for freedom of information and a free press in Sweden which was run by the Swedish National Library.
An English translation of the Anders Chydenius FOI text is available here because the Swedish parliament abolished censorship of books and newspapers and required authorities to provide public access to all official records with the passing of "His Majesty's Gracious Ordinance Relating to Freedom of Writing. Articles on the same topic by other contributors are also available.
Sweden's Biggest Internet event

OK Sweden in partnership with Engaging Privacy, ISOC-SE, OKSE, DFRI, and IIS prepared a two-day program [21st and 22nd of November] on privacy and integrity tracks at Sweden's Biggest Internet event which was organised by The Internet Foundation In Sweden. The keynote speaker of the event was Edward Snowden. Although he could not be present in Sweden in person, he was able to deliver his speech – thanks to digital technologies!
In one of the parallel tracks, the Chairman of OK Sweden – Serdar Temiz, gave a presentation on Data Privacy, Corporates, and States.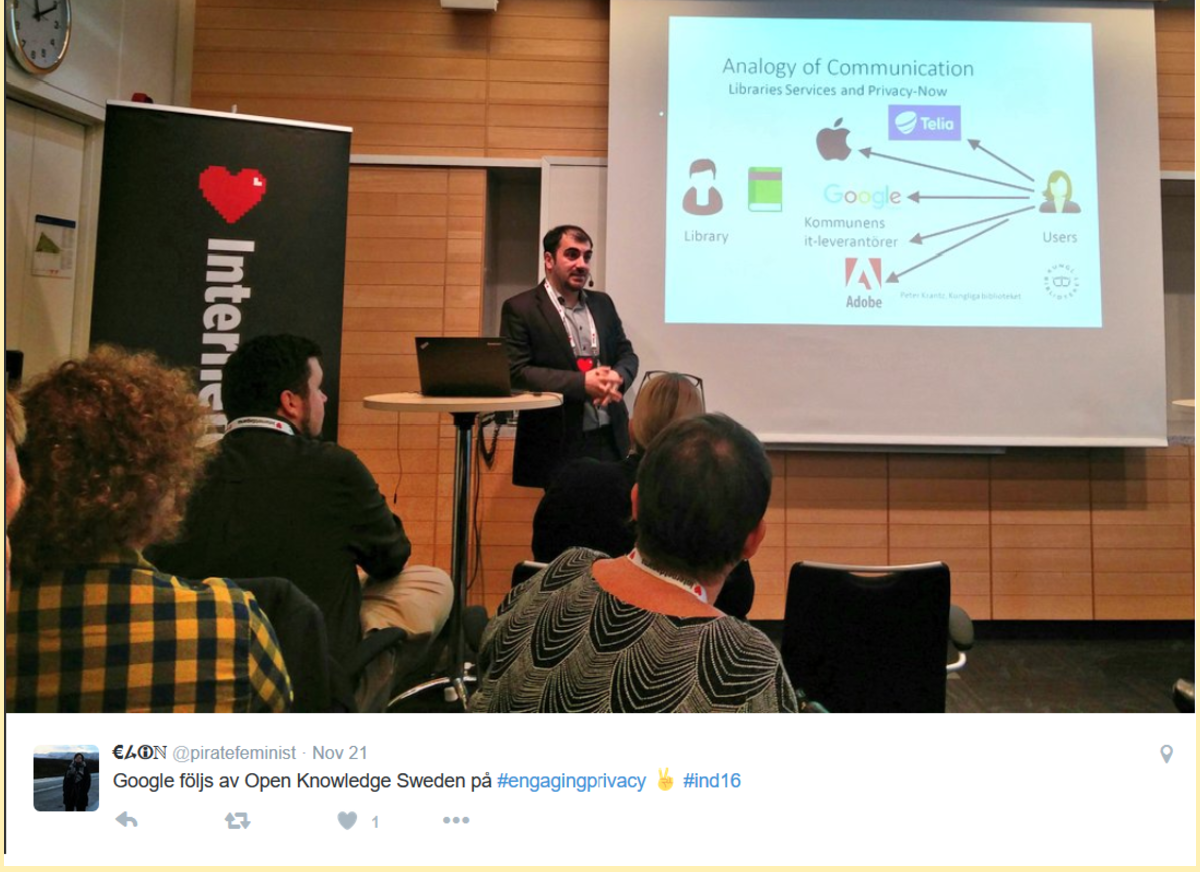 Also, OK Sweden member and FragaStaten's Project Manager, Mattias Axell facilitated workshops for better privacy practices in business and public organisations on both days of the event. You can read more about the schedule of the event here.

Other Events and Activities 

We have two new project members: Malin Isaksson and Julia Navrén. Both will work for the Undervaka.se – A Digital Quality Index for Press Freedom and Freedom of Information Act. Funded by the Internet Fund (internetfonden), the project will seek to build relationships and networks and infrastructure for media organisations and the public in Sweden, to make it easier to view the quality of the principle of public access. You can follow the progress of this project via here.
We also created training materials for Open Data with CC license with the help of Wikimedia Sweden, Asmen Gul and Valentin Brutaru run the project.  We are glad to have these materials available for our future educational activities.
Secret Announcement!
As part of our mission to re-work OK Sweden to become a new and improved organisation, we now have our first ever Executive Director, Fredrik Sjöberg, who brings with him many years of project and team management skills. We strongly believe OK Sweden will become more effective and productive with Fredrik's management and contributions to the team. Our press release regarding this change will follow soon. Until then, it is a secret between you and us. OK?
We are working on great projects for 2017 so stay tuned!
Serdar Temiz is the Chairman of Open Knowledge Sweden (www.okfn.se). He is also PhD Candidate at KTH-Royal Institute of Technology and lectures/provides training on topics related to Open & User Innovation, Entrepreneurship, Open Data, Business Models, latest trends & technologies (blockchain, AR, AI,VWs). You can read more about him from www.serdartemiz.com