This blog post is part of our on-going Network series featuring updates from chapters across theOpen Knowledge Network and was written by the Open Knowledge Sweden Team. 
We have a new collaboration with the Internet Foundation (.SE) in Sweden, which is an independent organisation which promotes a positive development of the internet for the benefit of the public in Sweden. Open Knowledge Sweden, KTH Mentorspace and other organisations will collaborate under the umbrella of Open Knowledge and Innovation Lab (OKINLAB), and as an initial support, we will be using .SE's Co-Office in Stockholm. 
We are hosting a researcher, Xiaowei Chen who received funding from Alexander Humboldt Foundation in Germany to study and compare the Swedish Freedom of Information (FOI) to Germany's "Informationsfreiheitsgesetz" (Freedom of Information). He is also receiving support from Open Knowledge Foundation Germany for his research. Read more about the Xiaowei's project here.
Open Knowledge Sweden's chairman, Serdar Temiz was invited to be a researcher panel discussant on Open Science and Open Access organised by Swedish National Library and Karlstad University. Jakob Harnesk, Library Director of Karlstad University moderated the discussions where Nadja Neumann, Fil.dr, Karlstads University and Erika Sandlund, Docent, Karlstads University were other discussants. Erika Sandlund could not attend in person due to illness so she sent over her notes/answers via email.
In addition to other local researchers and librarians, there were two international guests:
Kathleen Fitzpatrick

, Associate Executive Director & Director of Scholarly Communication at the Modern Language Association, New York, USA. She is also the co-founder of the digital scholarly network

MediaCommons

and presented new ways of publishing

Vincent Bonnet

, Director vid the European Bureau of Library, Information and Documentation Associations (EBLIDA), Haag, Holland. Vincent presented how libraries and librarians are changing.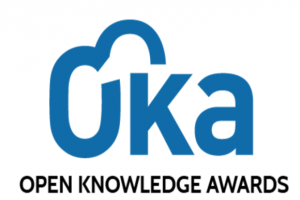 It may appear awfully early, but Asmen Gul, project manager of OKAwards has already started work towards OKAwards 2017 which will be held close to the end of 2017. Asmen is already working with professional Event Manager Erika Szentmartoni for OKAwards 2017. More updates to follow soon. 
As mentioned in our previous update, we are part of the pan-EU CLARITY Project. Together with other 6 partners, we presented our findings to the EU Committee in Brussels as a first-year review. Project partners received very constructive feedback to improve their output and progress for the second half of the project. Project partners will have another meeting on 10th of May in London to coordinate the second half of the project.
In our previous update, we shared a not so secret with you about OK Sweden having its first Executive Director, Fredrik Sjöberg. He works at the digital agency Creuna and is into everything that's open and digital. He also likes to find digital opportunities that help create a better and more open society and has created communicative solutions using open source for over 10 years. He is an avid advocate of open data and wants more people to see the benefits of sharing. Frederik has already introduced new structures and strategies for the OK Sweden and after the initial planning period, you will hear more from our new Executive Director.
Also, we are about having a new election for the board and the chairmanship position. The Meeting is scheduled to be on 13th of May. Board members who have fulfilled membership obligations will have the right to elect the new board.
Follow Open Knowledge Sweden twitter page [@OKFSE ] for more updates.
Serdar Temiz is the Chairman of Open Knowledge Sweden (www.okfn.se). He is also PhD Candidate at KTH-Royal Institute of Technology and lectures/provides training on topics related to Open & User Innovation, Entrepreneurship, Open Data, Business Models, latest trends & technologies (blockchain, AR, AI,VWs). You can read more about him from www.serdartemiz.com