This blog is part of the event report series on International Open Data Day 2017. On Saturday 4 March, groups from around the world organised over 300 events to celebrate, promote and spread the use of open data. 44 events received additional support through the Open Knowledge International mini-grants scheme, funded by SPARC, the Open Contracting Program of Hivos, Article 19, Hewlett Foundation and the UK Foreign & Commonwealth Office. This event was supported through the mini-grants scheme under the Open contracting and tracking public money flows theme.
Open data is becoming popular in policy discussions, media discourse and everyday conversations in Ghana, and this year TransGov Ghana had the opportunity, as one of two organisations in the country, to organise Open Data Day 2017. It was under the theme: "Following the money: Tracking money flows on development projects in the Accra Metropolis". The objective for this year's event was to clean up and standardise datasets on development projects for deployment to the Ghana Open Data Portal and to give the participants insights into how the government spends public funds on development projects in their local communities.
Who was at the event?
Open Data Day provided an opportunity for various stakeholders within the open data ecosystem to meet for the first time and to network. In attendance were Mohammed Awal, Research Officer from Center for Democratic Development Ghana (CDD-Ghana) , Jerry Akanyi-King, CEO of TransGov Ghana, a startup that enhances civic engagement with government by enabling citizens to monitor and track development projects in their local communities, and Paul Damalie, CEO of Inclusive, a local startup that provides a single identity verification API that connects unbanked Africans to the global economy.
Also in attendance were Adela Gershon, Project Manager at Oil Journey, a Civil Society Organization (CSO) that uses Open Data to give Ghanaian citizens insights into how oil revenues are spent; and Joel Funu, Chief Product Officer at SynCommerce, an avid open data proponent; and many others including journalists, students from the Computer Science department of the University of Ghana, open data enthusiasts and members of the local developer community.
The state of Open Data in Ghana
The event kicked off at 10:00 am with a discussion on open data in Ghana, its application, the challenges facing the Ghana Open Data Initiative (GODI) and Civil Society Organisations (CSOs) involved in open data work, and the future of the open data ecosystem in Ghana. The discussion also sought to gather consensus on what the key stakeholders in the sector can do to facilitate the passage of Ghana's Right to Information Bill currently before Parliament. It was an open discussion which involved all participants.  
The discussions were moderated by Paul Damalie, and panellists included Jerry Akanyi-King, CEO of TransGov Ghana, Adela Gershon, Project Manager at Oil Journey and Mohammed Awal, Research Officer at CDD-Ghana.
Mohammed Awal spoke about an open data project initiated by CDD-Ghana known as "I'm Aware", which collects, analyses, archives, and disseminates user-friendly socio-economic data on the state of public goods and public service delivery in 216 districts, located in all the ten regions of Ghana. He agreed with the other panellists on the difficulty of getting data from government and suggested a few strategies that can help other organisations that relied on government for data.
Mr Adela Gershon also spoke about his experiences from working at Oil Journey. He observed that the Ghana Open Data Initiative (GODI) has not been helpful to their cause thus far and he called for closer collaboration between GODI and CSOs. Jerry Akany-King also chimed in with experiences from TransGov. Panellists and participants stressed that CSOs have tended to work in parallel in the past, often working to solve similar problems whilst being totally oblivious of each other and should begin to collaborate more to share knowledge and to enhance open data work in Ghana.
Diving into the Datasets
After the discussions, the attendees formed two teams and were given a dataset of developmental projects. The teams were assigned task leaders and were introduced to the process involved in converting the data from a pdf format to cleaning it up, and to finally visualising it. The two teams were able to come up with visualisations which provided insights into how public funds were spent on development projects.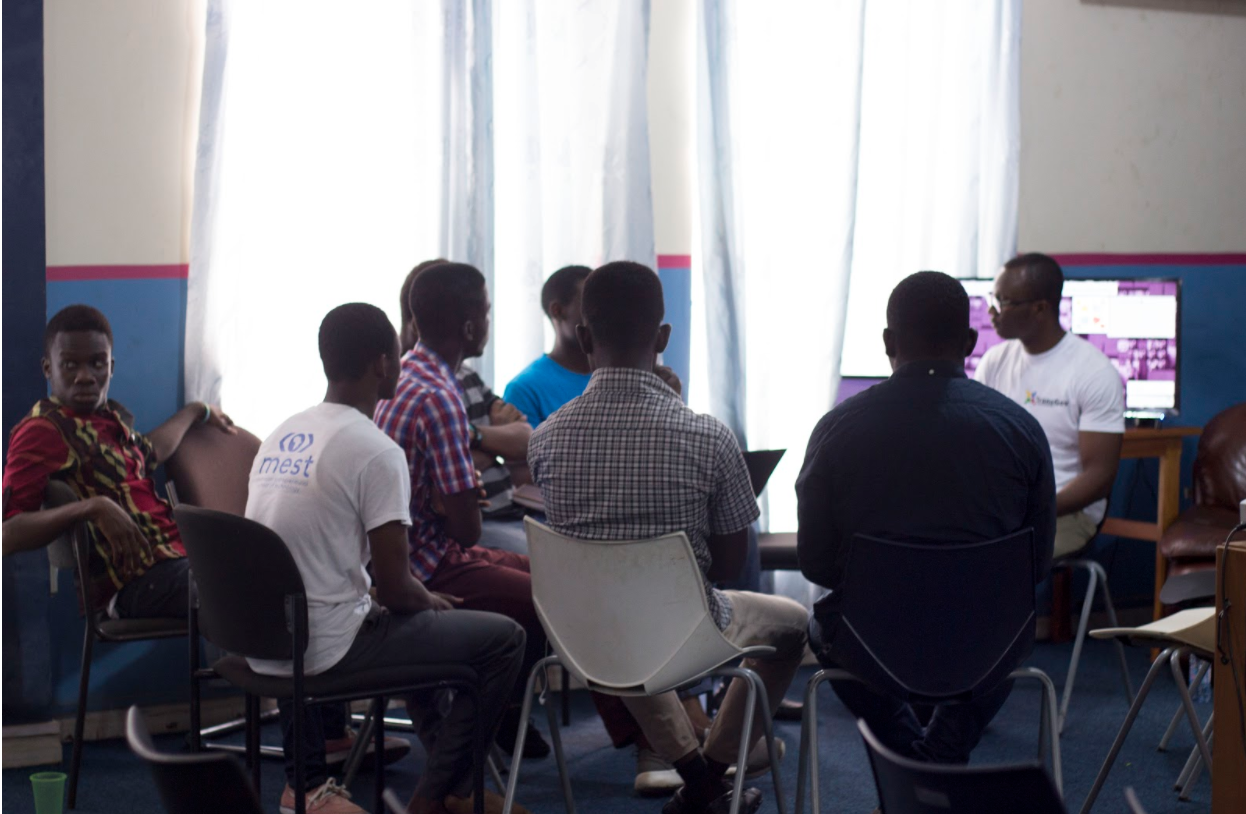 The first group were able to come up with visualisations on how much was spent on development projects in total from 2012 to 2015. They also visualised how these development projects are distributed across the Accra Metropolis.
The second group also visualised the number of projects across the city and which contractors got the most contracts within specific time periods. From their analysis, we also found out which development partner organisations provided the most support to the government within the period.
Lessons learned 
The developer community in Ghana has not fully embraced open data because there is a yawning knowledge and skills gap. More work has to be done to educate both government and the general public about open data and its social, political and economic benefits. Furthermore, capacity building for CSOs engaged in open data work will go a long way to enhance their work and strengthen the open data ecosystem in Ghana.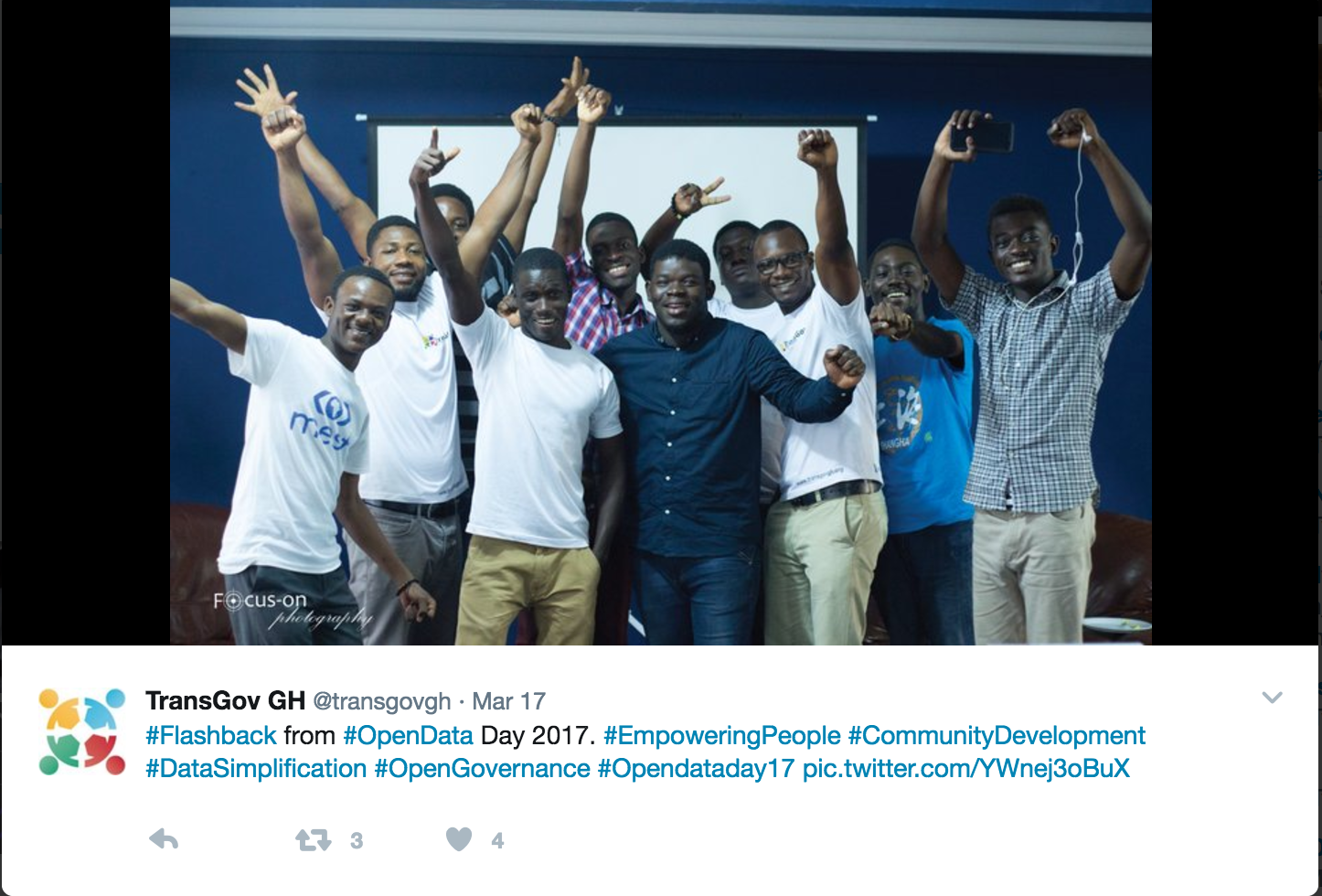 What's Next?
We've submitted the cleaned up dataset to the technical team at the Ghana Open Data Initiative and await deployment to the Ghana Open Data portal. We're also providing support to the student reps from the University of Ghana Computer Science department to form Open Data Clubs at the University to help them build capacity and hopefully grow the ecosystem across other tertiary institutions in Ghana.
A big thanks to Open Knowledge International and the UK Foreign & Commonwealth Office for providing the mini-grant to make this possible.
CEO/Co-founder of TransGov Ghana, an organisation that is leveraging on Ghana's Open Data Initiative (GODI) to enable citizens monitor and comment on the implementation and progress of developmental projects in their local communities and nationwide.