This blog is part of the event report series on International Open Data Day 2017. On Saturday 4 March, groups from around the world organised over 300 events to celebrate, promote and spread the use of open data. 44 events received additional support through the Open Knowledge International mini-grants scheme, funded by SPARC, the Open Contracting Program of Hivos, Article 19, Hewlett Foundation and the UK Foreign & Commonwealth Office. This event was supported through the mini-grants scheme under the Open contracting and tracking public money flows theme.
This blog has been reposted from http://socialtic.org/post/158716923448/open-data-day-2017-celebrating-data-use-and – the Spanish version is available here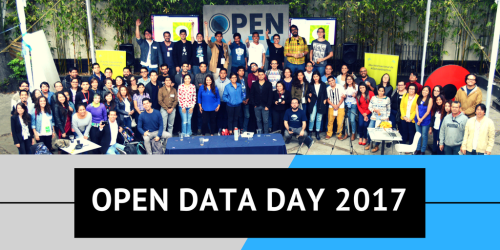 Open Data Day is an international celebration where simultaneous activities are organised by data communities around the world to learn about open data, liberate closed data, showcase data-driven projects and promote multi-disciplinary collaboration.
Latin America celebrated open data in many cities this year. Here you can see all the events, from Argentina to Northern Mexico, that ran throughout the region.
In Mexico City, Open Data Day has become over the years an event that brings together different communities that no data user or enthusiasts want to miss. You can have a look at our previous open data day events: 2014, 2015, 2016.
How was ODD17 celebrated in Mexico City?
This year, nearly 180 people gathered for an entire day of activities, good food and craft beer. Participants had the opportunity to experience the following:
8 workshops on different data user skills
Public Spending Rally
Showcase of 9 amazing projects
Workshops for Intro and Pro data users
The workshops were divided into introductory and professional tracks so that everyone had a chance to learn. The topics included: statistics for data analysis, data cleaning using Open Refine, data architecture for network analysis, open contracting, big data analysis using cloud-based services, analog visualisation and data visualisation with D3.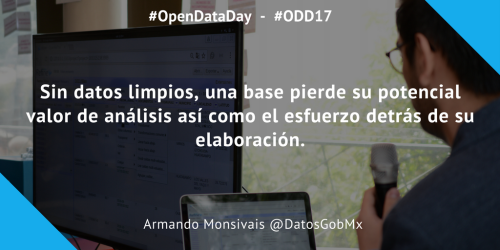 Presentations:
Open Contracting – Katherine Wikrent (Open Contracting) and Rafael García (Transparencia Mexicana)
Statistics and Machine Learning – Jesús Ramos (The DataPub –  Datank)
Data Cleaning with Open Refine – Armando Monsivais (Estrategia Digital Nacional)
Workshop videos, recorded and streamed by Software Gurú:
Big data analysis using cloud-based services – Paco Mekler (OPI)
Statistics and Machine Learning – Jesús Ramos (DataPub + Datank)
Visualisation using D3 – Irving Morales (Morlan)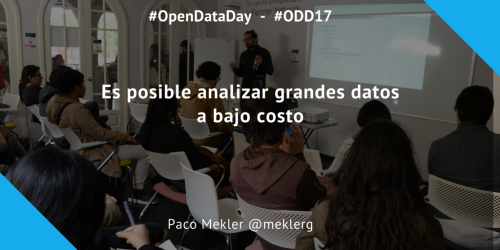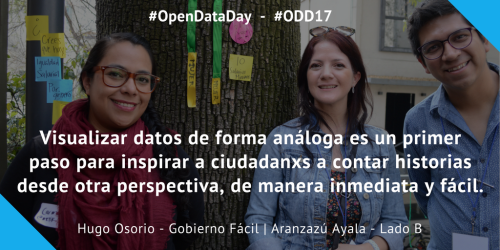 Data projects at Open Data Day 2017
Testigo Social 2.0 (Social Witness) – Transparencia Mexicana. Testigo social 2.0 is a citizen participation and transparency platform based on open contracting. This was presented by Rafael García
Puebla Bajo Amenaza (Puebla Under Threat) – LadoB. Aranzazú Ayala, journalist from a local digital journalist portal, Lado B, shared how the project  "Puebla bajo amenaza" analysed insecurity and crime data of the state of Puebla.
Desplazamiento forzado (Forced Displacement)  – Animal Político. Journalistic investigation on forced displacement in Mexico that highlights the regions most affected, the data behind the phenomena and stories on the affected communities. Presented by Paris Martínez
Datos.gob.mx: plataforma y casos de uso – CEDN (open data platform and user cases). Enrique Zapata from the platform Datos.gob.mx shared the strategy behind the data opening of the Mexico government.
OISE, Data Coral and Observatrump.mx – Smart Data Intelligence. Marcel Julien introduced a combo of 3 projects with diverse data content. OISE is an observatory of the Mexican Energy Industry; Data Coral monitors coral biodiversity and Observa Trump, aggregates all media and social media on Donald Trump.
Datos georeferenciados sobre homicidios y modelo predictivo de crimen (Geo-referenced data about homicides and predictive crime model). Stephane Keil presented a predictive statistics analysis on murder and crime in Mexico City 2015 – 2016.
RuidoCDMX: medición de ruido con tecnología abierta (open tech for noise measurement). RuidoCDMX is an open source project that enables anyone to measure and visualise noise levels.
Mapa del precio de la gasolina (Gas price map) – Gobierno Fácil. The gobierno Fácil team presented an interactive map that visualises gasoline prices at a municipal level in Mexico.
Open Data Rally Awards: #DatosEnLaCalle
For the second year in a row, the Ministry of Finance Budget Transparency team organized a rally so that citizens can use open data to verify the status of public infrastructure projects including their reported expenses. With over 400 participants, the winning teams were:
Thanks for taking data to the streets (#DatosEnLaCalle)!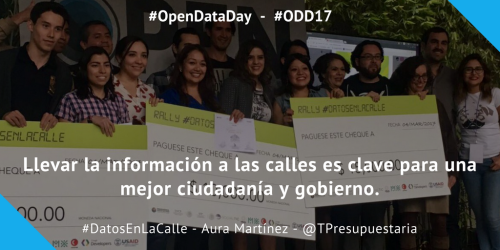 Thanks to all the data community and friends. Together we celebrate World Open Data Day 2017! :)
Amante del mañanero, cafetero de oxxo, De poca fe. La felicidad es un concepto difícil de creer. Mis pecados no son tan grandes para que dios se ocupe de mi