This blog is part of the event report series on International Open Data Day 2017. On Saturday 4 March, groups from around the world organised over 300 events to celebrate, promote and spread the use of open data. 44 events received additional support through the Open Knowledge International mini-grants scheme, funded by SPARC, the Open Contracting Program of Hivos, Article 19, Hewlett Foundation and the UK Foreign & Commonwealth Office. This event was supported through the mini-grants scheme under the human rights theme.
This blog has been translated from this Spanish blog at Medium.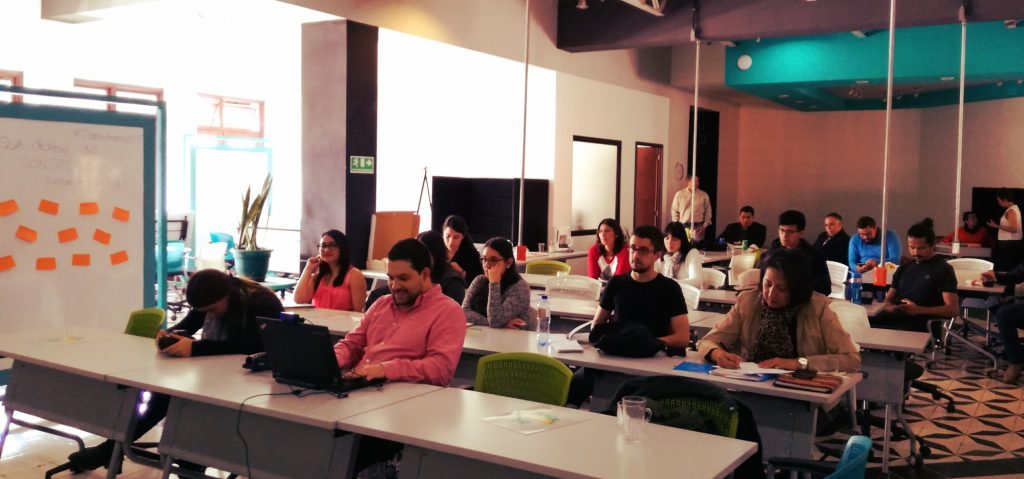 In parallel, in five continents, activists, public officials and researchers gathered to have 345 different activities on #OpenDataDay 2017. This is what we did in Guatemala.
It was a Saturday, it was early, but that didn't prevent us from gathering to talk about data. The morning of March 4 – Open Data Day– started with two proposals from civil society researchers who reminded us that the conversation about open data isn't only a matter of government.
At the start, Ronal Ochaeta from Open Knowledge in Guatemala reminded us that information can contribute to the Sustainable Development Goals. He spoke about the need to close the gap between what technology can create and the needs of users: "it's useless having a really good open data portal that people don't use". Ochaeta emphasized the power of data literacy and how these should be adapter for a broad population, so they can make knowledge important for themselves.  
Silvio Gramajo, an experienced researcher of the public sector, gave us a list of ideas about how to generate data that the open government initiatives aren't producing. We also need to develop indicators to measure its performance. Gramajo also called to push not only government but other sectors that can join the wave, like universities, think tanks, colleges and companies.
After these presentations we changed the direction and went from civil society to government so three institutions could share their progress on this matter.
Zaira Mejía, in charge of the Open Government Partnership in Guatemala, emphasized that when you go in to portal gobiernoabierto.gob.gt you can find how the Third Action Plan – a document created by the government and civil society organizations to promote transparency, accountability and citizen participation – advances. In this website the user can search in the 5 core lines of work (access to information, citizen participation, innovation, fiscal transparency and accountability) and the 22 commitments that were made to follow how these goals move forward, as well as to keep this government initiative accountable.
Later, Carlos Dubón, the director of the access to information unit of the Ministry of Finance mentioned that they have managed to change their information delivery policy. As a result, they can respond with editable files instead of PDFs in approximately 80% of the requests they get. He specified that even though they are advancing, they not only have access and availability gaps but they also need to let citizens know what they can request and what this information means. In one word: understanding.
Tenemos mucha información pero cuando una persona accede a los portales, no siempre se entiende. —Carlos Dubón

— Dani Villatoro G (@danyvillatoro) March 4, 2017
Last but not least, Edgar Sabán from the National Secretary of Science and Technology mentioned that they are working on an unified open data portal (one of the Open Government Partnership commitments) and mentioned they will use open source code.
We had assistance from journalists, communications and political science students and officials in charge of processing the information requests, as well as other people interested in the subject. Along with Red Ciudadana and Escuela de Datos we managed to gather a community to meet and learn.
Thus, while chatting, drinking coffee and having some pastries the morning went by. What's next is working in generating a culture of access and transparency from our positions and push for the commitments to be fulfilled. Hopefully, for Open Data Day 2018 we'll have more progress made and more projects to show.
Also, we hope in next year's photo, the group photo will have more people. The more, the merrier ;)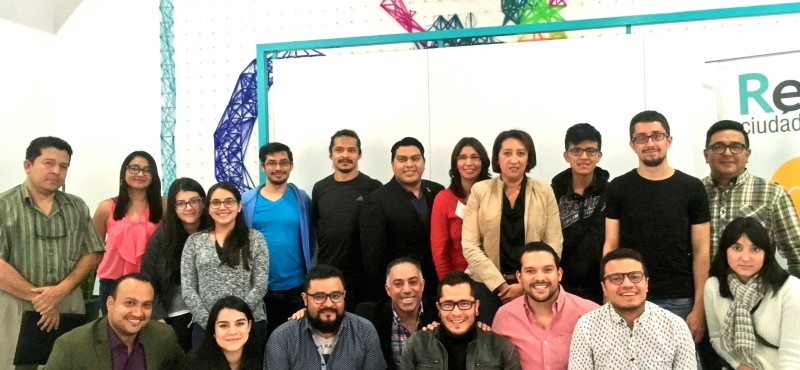 Red Ciudadana is a non-profit organization created with the mission of encouraging citizen participation and auditing. We seek to empower citizens through the medium of technology to connect them with their government and create solutions that help improve their community, as well as connect and unite the efforts of citizens in the search for a more transparent and efficient government.