This blog is part of the event report series on International Open Data Day 2017. On Saturday 4 March, groups from around the world organised over 300 events to celebrate, promote and spread the use of open data. 44 events received additional support through the Open Knowledge International mini-grants scheme, funded by SPARC, the Open Contracting Program of Hivos, Article 19, Hewlett Foundation and the UK Foreign & Commonwealth Office. This event was supported through the mini-grants scheme under the Open Research theme.
Our Open Data Day event in Lagos, Nigeria was a workshop that introduced participants to the advantages of open data and taught them how to use open data tools. Held at the Tetfund Hall, Lagos State University on 25th April 2017, the event included presentations on open data resources and a workshop on how to use them by Kayode Yussuf, Tech Lead – Creative commons Nigeria. There was also a presentation on the importance of open access in scholarly publishing by Adisa Bolutife. It was attended by academic staff and students drawn from different faculties of the University.
The event started with a workshop on open data tools by Mr Kayode Yussuf, the Lead Tech at creative commons Nigeria. He covered the following topics: What is open data? Who can open data? Why open data? How to create open data sheets, self-archiving, and the various levels of Creative Commons licensing for open data. 
The next presentation was by Mr Adisa Bolutife who explained the importance of open access to scholarly publications. Here, he explained the problems with conventional publishing and emphasised the importance of open access and how it shows the way forward. According to him:
Open access to data is a necessary development which nations across the world have keyed into, it has become our responsibility to drive this development into the hearts of our institutions and government and make it a reality in Nigeria.
He also covered the Gold and Green open access methods and encouraged participants on how they can be readily involved in open movements.
A question and answer session was held after the presentations to give the presenters the opportunity to answer the questions and explain the misconceptions regarding open data usage.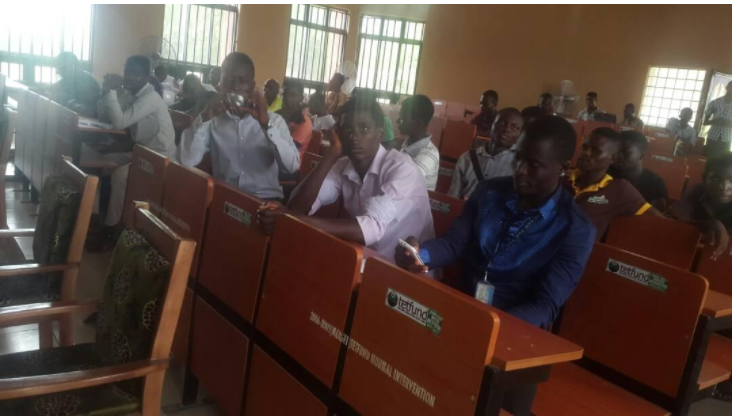 Participants were asked to come up with ideas on what steps the University can take to contribute towards open access and they suggested the following:
The student and faculty should work together to ensure that a DAOJ (Directory of Open Access Journals) open access repository is built and linked to the school website.

Also, that the open data movement should be done on a wider scale and coverage to encourage better participation in Nigeria.
Note: The open data event at the Lagos State University took place in April because it took a while for the ODD team at OKI to get hold of the Open Switch team as the email address they provided kept bouncing.