Update 30 November 2017: Despite earlier announcements, Open Knowledge International have decided not to run OKFestival 2018. There have been some recent major changes in the organisation that have adversely affected our ability to produce a Festival which would match the expectations of our networks and partners.
We are, obviously, disappointed by this decision but we hope to take the time to look at the concept of OKFestival and develop it so that it returns as an event that is relevant to the open knowledge movement and the people who are so integral to its work. We would like to thank everyone who has contributed to the organisation of OKFestival so far and look forward to working with you in the future.
Work is continuing on a rescaled, more targeted event to gather our network together and to collaborate on active themes which can move the organisation and the Open Knowledge Network forward together. Further news on this event can be found in this blogpost.
Over the last couple of months we have been examining the concept of OKFestival 2018 to create a backdrop for what will be an innovative, collaborative and inspiring event.  With collaborative input from networks, chapters and other interested parties, a concept has been developed.  This concept will shape all aspects of the event and will grow with the creation of the programme and the participation of communities.
We now need your help. OKFestival 2018 needs a "motto", a "tagline", a headline grabbing title that will encompass what we are trying to do and what the event stands for.  The motto for OKFestival 2014 was "Open Minds to Open Action". We would like you to read the concept below and come up with a short sentence that we could use in all the publicity and throughout the event.
Possible suggestions include:
Open Knowledge Without Borders

Open Knowledge Without Barriers

Towards Open Knowledge Without Barriers
Once inspiration has struck please email your idea through to info@okfestival.org or post it on our Facebook page
You have until Wednesday 11th October so get those creative juices flowing!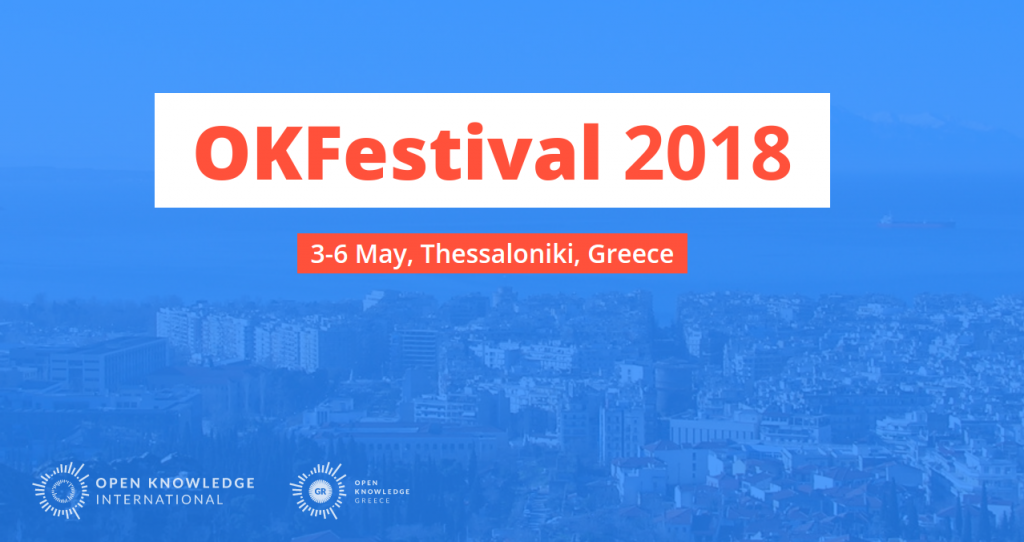 What is Open Knowledge Festival 2018 about?
The leading concept of Open Knowledge Festival in 2018 is fostering a cross-exchange of ideas between members and groups that make up the open knowledge movement in all its diversity, as well as by bringing new communities into the conversation.
This concept seeks to work towards a vision of "open knowledge without barriers", where a range of actors from diverse backgrounds – domain-driven CSOs, open data organisations, open government experts, data journalists, and so on – can learn and collaborate towards shared knowledge and strong and sustainable social change.
Why
When we host Open Knowledge Festival in 2018, it will have been nearly 4 years since the last festival in Berlin, and in that time, the open knowledge movement has evolved. Other events have taken up and pushed forward different elements of open knowledge agenda. These events have been effective in bringing together communities focusing on a specific topic within the movement but this has come at the expense of a cross-exchange of ideas.
At Open Knowledge International, we have been asking ourselves, how can we best add to the dialogue, and further the evolution of the movement, through Open Knowledge Festival?
Open Knowledge Festival in 2012 helped to mark the open knowledge movement.

Open Knowledge Festival in 2014 helped catalyse the open knowledge movement.

In 2018, Open Knowledge Festival seeks to grow, expand the open knowledge movement and convince society and general public to embrace it.
Open Knowledge Festival, as a community-driven event hosted by a civil society organisation, is well placed to focus more on the questions, needs and interests of civil society. For years now, as a community, we have been making the argument to governments and other powerful institutions that there are immense societal benefits to opening up their data and information, with distinctive results in different countries.
However, our ultimate goal – achieving a more open society – cannot be achieved with open data and open knowledge advocates alone. In increasingly digitalised societies, data becomes an increasingly powerful instrument for positive change. At the same time, we are conscious that this creates new gaps between those who can come along in a digitalised societies, and those who struggle with these new technologies. We strive for nothing less than making digital societies work for everyone, and therefore need as many as we can on board as part of the open knowledge movement. Therefore, we need to enlist, as partners, our fellow civil society actors to join our effort and to push for more, and better, information and data on the issues that directly impact our lives. Open Knowledge Festival presents a unique opportunity to convene a broad range of civil society actors to work towards a shared strategy for liberating or generating the data and information we need to shape our society.