This blog is part of the event report series on International Open Data Day 2018. On Saturday 3 March, groups from around the world organised over 400 events to celebrate, promote and spread the use of open data. 45 events received additional support through the Open Knowledge International mini-grants scheme, funded by Hivos, SPARC, Mapbox, the Hewlett Foundation and the UK Foreign & Commonwealth Office. The events in this blog were supported through the mini-grants scheme under the Follow the Money theme.
The concept of open data is growing rapidly across borders and Nigeria isn't left out of this budding movement. Paradigm Leadership Support Initiative (PLSI) and OrderPaper Nigeria joined the global open data community to celebrate Open Data Day 2018 and further contributed to the discourse on why certain data should be publicly available in both human and machine-readable formats and accessible without any constraint whatsoever.
PLSI's local event which held at LPI_Hub located within University of Ibadan – Nigeria's premiere University focused on promoting use of open data in tracking audited funds for developmental projects in Nigerian local communities to foster public accountability and improved service delivery.
Likewise, OrderPaper which had developed a Mobile App "ConsTrack" to track constituency projects equally convened a townhall to celebrate the day. Its event was however targeted at training community youths and raising them to become FollowtheFunds Grassroots Champions (FGCs) to track, monitor and report on constituency projects undertaken by members of the National Assembly representing the Federal Capital Territory (FCT), Abuja.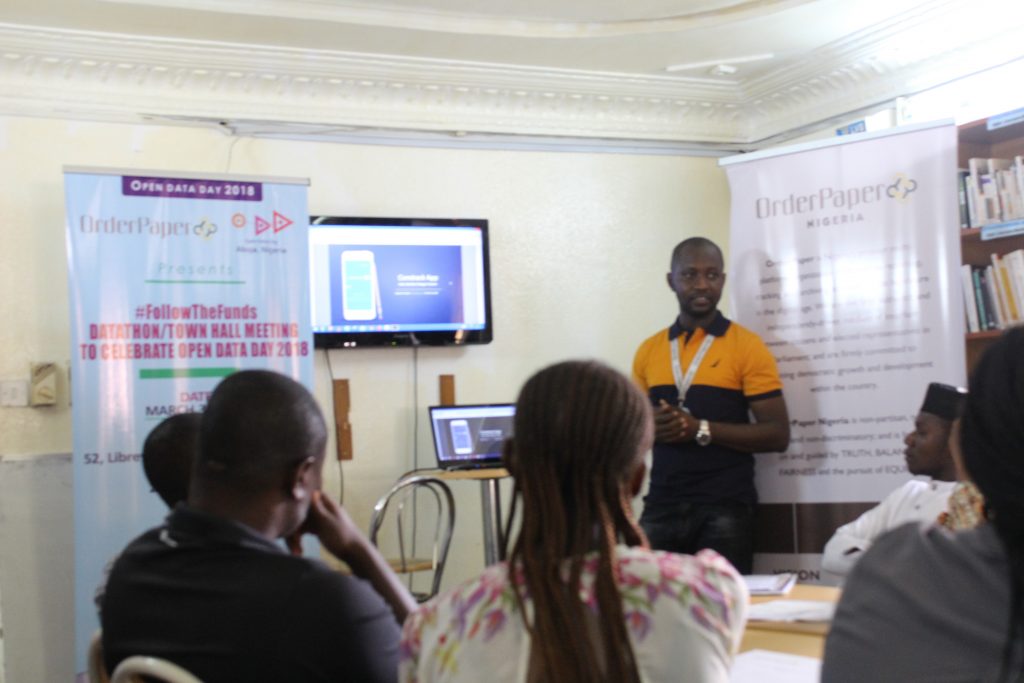 Who Attended?
PLSI assembled various stakeholders in the open data community including data analysts, developers, creative artists, University students, Corps members and other lovers of data. 26 participants attended the event with 56% being males and 44% females. PLSI's mentor and partner organization – BudgIT was equally represented at the event by two members of its research team – Olaniyi Olaleye and Thaddeus Jolaiyemi. Olaniyi delivered a stunning presentation on "Budget Access – Contracting and Audit" to take participants through the transit mechanism of data from budget to contracting and audit. PLSI's Executive Director – Olusegun Elemo equally presented on the "Concept of Open Data" as well as a "Walk-Through session on Citizen Participatory Audit".
Our #OpenDataDay 2018 event is ongoing and @lpi_hub is filled with data analysts, developers, creative artists, activists and lovers of data. #ODD18 pic.twitter.com/0FrW1kb7gx

— PLSI (@PLSInitiative) March 3, 2018
Also, OrderPaper had 14 participants drawn from various area councils that make up the FCT who were trained on the use of data and technology to interrogate constituency projects in a bid to ensure inclusiveness, transparency and accountability. It is instructive that before the event, 78.5% of the participants rated government presence (generally) in terms of infrastructure and service delivery in their respective communities below average. Specific to constituency projects, many of the participants said implementation was "abysmal" as several communities like Igu in Bwari Area council was revealed to be without a good road.
Breakout Session
PLSI organized a datathon exercise for participants to relate directly with audit data of the Federal Government of Nigeria. Three groups worked to analyze and mine raw data as contained in 2013, 2014 and 2015 audit reports. The groups selected three thematic areas to include water, education and health. All three groups went on to visualize their data using creative tools and subsequently presented their findings to the larger audience.
Data visualization carried out at the breakout session and presented by the health team. #OpenDataDay #ODD18 pic.twitter.com/a6B2BXwZDf

— PLSI (@PLSInitiative) March 3, 2018
Lessons and Challenges
Despite the rapid growth of Open Data concept in Nigeria, several individuals including key stakeholders in the Open Data space learnt about use of open data and its impact on community development for the first time at the two events. This goes to show the need to continually grow the open data community in Nigeria.
PLSI had firsthand view of how unfamiliar participants felt to the Open Data space. Even though 15% were conversant with open data concept, 85% had no clue whatsoever on the importance and usage of Open Data or audit data to track public spending and demand accountability. Many were amazed in the end at how simple the subject is to understand and how critical Open Data is to improving service delivery in Nigeria. Participants were equally introduced to Value for Money – a platform to track, report and act on audited developmental projects abandoned, unexecuted or poorly executed in their communities.
Similarly, at OrderPaper's event, only 78% of the participants knew who the Senator for the FCT is while 72% knew their House of Representatives members. In a shocking revelation, none of the participants knew the amount of money budgeted for constituency projects in two federal constituencies and senatorial districts that make up the territory. It was therefore a great gain that the town hall achieved the impartation of knowledge about who the representatives are; how much was budgeted for constituency projects in the 2016 national appropriation act; and how much was released by government for the execution of the projects. These findings greatly stimulated the interest of the participants in engaging the ConsTrack App to track and report on projects.
Moving Forward
To sustain a growing community of Open Data users, PLSI at its event commissioned three persons as U.I. Open Data Community Leaders who will continue to work very closely with the organization to promote Open Data usage in the University.
We commissioned U.I. open data community leaders today. We will work with these young people to promote open data usage in the University. #OpenDataDay #ODD18 pic.twitter.com/PJ3U9LMFyg

— PLSI (@PLSInitiative) March 3, 2018
PLSI and OrderPaper are grateful to Open Knowledge International and Hivos Global for providing the mini-grant that made the two events a success.
Olusegun Elemo is the Executive Director of PLSI, a civic organization working to promote citizen participation in Nigerian public audit to foster leadership accountability, good governance and development of rural communities.