This blog is part of the event report series on International Open Data Day 2018. On Saturday 3 March, groups from around the world organised over 400 events to celebrate, promote and spread the use of open data. 45 events received additional support through the Open Knowledge International mini-grants scheme, funded by Hivos, SPARC, Mapbox, the Hewlett Foundation and the UK Foreign & Commonwealth Office. The event in this blog was supported through the mini-grants scheme under the Open Mapping theme.
The 4th Open Data Day celebration in Namibia was held on 2nd – 5th March 2018, under the theme Better Public Transportation and Safer Roads. The initiative had been organized by the Namibia Open Data Community in collaboration with Namibia University of Science & Technology (NUST). The event was attended by over 80 people and brought about diverse stakeholders, from all walks of life; including lawmakers and academicians. The event was structured as follows:
Opening day
The event started with a stakeholder meeting and official opening, which aimed at getting the various stakeholders to discuss how opportunities public data present and how this can be exploited to reduce/end road accidents in Namibia and beyond.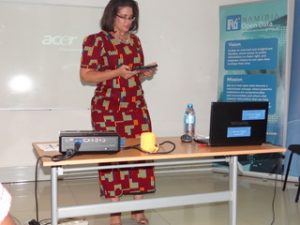 The keynote address was delivered by Honourable Stanley Mutumba Simataa, Minister of Information Communication Technology (ICT), in which he states the benefits of open data: "On the broader societal level, giving citizens access to data to freely use and /or share will promote innovation, induce the development of more businesses and help entrepreneurs develop products and services not yet imagined… In Namibia open data can unleash Opportunities – Opportunities that will allow access to information, promote accountability, enhance transparency and of course enable the citizenry to hold government to account."
In his welcoming remarks Prof Tjama Tjivukua, Vice Chancellor (NUST) highlighted that: "These prototypes or solutions are absolutely necessary in a big country with a small population and fairly good roads, relatively speaking, but the highest deaths per capita in the world. Namibia is the "capital of death by road"."
Hackathon
The hackathon began: about 40 developers attended, forming 5 teams. The teams worked on diverse solutions, ranging from solutions that keep drivers focus on the road to solutions leveraging on AR (augmented reality) to provide a gamified experience to users. Making use of datasets provided by Gondwana Collection: Namibia Safari and Lodges and MVA Fund.
The teams continued to work on their respective solutions throughout the night and the following day. After 24-hours of coding, the teams had an opportunity to go out test their solutions with real users. Thus, get useful feedback, which they used to improve their solutions.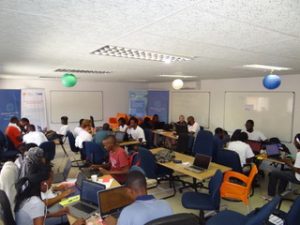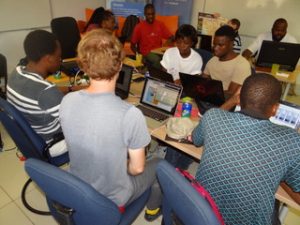 Pitches and results
After two full days of hacking, the 5 teams had an opportunity to pitch their solutions to a full mobile lab at Namibia Business Innovation Institute. The pitches were judged primary on three criteria; viability, creativity and ability to solve a problem. The team which scooped the first prize was G2SA, consisting of Gatsen Tjirare, Albertus Coetzee, Saimie Kevanhu, Nathan Dasneves and Gabriel Kamenye were awarded N$ 7 000 because their project had met the requirements and utilized the data given to them to come forth with a solution which is feasible and user-friendly. The runners up were Cheap High Qualities Software received N$ 2 500. The prizes were sponsored by Developer Circles from Facebook and Green Enterprise Solutions.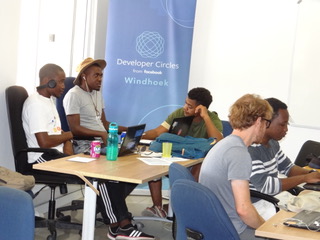 The winning solution
An augmented reality application that augments the map of Namibia with digital information regarding road safety and additional information for tourists or travellers, based on a dataset provided by Gondwana. Additionally, a driver assistant that acts a sensor to detect road signs and distance of cars ahead, which then notifies the user. This application is tied to gamification, rewarding drivers with points for safe driving. Click here for a video of the application or download the app directly.
Runners-up solution
Data visualization is an important tool for understanding large datasets. This application is a temporal-spatial visualization of vehicle-related accidents in Namibia. The data was scraped from tables in a 2016 MVA Fund publication titled "Road Crash and Claims Report." By representing the data in a multidimensional format, we provide deeper insight into the problem says the developers. With insight comes understanding, and with understanding we can develop a solution.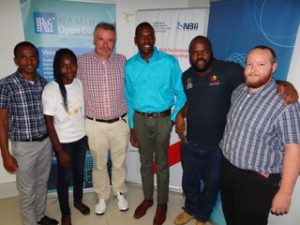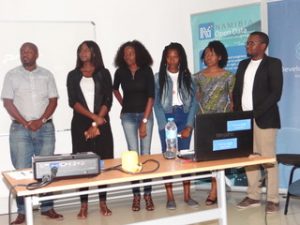 Conclusion
To ensure that the solutions developed during this hackathon gets to market, we have deliberately availed the solutions to enable potential drivers to test them out. Moreover, we have also approached the different stakeholders such as the Motor Vehicle Accident fund to use the solution to visualize road accidents in real-time. Though, the event was a great success, we have learnt so much, tackling the challenge of road accidents requires diverse skills, we had more hackers than people from other disciplines. In the future events, we have to find ways to get more people from other disciplines also involved.
We have been hosting the Open Data Day, since 2015. This year' event was very successful: it can only get better from here.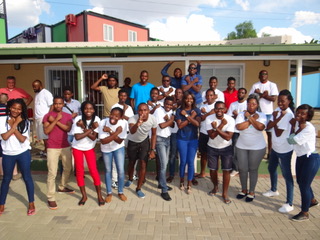 Open Data Namibia is a citizen driven initiative aimed at promoting Open Data in Namibia using technology.